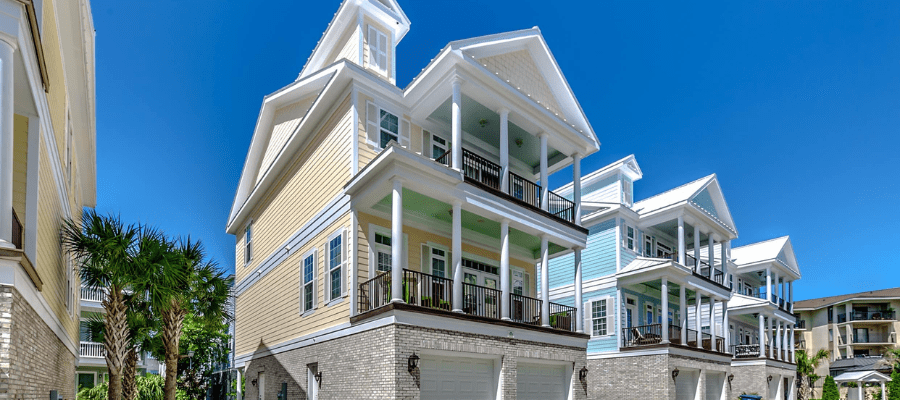 There is a lot to do at Myrtle Beach, from enjoying golf courses to visiting family-friendly attractions and gorgeous beaches. Apart from hotels and resorts, Myrtle Beach also offers a range of villas for rent. Villa rentals are a good option for families and groups traveling together because they offer more privacy and space than typical hotel rooms. To help you plan your trip, we're going to share with you the average cost of renting villas in Myrtle Beach at the busiest time of the year in this blog. We will also go through the top 3 choices you might think about and where to reserve these villas.
What is the average cost of renting villas in Myrtle Beach during peak season?
A Myrtle Beach villa rental during the peak months of June through August usually ranges from $200 to $300 per night. However, the following variables may affect prices:
Villa size: Larger properties typically have higher rental prices.

Location: Villas are typically more costly than those that are on or near beaches.

Features comprised: Rents for villas with additional features, like a hot tub, gaming area, or private pool, are typically more.

The season: Villas in Myrtle Beach often have the highest prices during the summer.
Based on the number of bedrooms, the following is a breakdown of the typical price to rent villas in Myrtle Beach during the busiest time of year:
$200–$250 per night for one bedroom

$250–$300 per night for two bedrooms

$300–$350 per night for three bedrooms

$350-$400 per night for four bedrooms

$600+ per night for five bedrooms
Do keep in mind that these are just average prices. The actual cost of renting villas in Myrtle Beach during peak season can vary depending on the factors listed above.
---
Where to book villas in Myrtle Beach?
If you are looking to book villas in Myrtle Beach, then Booking dot com is a good place to start! Here's why this traveling website is so popular among travelers and vacationers:
Wide selection of villas: Booking dot com offers a wide selection of villas to choose from, including beachfront villas, golf course villas, and even pet-friendly villas.
Easy to search: Booking dot com makes it easy to search for villas by price, location, and amenities.
Secure booking process: Booking dot com uses a secure booking process to protect your personal and financial information.
Customer support: Booking dot com offers 24/7 customer support in case you have any problems with your booking.
Flexible cancellation policies: Most Booking dot com villas can be canceled for a full refund up to a certain number of days before your arrival date.
No booking fees: Booking dot com does not charge any booking fees. You only pay for the villa itself.
---
Top 3 luxurious villas in Myrtle Beach on Booking dot com
1. Lakeview Luxury Stunning 2BR 2BA Golf Villa Near Beach
Experience luxury and relaxation at the Lakeview Golf Villa, ideally situated near the beach. This stunning 2-bedroom, 2-bathroom villa is a haven for golf enthusiasts and beach lovers alike. Nestled in a picturesque setting with panoramic lake views, you'll be captivated by the natural beauty that surrounds you.
Key features:
Spacious 2 bedrooms + 2 bathrooms

Modern and stylish interior with high-end furnishings.

Fully equipped kitchen for gourmet cooking.

Close proximity to the beach for sun-soaked days.

Whether you're teeing off at the nearby golf course or basking in the sun on the sandy shores, our lakeview luxury villa offers the perfect blend of elegance and convenience for your dream vacation.
---
2. Splendid and spacious 3 bedroom villa – 15C Richmond Park – Kingston Resorts villa
Welcome to 15C Richmond Park, your home away from home in the heart of Kingston Resorts. This splendid and spacious 3-bedroom villa is designed to provide you with the utmost comfort and relaxation during your stay.
Key features:
Three generously-sized bedrooms for a family or group of friends.

Open and airy living spaces with contemporary décor.

Well-appointed kitchen for culinary enthusiasts.

Private outdoor terrace for alfresco dining and relaxation.

Access to resort amenities, including pools and leisure facilities.

Whether you're unwinding on your private terrace or exploring the resort's vibrant offerings, 15C Richmond Park promises a splendid and spacious retreat for your Kingston Resorts getaway.
---
3. A Blessing from Above B – North Villa
Discover serenity and tranquility at A Blessing from Above B – North Villa, a hidden gem nestled in a serene setting. This charming villa offers a peaceful escape from the hustle and bustle of everyday life.
Key features:
Cozy and inviting living spaces with rustic charm.

Well-equipped kitchen for preparing home-cooked meals.

A private outdoor area surrounded by lush greenery.

Idyllic location for nature lovers and those seeking quietude.

If you're seeking a blessed retreat where you can reconnect with nature and unwind in a calming atmosphere, A Blessing from Above B – North Villa is your ideal destination.
---
Conclusion
Families and groups visiting Myrtle Beach must consider renting a villa. In addition to being more spacious and private than standard hotel rooms, they are frequently found in ideal locations close to golf courses, amusement parks, and the beach. Booking dot com is the place to go if you want to stay in opulent villas in Myrtle Beach. To find more villas in Myrtle Beach like these, visit their website. Visit HerMagic for additional suggestions on hotels and vacations!
FAQs