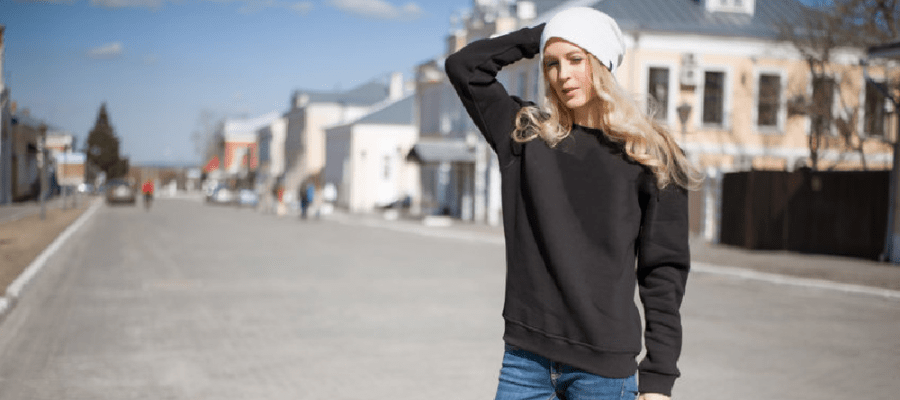 In the world of fashion, women's sweatshirts offer both comfort and a stylish outlook. These sweatshirts have become a must-have article to have in your wardrobe as they cater to your need for coziness. From classic favorites to fashionable picks, there are so many varieties and colors in which these women's sweatshirts come, making them your ideal companions for relaxation and casual outings.
What makes sweatshirts for women a classic winterwear choice?
1. Warmth and comfort
Sweatshirts are made to provide you with enough warmth and coziness to keep you healthy and safe in winter seasons.
2. Versatility
These women's sweatshirts are available in various styles and designs to choose from, so you can find the perfect article according to the occasion.
3. Layering
You can easily layer sweatshirts over T-shirts or wear them under jackets or blazers to create fashionable looks while keeping you warm.


4. Easy care
Women's sweatshirts are very easy to maintain and clean as they are made of durable fabrics, making them last longer.
5. Fashionable
When you purchase modern sweatshirts, they offer both functionality and a stylish appearance, making them a versatile clothing item.
---
Styling tips for women's sweatshirts
1. Layer with confidence
Sweatshirts are perfect for layering. Try them over a collared shirt or under a chic jacket for a stylish contrast.
2. Accessorize
Elevate your look with accessories like statement necklaces, scarves, or hats that complement your sweatshirt.
3. Mix and match
Pair your sweatshirt with different bottoms, from jeans and skirts to leggings or even tailored pants, for varied looks.
4. Tuck or knot
Experiment by tucking the front of your sweatshirt into high-waisted bottoms or knotting it to create a more fitted silhouette.
5. Footwear matters
Choose the right shoes to match your outfit, whether it's sneakers for a sporty look, ankle boots for a casual vibe, or heels to dress up your sweatshirt.
6. Oversized appeal
Embrace the oversized sweatshirt trend for a relaxed, comfy outfit. Pair it with slim-fitting bottoms for balance.
7. Color coordination
Experiment with color coordination, whether it's matching or contrasting your sweatshirt with other elements of your outfit.
8. Cuff or push up sleeves
Adjusting your sweatshirt's sleeves can change the overall look. Cuff them for a polished appearance or push them up for a casual feel.
9. Dress it up
Some sweatshirts can be dressed up for semi-formal occasions. Choose a more tailored sweatshirt and pair it with elegant accessories.
---
Exploring the best women's sweatshirts 
1. White California highway oversized sweatshirt
Elevate your casual wardrobe with this oversized white sweatshirt featuring a California highway print. It is a relaxed-fit sweatshirt and an ideal choice for lounging at home or tackling your daily tasks. For a stylish look, pair it with shorts and sneakers and also layer some accessories. This sweatshirt is a blend of 60% cotton and 40% polyester, available at an attractive price of $18. So, purchase this article from PrettyLittleThing's website right away, as it is one of the most affordable women's sweatshirts available.
---
2. Grey maine oversized print sweatshirt
Elevate your casual style with this grey Maine oversized print sweatshirt. It's the ultimate choice for your off-duty wardrobe. You can buy this sweatshirt from PrettyLittleThing for a price of only $18 and accordingly style it with denim or shorts for cool, cozy attire. This clothing item is made from cotton and polyester and offers an oversized fit. It is clearly one of the cheapest women's sweatshirts you can buy from the platform that will last longer than you'd expect.
Read more: 5 T-Shirt Bras That Are So Comfortable You'll Forget You're Wearing Them
---
3. Green hump day oversized sweatshirt
Meet the green hump day oversized sweatshirt, your solution to any wardrobe dilemma. Crafted in a lush green fabric and featuring a playful 'Hump Day' print on the front, it's a style essential. From beginning to end, this oversized sweatshirt ensures you stay effortlessly trendy. For an elevated look, pair it with wide-leg pants and your favorite accessories. This fashion-forward choice is a definite yes from us, and it's priced at just $24, making it both stylish and affordable.
---
4. PrettyLittleThing black graphic printed sweatshirt
Relax in the cozy embrace of this sweatshirt. Crafted from a black fabric adorned with a stylish PrettyLittleThing graphic print, it's the perfect companion for your downtime. Pair this black sweatshirt with matching bottoms or blue denim along with classic white sneakers. If you are feeling cold, you can even layer a jacket on top. This women's black sweatshirt is available on PrettyLittleThing for a cost of  $24, in various sizes starting from XS-XL, so you can pick accordingly. 
---
5. Black half zip cropped sweatshirt
Elevate your winter style with this chic Black cropped sweatshirt featuring a trendy half-zip design. Its versatile cropped length makes it a wardrobe essential. You can easily style this sweatshirt with your favorite comfy jeans or joggers and white sneakers to get a complete styling outlook. You can purchase this cozy women's black sweatshirt from PrettyLittleThings for a price of $26.25 in various different sizes.
Also read: Versatility Of Nude Tops: A Fashion Revolution Worth Exploring
---
Conclusion
For those looking for either plain women's sweatshirts or graphic-designed ones, PrettyLittleThing's website has it all. You can choose from various designs, colors, and sizes and what's best is they are all available at pretty cheap prices. So, you don't have to go broke to buy yourself a new sweatshirt. For more information, visit HerMagic.
FAQs