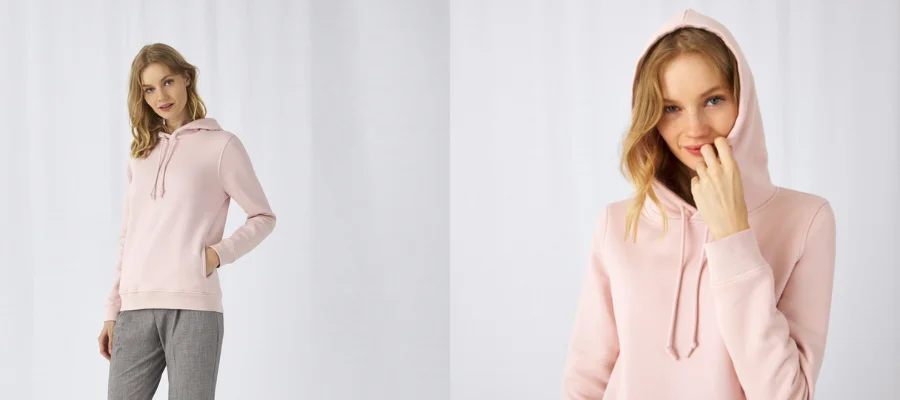 HalfPrice offers a treasure trove of women's hoodies that redefine comfort and fashion. These timeless staples bridge the gap between cosy and chic, making them perfect for a brisk morning jog, a trendy addition to a casual ensemble, or a versatile piece to elevate streetwear. Each hoodie tells a unique story, blending functionality with the latest trends to create a garment that not only keeps you warm but also makes a bold statement about your individual style. From classic designs to cutting-edge creations, HalfPrice offers something for every taste and occasion. Join us on an exhilarating journey through a realm of women's hoodies that transform your everyday wardrobe into an exciting playground of possibilities.
How can I pick a women's hoodie's proper size?
Choosing the right size for a women's hoodie is essential to ensure comfort and a flattering fit. Here's a step-by-step guide to help you find the perfect size:
Measure Yourself: Start by measuring your body to get accurate size measurements. You'll need measurements for your bust, waist, and hips, as well as your height.

Check the Sizing Chart: Most online retailers, including the one you provided, have a sizing chart specific to their brand or product. Look for the sizing chart on the product page or in the website's help section. It will typically provide measurements for each size, such as Small (S), Medium (M), Large (L), etc., and may include numeric measurements as well.

Compare Your Measurements: Compare your measurements to the sizing chart provided by the retailer. Ensure that your measurements correspond to the corresponding size on the chart. Pay attention to the bust, waist, and hip measurements, as well as the length of the hoodie.

Consider the Fit You Desire: Think about the fit you prefer. Some people like their hoodies to be more relaxed and oversized, while others prefer a slimmer, more fitted look. Keep in mind that the fit can vary between brands and styles.

Read Customer Reviews: If available, read customer reviews and look for information on sizing. Sometimes, reviewers will share their experiences with how a particular hoodie fits and whether it runs true to size, small, or large.

Review the Return Policy: Review the retailer's return policy before making a purchase. Ensure that you can exchange or return the hoodie if it doesn't fit as expected.

Contact Customer Support: If you have any doubts or questions about sizing, don't hesitate to reach out to the retailer's customer support team. They can provide guidance based on the specific product you're interested in.

Consider Layering: Think about how you plan to wear the hoodie. If you intend to layer it over other clothing, you might want to choose a slightly larger size to accommodate additional layers comfortably.

Look for Size Options: Some hoodies come in different length options, such as regular, petite, or tall. If you fall into one of these categories, consider choosing a size with the corresponding length designation for a better fit.

Try It On if Possible: If you have the opportunity to try on the hoodie in a physical store, take advantage of it. Trying it on in person can give you a better sense of how it fits and feels.
Keep in mind that sizes can vary between brands and even between several styles from the same brand. Taking your own measurements and referring to the retailer's sizing chart is the most reliable way to find the right size for a women's hoodie that suits your preferences and ensures a comfortable fit.
---
What materials are women's hoodies made from?
Women's hoodies come in various materials, offering different levels of comfort, warmth, and style. Common materials include cotton, fleece, polyester, blends, and athletic fabrics. Cotton hoodies are soft, breathable, and suitable for casual wear, while fleece hoodies provide warmth and comfort. Synthetic materials are more suitable for workouts. The choice of material depends on personal preference and intended use.
---
Can I exercise or work out in a women's hoodie?
Women's hoodies are suitable for exercise and sports, as they are made from moisture-wicking fabrics for comfort, flexibility, and breathability. They are ideal for activities like running, yoga, or gym. For colder weather, consider fleece-lined or thermal hoodies for added warmth. Ensure a full range of motion and comfort for your chosen activity.
---
How should I care for my women's hoodie?
To ensure the longevity and quality of your women's hoodie, follow the care instructions on the label, machine wash with cold water, use mild detergent, avoid the heat, store in a cool, dry place, treat stains promptly, and ensure the zipper is zipped up before washing.
---
Can I wear a women's hoodie for different occasions?
Hoodies have evolved from casual loungewear to versatile fashion pieces suitable for various occasions. They can be worn for casual wear, athleisure, layering, dress-up, outdoor activities, and lounging. To style hoodies, choose the right style, fit, and material that aligns with the event's formality and personal style preferences. Hoodies are perfect for lounging around the house and can be a versatile addition to any wardrobe.
---
Here are the best women's hoodie by HalfPrice
1. Raizzed Hoodie – Light Brown
The Raizzed Hoodie in Light Brown is a versatile and stylish addition to any wardrobe, exuding a warm and cosy vibe for casual and relaxed occasions. Crafted from high-quality materials, it offers comfort and style for lounging, running errands, or enjoying the day. The classic hoodie design features a front kangaroo pocket for keeping hands warm. Pairing it with jeans, leggings, or shorts, this light brown hoodie elevates your casual look and can be dressed up or down for various occasions. This versatile piece is perfect for a cosy night in, a laid-back coffee date, or everyday streetwear style.
---
2. Vans Hoodie – Pink
The Vans Hoodie in Pink is a stylish and comfortable hoodie that combines style and comfort. Its vibrant pink colour adds energy and streetwear flair to your wardrobe. Crafted with attention to detail, it offers warmth and style for casual outings. The kangaroo pocket at the front adds practicality and keeps hands warm. For a casual yet stylish style, wear it with jeans, leggings, or shorts. This versatile piece can transition from a casual day out to a laid-back evening, showcasing your unique style. Step out in confidence and let your personality shine with this eye-catching hoodie.
---
3. S. Oliver Hoodie – Black
The S. Oliver Hoodie in Black is a timeless wardrobe staple that combines timeless style with comfort. Crafted with attention to form and function, it offers a comfortable fit for various occasions, including casual days, errands, and lounging at home. The classic kangaroo pocket at the front provides practicality and a laid-back style. Pair it with jeans, leggings, or a skirt to create versatile looks that suit your mood and occasion. This versatile hoodie is easy to style and has a timeless appeal that makes it an essential piece in any fashion-savvy individual's collection.
---
4. Kappa Hoodie – Pink
The Kappa Hoodie in Pink is a trendy and vibrant addition to your wardrobe, effortlessly blending style and comfort. In a lively pink hue, it represents positivity and energy, making it an excellent choice for adding a pop of colour to your outfits. Crafted with Kappa's signature attention to detail, this hoodie offers both style and cosiness, with a comfortable fit for casual outings or leisurely activities. The front kangaroo pocket adds a fashionable touch and a convenient place to keep hands warm or store small essentials. Pair this pink Kappa Hoodie with jeans, leggings, or shorts for a chic and relaxed look. This eye-catching hoodie is perfect for meeting friends, shopping, or simply enjoying your day.
---
5. Ellesse Hoodie – White
The Ellesse Hoodie in White is a timeless wardrobe essential that combines classic style with comfort. Made with precision, it offers a comfortable fit suitable for various activities, including casual days, errands, and relaxing at home. The classic kangaroo pocket at the front adds practicality and a touch of relaxed charm. Pair it with jeans, leggings, or a skirt to create a variety of looks that match your mood and occasion. This versatile piece is perfect for both laid-back and polished evenings. Enjoy the ease of styling and understated elegance of this classic white hoodie for any outing or activity.
---
Conclusion
Women's hoodies are a versatile wardrobe essentials that offer style, comfort, and versatility. Available at HalfPrice, these wardrobe staples have evolved from humble beginnings into fashion statements. From vibrant hues to timeless elegance, women's hoodies can effortlessly adapt to any occasion and style. They serve as a canvas for self-expression, keeping you warm, comfortable, and stylish while making a statement about your individuality. These wardrobe staples are not just pieces of clothing but an extension of your personality and invite you to embrace comfort without compromising on style. Choose wisely, experiment with colours and designs, and let your hoodie reflect your unique fashion journey. With the right hoodie, you're not just staying warm but also making a bold and stylish statement. For more information, visit Hermagic.
FAQs