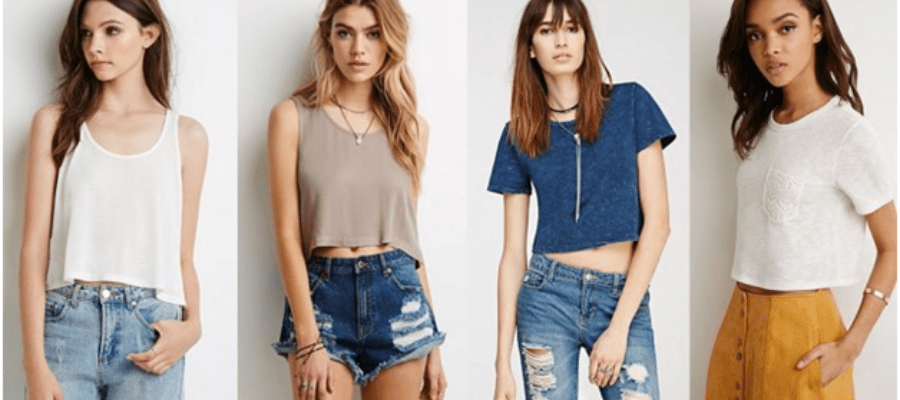 Crop tops are in trend right now as these short, stylish tops look so good on every woman. And, what's best is you can easily style them with any lower you like, be it skirts or joggers. With various designs, patterns, and materials to choose from, crop tops are perfect for casual days, nights out, and everything in between.
Exploring diverse designs and styles of women's crop tops
1. Classic crop tops
These timeless favourites hit right at the waistline, providing a perfect balance between showing skin and staying modest.
2. Off-shoulder elegance
Off-shoulder crop tops add a touch of sophistication to your look, revealing your shoulders and neck for a chic and feminine style.
3. Wraparound wonder
Wrap crop tops offer a trendy twist, as they can be tied in various ways, allowing for a personalised fit and look.
4. Cropped sweaters
When the weather cools down, cropped sweaters keep you warm and stylish, pairing perfectly with high-waisted bottoms.
5. Boho vibes
Bohemian-inspired crop tops often feature flowy fabrics, fringes, and intricate patterns for a free-spirited and carefree look.
6. One-shoulder charm
Single-shoulder crop tops offer a unique and asymmetrical look, adding a dash of drama to your ensemble.
---
Accessorising and mix-matching women's crop tops
1. High-waisted bottoms
Pair your crop top with high-waisted jeans, shorts, or skirts to show just a hint of skin while maintaining a balanced and flattering look.
2. Jackets
Add a stylish jacket or cardigan over your crop top to create a layered and polished appearance. This works for both casual and more formal occasions.
3. Statement jewellery
Elevate your outfit with statement necklaces, earrings, or bracelets to draw attention to your crop top and add a touch of elegance.
4. Mix patterns and textures
Don't be afraid to combine different patterns or textures in your outfit. Mixing a patterned crop top with solid bottoms can be a fun and fashionable choice.
5. Footwear variety
Experiment with a range of footwear, from sneakers for a casual look to heels for a night out. Your choice of shoes can significantly impact your overall style.
6. Bags and purses
A stylish handbag or clutch can complement your crop top well enough and complete your outfit with flair.
7. Hats and sunglasses
For a touch of chic boho vibes, add a wide-brimmed hat and stylish shades to your amazing ensemble.
---
Top brands for purchasing women's crop tops
1. Domyos
Domyos stands out as a fantastic brand for women's crop tops due to its commitment to blending style with functionality. Their crop tops are designed to provide comfort and support during workouts while keeping you on-trend. With a range of stylish cuts, materials, and designs, Domyos offers crop tops that not only help you stay active but also make a fashion statement.
Introducing the Women's fitness crop top in black for just €7. This strap top is a favourite among fitness lovers, offering a modern and stylish look. It's the must-have strap top of the season, featuring a crop-top design for a trendy style, made from stretchy and breathable material with a higher neckline for added comfort.
---
2. Adidas
Adidas stands out as a top brand for women's crop tops due to its combination of style, comfort, and athletic performance. Their crop tops are not only on-trend and fashionable but also designed with high-quality materials and attention to detail. With a focus on both fashion and functionality, Adidas offers a range of crop tops suitable for various activities, making them an excellent choice for active women who want to look and feel their best.
Get ready to style up with the Adidas Essentials loose 3-stripes cropped T-shirt in white for just €32.99. It's the perfect choice to create your trendiest outfits. And, you can easily wear this women's cropped workout top with jeans or joggers according to your personal style.
Read more: 5 T-Shirt Bras That Are So Comfortable You'll Forget You're Wearing Them
---
3. Puma
Puma stands out as a fantastic brand for women's crop tops due to its combination of style, comfort, and quality. With a reputation for sporty and chic designs, Puma offers crop tops that are not only trendy but also made with durable materials, ensuring long-lasting wear. Their attention to both fashion and functionality means you can confidently wear their crop tops for workouts or as part of your everyday wardrobe.
Elevate your style with the Puma studio twist burnout t-shirt in pink, designed for women. This trendy sports/casual tee is priced at €27.99, helping you achieve fashionable and comfortable outfits effortlessly.
---
4. Aesthetic Wolf
Aesthetic Wolf shines as a top brand for women's crop tops because they focus on quality, comfort, and style. Their crop tops come in various trendy designs for different fashion tastes. These crop tops are not just stylish; they're also made with comfy materials, ensuring you look good and feel comfortable.
Styling the Loewi cropped ribbed sweatshirt from Aesthetic Wolf is a breeze. This versatile black women's cropped sweatshirt pairs beautifully with high-waisted jeans or skirts for a trendy and balanced look. Add some statement jewellery or a bold belt to accentuate your waist and create a fashionable ensemble.
---
5. Akara Social
Akara Social stands out as a fantastic brand for women's crop tops due to its commitment to quality, style, and sustainability. Their crop tops are not only on-trend but also made from eco-friendly materials, catering to the conscious consumer. With a diverse range of designs and sizes, Akara Social ensures that every woman can find a crop top that fits her style and values, making it a top choice for both fashion-forward shoppers.
Introducing the Akara Social women's cropped hoodie with hood malab slim, priced at €27.00. This eco-friendly hooded crop top is an ideal choice for your perfect day out. It comes in a vibrant red colour.
---
6. Analisa
Analisa is a fantastic brand for women's crop tops because they offer high-quality, trendy designs that cater to a wide range of styles and preferences. Whether you prefer classic or modern looks, Analisa's crop tops are both fashionable and comfy, making them a great choice for stylish women.
Check out the Analisa seamless cardio training top for medium support, now priced at €34.97 with a 29% discount. This seamless sports top is designed to keep you comfortable during workouts by absorbing sweat and moisture. 
Also read: Versatility Of Nude Tops: A Fashion Revolution Worth Exploring
---
Conclusion
Crop tops are something that every woman owns as they are pretty cosy and easy to style. Decathlon is a great platform to buy sporty or even stylish women's crop tops at pretty affordable prices. They'll not even last much longer but can be easily worn to pull off various looks, be it an aesthetic one or a party one. For more information, visit HerMagic.
FAQs