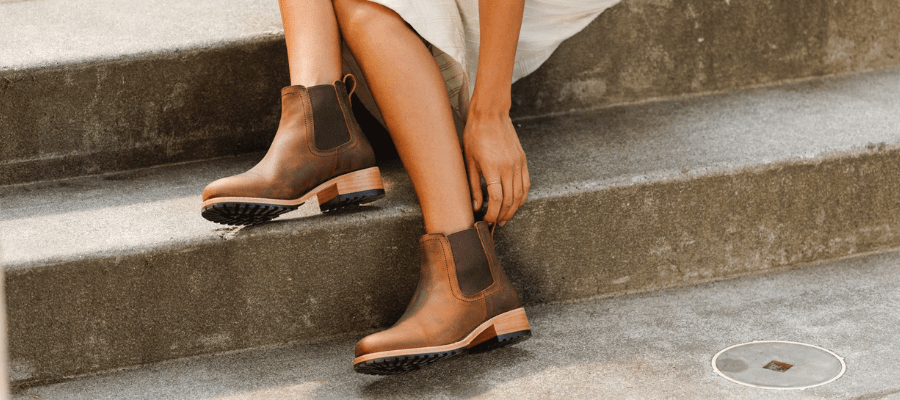 Women's Boots have the insane ability to transform literally any mundane outfit into runway-worthy ensembles, which is precisely why they will not be in style. Invest in good quality boots and you will have a partner for years to come because of their strong build and unparalleled comfort. In this blog, Hermagic will talk about the many types of women's boots and curate a list of the best and most versatile boots for women available in the market. 
Types of Women's Boots 
The Classic Ankle Boot
With a heel or without, adorned with buckles or zippers, these women's boots can elevate your everyday look with a dash of sizzle. Wear them with skirts, dresses, or jeans for a versatile look that can take you from the office to a night out. They're the dynamic pair of shoes in a heartbeat.
---
Chelsea Boot
These boots, with their elastic side panels, slip-on ease, and often sleek, minimalist design, are an absolute must-have for any fashion-forward woman. Bursting with comfort and versatility, Chelsea boots are ideal for those busy days when you need to slip into something fabulous without breaking a sweat.
---
Combat Boot
These boots are rugged, with lace-up fronts, chunky soles, and a whole lot of attitude. Embracing the spirit of adventure, combat boots are perfect for those who want to make a powerful statement. Pair them with ripped jeans, and a leather jacket, and you're ready to conquer the concrete jungle. They were literally epitomized by Liv Tyler in Empire Records with those combat boots and plaid mini skirts. The oomph was really oomphing! 
---
Knee-High Boot
These beauties are the queens of versatility. Whether flat, heeled, or stilettoed, knee-high boots can elevate your style game with their sleek, elongating effect. You can sport them with a mini skirt, a cosy sweater dress, or even over skinny jeans to channel your inner runway model. Think Michelle Pfeiffer's Catwoman in those iconic knee-high boots with pointed heels- iconic, right?
---
Cowboy Boots
Cowboy boots have been a mainstay in fashion for generations, bursting with a timeless allure. Fans of the Wild West style simply must own them because of their distinctive pointed toe, ornate stitching, and timeless heel. They were recently revived by the likes of Kendall Jenner and  Emily Ratajkowski last year when Jenner wore a cute and breezy midi dress paired with the coolest black cowboy boots and Ratajkowski with a white midi skirt on sleek black cowboy boots.
---
Over-the-Knee Boot
These thigh-high wonders are a statement piece that screams confidence. Full of seductive charm, they can turn an ordinary ensemble into a statement piece. For those who love making an unforgettable entrance, over-the-knee boots are your secret weapon. Remember that all-covered Kim K black monochromatic Met Gala outfit in 2021? Though those boots looked amazing, the fusspot was at the top of her game. Or those thigh-high "Cha-Chanel" boots from The Devil Wears Prada; Andi looked extremely good in those boots.
---
Top Picks For Women's Boots 
1. XTI Lace-up boots – taupe
This pair of boots features a sturdy block heel and a platform sole at the front, providing both style and comfort. The shaft boasts a convenient side zipper for easy entry and exit. Lined insoles ensure a cosy feel with each step, while the anti-slip sole with a profile offers excellent traction. The rounded toe design complements the overall look, and the reinforced heel adds durability to these brown lace-up boots.
---
2. Refresh Platform boots – black
These boots feature a block heel and a platform sole at the front for added height and stability. The insole is lined for comfort, and the sole boasts an anti-slip property with a profile for enhanced traction. With a round toe, these boots also come with a reinforced heel for durability. They feature a convenient zipper closure for easy wear. The top part of the boot is adorned with cosy fur, adding a touch of warmth and style to this functional and fashionable footwear.
---
3. XTI Lace-up boots – black
These high-end fashion boots boast a sleek and plain design, featuring a block heel and a platform sole at the front. The lined insole guarantees comfort, and the side zipper makes getting on and off simple. With an anti-slip sole featuring a profile, these boots provide stability and traction. The round toe and reinforced heel add durability. The extras include a pull tab on the shaft and two pockets attached to leather panels, making these boots a perfect blend of style and functionality.
---
4. XTI Short boots – black
These boots feature a sleek, plain pattern with a sturdy block heel, ensuring both style and stability. The lined insole offers comfort, while the anti-slip sole provides secure footing. Their round toe and reinforced heel and toe make them durable and functional. The boots are easy to put on with a zipper closure adorned with a stylish tassel. 
---
5. XTI Boots – black
These boots feature a buckle at the foot for added flair. With a plain pattern, they showcase a stylish and functional design. The active voice and third-person narrative reveal a block heel that ensures comfort and stability, while the lined insole provides a cosy feel. The anti-slip sole property guarantees secure footing, and the round toe adds to their classic appeal. Additionally, these boots are reinforced at the heel and boast an asymmetric shape for a unique touch.
---
Conclusion 
Women's boots are a must-have accessory for every woman's closet because they complement so many different types of clothing that any purchase is always worthwhile. With the adaptable styles of these gorgeous women's boots, you'll be prepared to gradually become an expert in daily wear. Check out some of these women's boots on Lounge by Zalando and buckle up and let your feet do the talking.  Visit Hermagic for more information.
FAQs