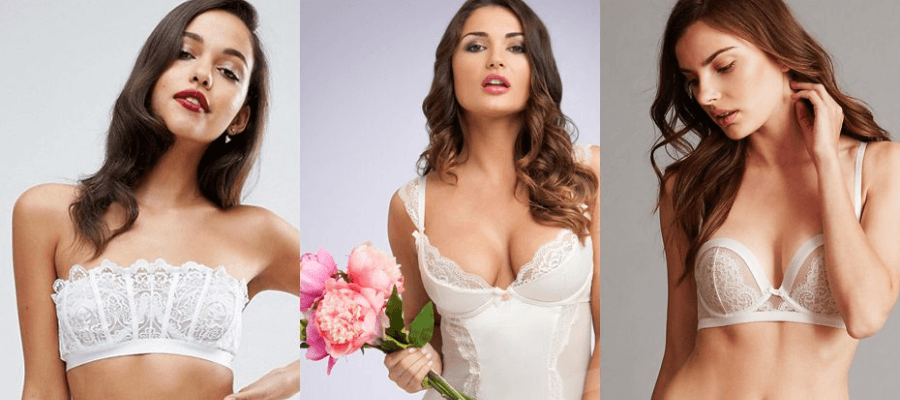 Embarking on the journey to find the perfect wedding lingerie is an enchanting exploration of intimate elegance and the celebration of a new chapter. As brides prepare for their special day, the significance of what lies beneath the gown becomes a crucial consideration. This guide is your companion in navigating the intricate world of bridal intimates. From understanding the importance of comfort and style to embracing the romance of delicate details, this insightful resource unravels the secrets to curating a bridal lingerie ensemble that not only complements the gown but also enhances the bride's confidence and beauty on this extraordinary occasion. Join us on this journey to discover the art of selecting bridal lingerie that is a celebration of romance and the love that marks the beginning of a beautiful journey.
Best Wedding Lingerie For Your Special Night
1. Aubade Infinite Treasure White Wind 2-Piece Set
Experience the allure of the Aubade Trésor Infini White Wind 2-piece set, a captivating blend of floral elegance and intricate details. The embroidered tulle-covered half-cup bra has a plunging neckline, crisscrossed bands, and a bow and jewel accent for both fashion and support. The matching Saint-Tropez shorts are made of embroidered tulle and have broad edges and a pronounced cutout in the back. They are finished with criss-crossed bands and a satin bow. This set is a sophisticated masterpiece that will add elegance and charm to your underwear collection. The bra is made of polyester, polyamide, and a hint of metal fibre, while the shorty Saint-Tropez is made of a combination of polyamide and elastane.
---
2. Aubade Basque Forever
 This captivating basque has pretty frames, shimmering Cornely embroidery, and cups with vertical seams to flatter your figure. It features a plunging neckline, a supportive whale body, and a romantic guipure strip at the centre, reminiscent of wedding dress buttoning. With stretchable and adjustable satin straps and four removable suspenders, it ensures a comfy and personalised fit. The Pour Forever collection in opal colour is wonderfully romantic, perfect for special moments. Enjoy the blend of polyester, polyamide, and elastane that makes it both elegant and comfortable. Embrace a modern take on tradition with the Aubade Basque Forever.
Read more: 5 T-Shirt Bras That Are So Comfortable You'll Forget You're Wearing Them
---
3. Lise Charmel Beauty Source Garter Belt
Made with beautiful tulle and Italian embroidery, it's a delicate piece that feels charming and sophisticated. The elasticated waist ensures it fits comfortably, and the four stretchy suspenders can be adjusted for added sensuality. In a lovely ecru mother-of-pearl colour, this piece, composed of polyamide and polyester, embodies a romantic and soft feel. With intricate embroidery resembling blooming flowers, it magically enhances your unique day. Embrace comfort and elegance with the Lise Charmel Beauty Source Garter Belt.
---
4. Aubade Infinite Treasure White Wind 3-Piece Set
Step into this beautiful wedding lingerie, a tribute to spring with floral touches and captivating embroidery. The plunging neckline, crisscrossed bands, and satin bow on the half-cup bra give it a fashionable and supportive fit. It is framed with embroidered tulle. The adjustable braces on the garter belt come with embroidered tulle and a satin bow. The embroidered tulle briefs from Italy have a traditional, slightly high-cut shape with crisscrossed bands and a satin bow. This collection is a sophisticated fusion of design and comfort, made of polyester, polyamide, with a hint of metal fibre, and featuring 100% cotton-lined bottoms for comfort.
---
5 Styling Tips on Wedding Lingerie
Match Your Lingerie to Your Dress: Ensure your lingerie compliments your dress by choosing pieces in a colour that won't show through. Nude or white are classic choices that work well under most wedding dresses.

Add a Touch of Romance: Elevate your bridal look with lace and delicate details. Your bridal lingerie set can be given a romantic touch with the addition of a lace-trimmed bra or a satin-and-lace chemise. You might want to think about wearing extra lingerie items in addition to a bra and knickers, such as a garter belt, stockings or a robe. Your wedding night might become more opulent and romantic with the addition of these items.

Don't Forget Shapewear: Shapewear can be a bride's best friend, creating a smooth silhouette and providing extra confidence. Glamuse offers a variety of shapewear alternatives, from high-waisted briefs to shaping bodysuits, to accentuate your natural curves.

Choose the right colour: Choosing nude or skin-toned undergarments will help prevent showing through if you're wearing a white bridal gown. If you're wearing a coloured wedding dress, you can either select undergarments that complement that colour or go for a contrasting colour for a more striking appearance.

Fit is key: Make sure the lingerie fits well while selecting it for a wedding. Your pants shouldn't be too tight or too loose. It should highlight your contours while also being comfortable enough to wear for an extended amount of time.
---
Choosing the Right Fit: A Foundation of Comfort and Confidence
Understand Your Body Measurements:
Before diving into the world of bridal lingerie, it's crucial to know your exact measurements. Measure your bust, underbust, waist, and hips to ensure you choose lingerie that fits like a dream.
Consider Your Dress Style:
Different wedding dress styles call for specific lingerie choices. For a strapless gown, a supportive strapless bra is essential, while a backless dress may require adhesive cups or a backless wedding lingerie.
Prioritise Comfort:
Your wedding day is long and eventful, so prioritise comfort. Opt for lingerie made from breathable fabrics and avoid anything that feels restrictive. Glamuse offers a variety of comfortable yet stylish options to suit every preference.
---
Glamuse: Your Destination for Exquisite Wedding Lingerie
Glamuse stands out as the premier destination for bridal lingerie, offering a meticulously curated collection that seamlessly blends comfort, style, and sophistication. With an extensive range catering to diverse preferences and body types, Glamuse ensures every bride finds the perfect pieces to complement their bridal ensemble. The lingerie is characterised by precise craftsmanship, guaranteeing a stunning appearance and a luxurious feel against the skin. Prioritising inclusivity, Glamuse provides sizing options for every body shape, ensuring that all brides feel beautiful and confident on their special day. Additionally, the brand's team of experts is dedicated to offering personalised guidance, assisting brides in finding the right size and selecting styles that enhance their dresses, making Glamuse the ideal choice for a seamless and delightful lingerie selection experience.
Also read: Versatility Of Nude Tops: A Fashion Revolution Worth Exploring
Conclusion
In the journey towards your wedding day, don't overlook the significance of choosing the perfect bridal lingerie. Glamuse, with its exceptional collection, commitment to quality, and expert guidance, emerges as the ultimate destination for brides seeking exquisite lingerie that enhances their beauty and complements their style. Elevate your bridal experience with Glamuse and embrace the confidence and allure that comes with the perfect wedding lingerie. Your special day deserves nothing less. For more information, visit HerMagic. 
FAQs