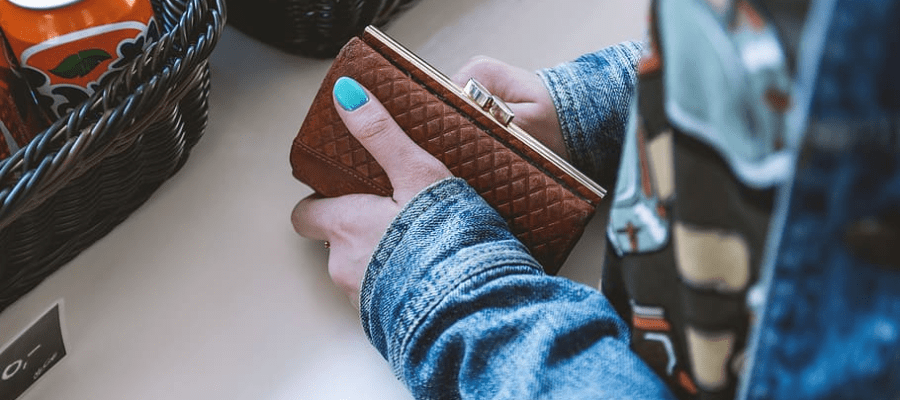 Accessory choices can have a significant impact on women's fashion. A wallet is more than simply a useful accessory—it's a way to elevate your appearance and add flair. Lounge by Zalando offers a captivating collection of wallets for women designed exclusively for women, combining fashion-forward style with functional elegance. From sleek and compact cardholders to spacious and luxurious purses, these wallets for women are crafted with meticulous attention to detail and a keen eye for the latest trends. Elevate your everyday accessory game with a Lounge wallet that seamlessly merges form and function, allowing you to carry your essentials in style while staying organised. 
Choosing the Right Wallets for Women: Style and Design
Wallet selection is more than a functional accessory; it's an expression of your individual style. Invest in a wallet that goes well with your outfit by thinking about what kind best fits your style and way of life.
Classic Bi-Fold Wallets: Classic bi-fold wallets exude timeless elegance. They are characterised by their folding design, offering ample space for cash and multiple card slots. You can find them in various materials, including leather, which lends a touch of luxury, or fabric for a more casual look.

Slim Wallets: Slim wallets are the epitome of minimalist chic. They're compact and designed to carry essentials like a few cards, cash, and even a key. Sleek and often made of leather, these wallets come in various shapes and colours, making them perfect for a modern, streamlined look.

Clutch Wallets: Clutch wallets are a fashion statement in their own right. They typically have a larger design, ideal for women who prefer carrying their essentials and more. You can find clutch wallets in a variety of textures, colours, and patterns, allowing you to coordinate them with your outfits.

Zip-Around Wallets: Zip-around wallets are known for their security and functionality. They feature a zippered closure, keeping your belongings safe. Available in an array of materials, these wallets come in classic and contemporary designs, making them versatile for all occasions.
Best Wallets for Women by Lounge by Zalando
1. Mandarin Duck LUNA – Keychain – Dark Brown
This leather wallet for women features six internal key hooks for easy organisation, providing a convenient and accessible storage solution. It is made from a durable material ensuring longevity and robustness. The wallet's exterior showcases a sleek and minimalist plain pattern, while its secure closure mechanism utilises press studs for added convenience. The outer layer of the wallet is made from genuine leather and the interior lining is crafted from polyester.
---
2. Mandarin Duck LUNA – Wallet – White
The wallet boasts a practical interior design with a combination of a zipper pocket, multiple card slots, and compartments for bills, ensuring you have ample space for all your essentials. Its exterior showcases a sleek and uncomplicated plain pattern. This wallet is constructed with durable materials to withstand wear and tear over time. The inner is lined with polyester for a cosy and useful finish, while the exterior is made of sturdy leather for a classy appearance and longevity.
---
3. Mandarina Duck Wallet – White
Featuring a simple and unadorned plain pattern, this wallet is designed with a dedicated coin compartment for your convenience. Secured with press studs, it offers an easy and practical way to keep your belongings safe. Crafted from genuine leather, the outer layer of the wallet not only adds a touch of sophistication but also ensures durability and longevity, making it a reliable accessory for your daily needs.
---
4. Mandarin Duck LUNA – Wallet – Dark Brown
In a rich dark brown hue, this wallet comes with a functional layout that includes a convenient coin compartment and four slip pockets on the outside for easy access to frequently used items. Its design is characterised by a simple and unembellished plain pattern, and it's secured with a reliable zipper closure. This small wallet for women's durability and stylish appearance are attributed to its leather outer layer, while the interior is lined with comfortable and practical polyester.
---
5. Mandarin Duck MELLOW – Clutch – Black
This black clutch stands out with its sleek and minimalist design. It's equipped with a dedicated phone pocket, ensuring your device is easily accessible and secure. The straightforward plain pattern adds to its elegance, and it's sealed with practical press studs. Its durable exterior is crafted from leather while the inside is lined with comfortable and functional polyester.
6. Mandarin Duck I-CON – Wallet – Brown
This brown wallet offers a practical layout with compartments for coins, banknotes, and various cards. Its design is elegantly plain, and it secures your belongings with a zipper closure. Crafted from leather for the outer layer and featuring a polyester lining, this wallet combines style and functionality seamlessly.
Also read: Women's Crossbody Bags: Popular Brands And Tips For The Perfect Choice
---
Maintaining the Beauty of Your Wallets for Women
For effective wallet maintenance, regularly clean the exterior using a damp cloth and apply leather conditioner for leather wallets for women. Avoid overloading your wallet to maintain its shape and protect it from moisture, especially if it's made of leather. Utilise a wallet organiser for better item management, consider rotating between wallets for even wear, store it in a cool, dry place, and promptly address minor damages to ensure long-lasting quality and appearance.
---
Conclusion 
Lounge by Zalando's exquisite collection of wallets for women offers a harmonious blend of fashion and functionality. These wallets for women are not just accessories; they are expressions of individuality, meticulously designed to meet the demands of modern life. With a variety of styles and designs to choose from, women can effortlessly elevate their personal style while ensuring their essentials are organised and secure. Lounge by Zalando empowers women to make a stylish statement with every wallet they carry, reaffirming that fashion can be both chic and practical. For more information on wallets for women, visit HerMagic.
FAQs