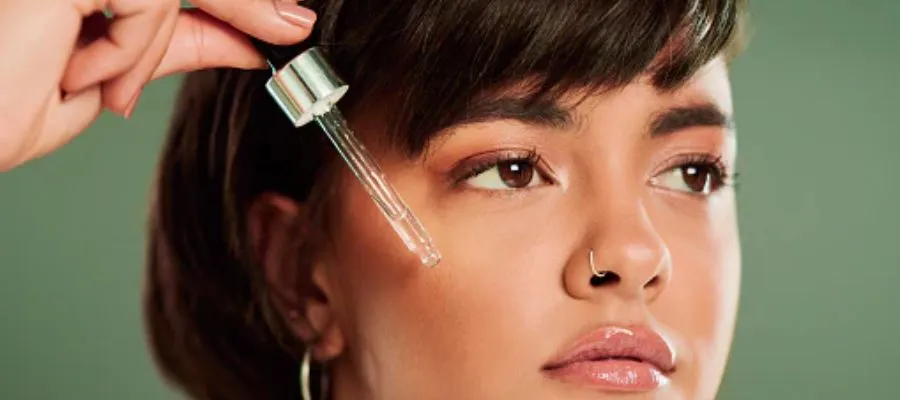 Vitamin C serum has many advantages for the skin. It is a strong antioxidant that works to shield the skin from free radical damage, which lessens ageing symptoms like wrinkles and fine lines. Eliminating hyperpigmentation and fostering a more even skin tone can make the skin look more radiant. Vitamin C is a popular choice for people who want to seem younger and healthier since it encourages the formation of collagen, which can enhance skin suppleness and general skin health. Due to its powerful antioxidant advantages, such as lowering the appearance of ageing, improving skin tone and texture, and fostering a healthier complexion, vitamin C serum is a highly sought-after skincare product. Holland and Barrett are renowned for offering some of the finest selections of this serum, known for their quality and effectiveness in helping individuals achieve vibrant, youthful-looking skin.
What Ingredients Should I Look For While Buying Vitamin C Serum?
L-ascorbic acid: The vitamin C serum compound recognized for its collagen-stimulating, hyperpigmentation-fading, and antioxidant effects. It is the most stable and powerful form of vitamin C.

Ferulic acid and vitamin E: These components improve vitamin C's stability and increase its antioxidant potency.

Hyaluronic acid: In order to combat any potential dryness or irritation brought on by vitamin C, hyaluronic acid helps moisturize and plump the skin.

Optimal concentration: A serum with a vitamin C content of between 10 and 20% is ideal for effectiveness without causing severe skin sensitivity.

Avoid harmful additives: For a safer and more effective skincare routine, be sure the vitamin C serum is free of parabens, artificial perfumes, and other potential irritants.
The Best Recommended Vitamin C Serums
1. Q+A Vitamin C Brightening Serum – 30ml
The 30ml skincare powerhouse Q+A Vitamin C Brightening Serum combines the advantages of stable vitamin C and hyaluronic acid in a hydrating, lightweight solution. Your skin will look beautiful and rejuvenated after using this serum, which also helps to brighten and balance out your skin tone. This vitamin C serum stands out for its dedication to being 100% vegan and devoid of mineral oil, silicone, and scent, making it a healthy and skin-friendly option for individuals looking for a safe and efficient way to increase the vitality and radiance of their skin.
---
2. Holland & Barrett Vitamin C + Hyaluronic Acid Serum – 30ml
The Holland & Barrett Vitamin C + Hyaluronic Acid Serum, available in a 30ml bottle, is an effective skincare item made to support healthy-looking skin. It works to smooth out the complexion by reducing the appearance of fine lines and wrinkles thanks to the potent mix of vitamin C and hyaluronic acid. This vitamin C serum increases its effectiveness by promoting collagen synthesis, which results in skin that is firmer and more supple. Additionally, it's a vegan-friendly product, making it a moral option for individuals looking for efficient skincare products without the use of animals.
---
3. VitaSkin Vitamine C Collagen Boosting Serum – 30ml
Available in a 30ml bottle, the VitaSkin Vitamin C Collagen Boosting Serum is a potent collagen serum enriched with vitamin C that rejuvenates and revitalises the skin. This serum contains a lot of antioxidants, which not only protect and nourish the skin but also lessen fine lines to help fight the effects of ageing. The formula's incorporation of vitamin C boosts the formation of collagen, improving skin suppleness and resulting in a more youthful appearance. This vitamin C serum is a fantastic option for people trying to attain smoother, firmer, and more youthful skin thanks to its potent combination of collagen-boosting characteristics and the protective advantages of antioxidants.
---
4. Kneipp Boosting Vitamin Serum Mindful Skin – 30ml
A true energy booster for your skin, the Kneipp Boosting Vitamin Serum Mindful Skin comes in a 30ml package. It energises and revitalises your complexion, leaving your skin to appear renewed and luminous. The serum is a lovely addition to your skincare routine because of its energising and refreshing citrus scent, which enhances the revitalising sensation. This potent serum is a wonderful and energising option for individuals looking to revive their skin and mind because it not only nourishes your skin with necessary vitamins but also gives you a sensory boost.
---
5. Dr Organic Guava Facial Serum – 30ml
A must-have for skincare, Dr Organic Guava Facial Serum comes in a 30ml bottle and is renowned for its outstanding capacity to deliver intense hydration. This serum, which is rich in strong vitamin C, not only quenches the skin's thirst but also revitalises it by increasing and brightening its natural brightness. Beyond hydration and illumination, the serum actively fortifies and repairs the skin, fostering a healthier and more resilient complexion. The Dr. Organic Guava Facial Serum is a top pick for individuals looking for high hydration, antioxidant benefits, and general skin regeneration due to its holistic approach to skincare.
---
Are all skin types suitable for vitamin C serum? 
Vitamin C serum is typically thought to be acceptable for the majority of skin types; however, its efficacy and tolerability can differ from person to person. It is especially helpful for people who have dull or uneven skin tone, ageing symptoms, or who want to improve the health of their skin in general. Vitamin C can occasionally result in moderate irritation, redness, or stinging, so people with sensitive skin may need to use caution when including it in their skincare regimen. In such circumstances, starting with a lower concentration of vitamin C and gradually increasing it as your skin becomes more acclimated to the product will help minimize unwanted side effects.
Vitamin C serum helps hydrate dry skin and encourage a more luminous complexion, especially when it contains hyaluronic acid. But vitamin C can also help regulate sebum production and lessen the visibility of acne scars and blemishes in those with oily or acne-prone skin. To guarantee that a vitamin C serum is good for your particular skin type and needs, it's crucial to patch-test any new product and speak with a dermatologist if you have any particular skin concerns or conditions.
Conclusion
Vitamin C serums have become an essential component of skincare regimens because of their capacity to encourage healthier, more vibrant skin. These serums, which are frequently fortified with antioxidants and collagen-boosting elements, can aid in minimizing fine wrinkles, enhancing skin texture, and balancing skin tone. When looking for high-quality skincare items, Holland & Barrett stands out as a dependable choice. For those looking to improve the vitality of their skin and create a youthful glow, their variety of Vitamin C serums offers effective and moral options. For more information on vitamin C serum, visit Hermagic.
FAQs