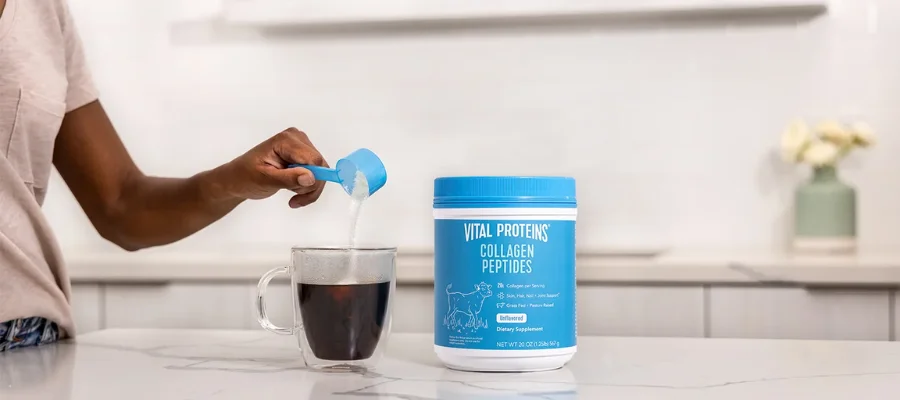 Vital Proteins Collagen Peptides are one of the most popular collagen products on the market and are enthusiastically chosen by many people looking for a complete supplement to support their health. These peptides are also tasteless, made from one simple ingredient, and mix well with hot or cold drinks, making it easy and convenient to get your daily dose of collagen. In this blog Hermagic will help you understand the various benefits of vital protein collagen peptides, how to take them and where you can get quality capsules. 
What are vital proteins collagen peptides?
Vital Proteins is a nutritional supplement company specializing in collagen products. In addition to collagen peptides, the product range also includes collagen creams, protein powders, protein bars and gummies as well as many other nutritional supplements. Collagen peptides are one of their best sellers. 
Collagens is one of the main components of connective tissues. It makes up for 30% of our protein content and serves as the framework for a lot of our tissues- skin, bones, tendons, etc. It is the main component of the connective tissue that forms several parts of the body, including tendons, ligaments, skin and muscles. Collagen performs many important functions, including: providing structure to the skin and strengthening bones
Benefits of vital proteins collagen peptides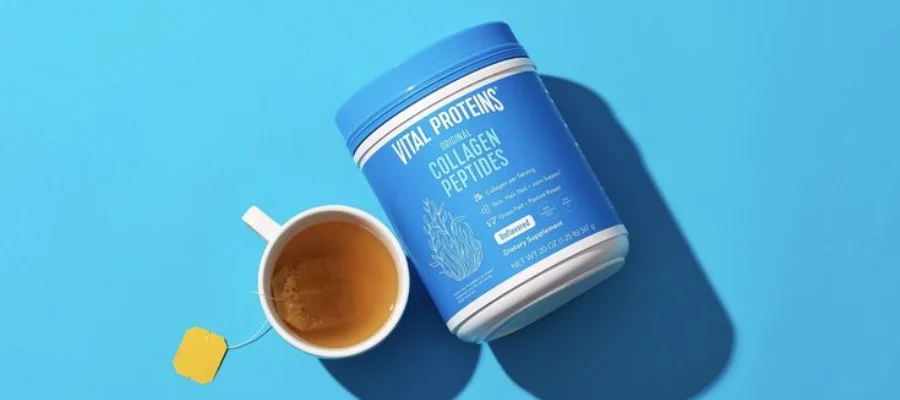 Collagen supplements have become increasingly popular in recent years. Most of them are hydrolyzed, meaning the collagen has been broken down to make absorption easier. These dietary supplements are mostly available in powder form, but they are also available in capsules. Collagen peptides have many benefits- 
1. Hair 
There is no constructive research on the effect of collagen on hair but popular beliefs say that the supplements have increased the thickness of hair after consumption. By incorporating Vital Proteins Collagen peptides, you will notice shinier and stronger hair. 
2. Skin 
Collagen supplements are potent in skin care and are often referred to as the 'fountain of youth'. It helps maintain skin suppleness, promote skin elasticity and hydration and reduce wrinkles. Regular usage can also help with aging and the prevention of wrinkles. 
3. Gut health and digestion 
The supplements also help maintain the digestive system by soothing and healing the tract lining and the gut. It can be especially helpful for leaky gut syndrome or irritable bowel syndrome. 
4. Muscular recovery
Fitness professionals and people with muscular injuries can greatly benefit highly from Vital Proteins Collagen peptides as it supports muscle repair and growth. The amino acids of the collagen peptides escalate the building of muscular tissues. 
5. Joints 
VItal Proteins collagen supplements can also help decrease joint stiffness in people with osteoarthritis- a condition of weary joints. They may not help in decreasing the pain but may promote repair in the area. 
How to use vital proteins collagen particles 
Mix one scoop of the collagen peptide powders with any liquid. You can use both hot and cold fluids (coffee, soups, water, etc)

You can also opt to add a dose of collagen to foods like dips or cookie mixes to incorporate collagen into your daily routine in other ways.

Always stir collagen powder until completely dissolved to avoid lumps in your drink or recipe.
Who should consider taking Vital Proteins collagen supplements?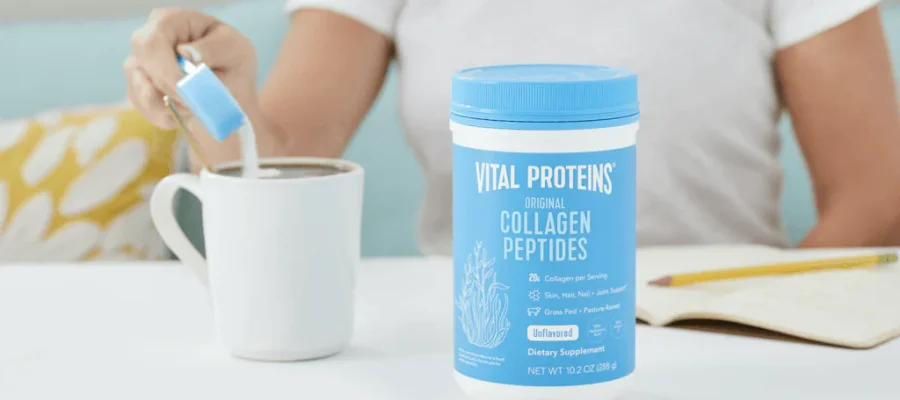 People with the following issues can consider ingesting Vital Proteins collagen supplements-
Age related diseases
Aging leads to a decline in natural collagen production which causes joint stiffness. Collagen peptides can promote joint health by promoting cartilage regeneration and reducing joint pain. In our 30s itself collagen levels may drop by 1-2% which only goes down further. Collagen can reduce the appearance of wrinkles, so it is recommended to add collagen to your diet to have a more youthful look. 
Dietary restrictions
These peptides go well with paleo diets which emphasizes on whole and unprocessed food which entails that the body gets enough nutrition with the collagen supplementation. They are also free of gluten and dairy making them a good vegan option. 
Athletes and fitness enthusiasts 
For athletes and fitness enthusiasts, muscle regeneration is a top priority. Collagen peptides contain amino acids such as glycine and proline, which promote muscle repair and growth. Incorporating collagen into your post-workout routine can speed recovery and help you perform better in subsequent workouts. Also, the repeated stresses of sports and intense training can put pressure on the joints. Collagen supplementation can help maintain joint integrity, reduce the risk of injury, and support overall athletic performance. People who enjoy outdoor activities such as hiking, cycling, or running may experience joint pain due to the physical strain of these activities. Collagen peptides can support joints and increase overall strength.
Potential Side Effects and Precautions
While collagen peptides are generally considered safe because of their natural composition, it is advised to be aware of what effects collagen supplements could possibly have on your body. If you are more prone to allergies and reactions, it is important to consult a healthcare professional. 
Vital Proteins collagen peptides 
These peptides are a popular choice among users. They have no chalky consistency and no taste. They can be consumed with both hot and cold beverages without altering their taste. Vital Proteins collagen peptides contain a mixture of 19 different amino acids. This list includes powerful substances like alanine, lysine, and glycine, whose deficiency can lead to joint pain and osteoarthritis due to their role in collagen synthesis), as well as an average of 80 milligrams of hyaluronic acid. It can be good for the skin in each serving, which is equivalent to two measuring spoons.  They come in the form of gummies, capsules and powder, 
Conclusion 
Vital Proteins collagen peptides have emerged as a remarkable product in the collagen peptides market. You still have to remember that even though the peptides offer you a great deal of benefits, they are still not a panacea and have to be used in moderation. Head over to iHerb and get yourself on the way to lasting youth. To get more details, visit our official website, Hermagic.
FAQs