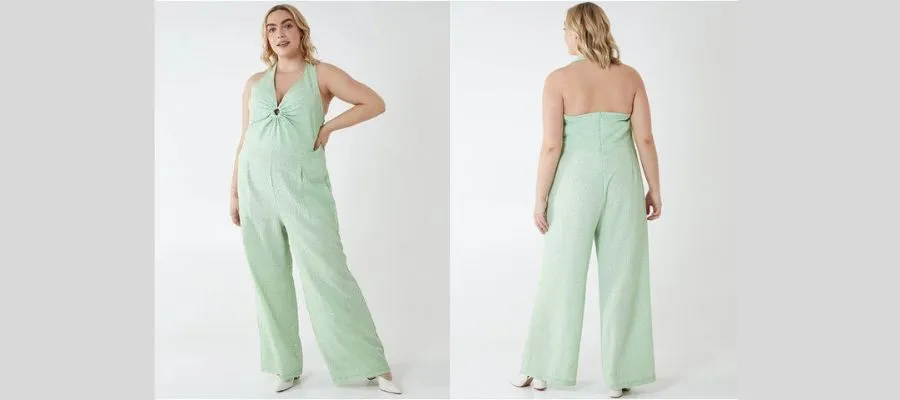 As a plus size woman, we are sure you are tired of brands selling average sized clothing in the name of "plus size inclusion". Fashion and body type can go hand in hand, having a plus size body does not mean you should compromise on your style choices – crop tops or dresses, those thighs do not need to be covered! Hermagic Fashion has put together a list of the best plus size clothing brands so you don't have to go through the façade of "plus size inclusion" ever again. M&Co carries a wide collection of inclusive brands with appropriate plus size options, unlike falsely claimed clothing stores with plus size make.
 Inclusive Plus Size Chart From M&Co. 
| | | | |
| --- | --- | --- | --- |
| Women | Bust | Waist | Hip |
| Size | cm | inch | cm |
| X Small | 88 | 34.5 | 69 |
| Small | 93 | 36.5 | 74 |
| Medium | 98 | 38.5 | 79 |
| Large | 103 | 40.5 | 84 |
| X Large | 108 | 42.5 | 89 |
| XX Large | 113 | 44.5 | 94 |
 M&Co. has a user friendly, extremely easy to use size chart (mentioned above) so you know exactly what you are ordering along with a beautiful range of plus size clothing options, designed with various body types in mind. Discover their latest arrivals for 2021 and stay trendy while treating yourself to a whole new wardrobe. Their collection of own-brand ladies' fashion and branded women's clothing means you can find your new favourite outfit at a price that suits your pocket. Discover flattering and versatile to style women clothes online today at M&Co's website.
Here are our top picks:
1. Tops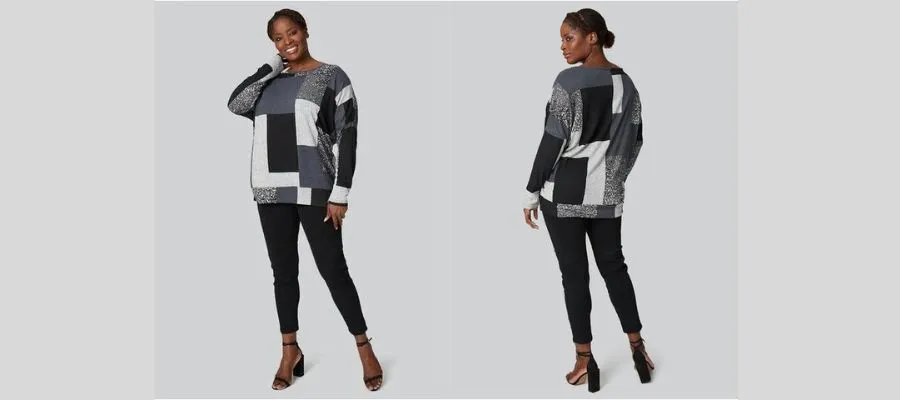 Find upper-wear that not only fits like a glove but also flatters your curves. M&Co carries some gorgeous options for tops you would love to buy. This Izabel Curve Colour Block Casual Sweatshirt features a bold geometric print with a black-grey colour scheme with a round neck, drop shoulder long sleeves and a below the hip tight fit. Can be worn solo as a statement piece or layered under or over something for a wintery look.
Another Izabel favourite is the Curve Floral Slouchy Sweatshirt that features a floral print in a round neck, drop shoulder and hip fit design. It can be styled with a pair of tights and trainers for a cute casual look, making it a perfect item of plus size clothing.
2. Pants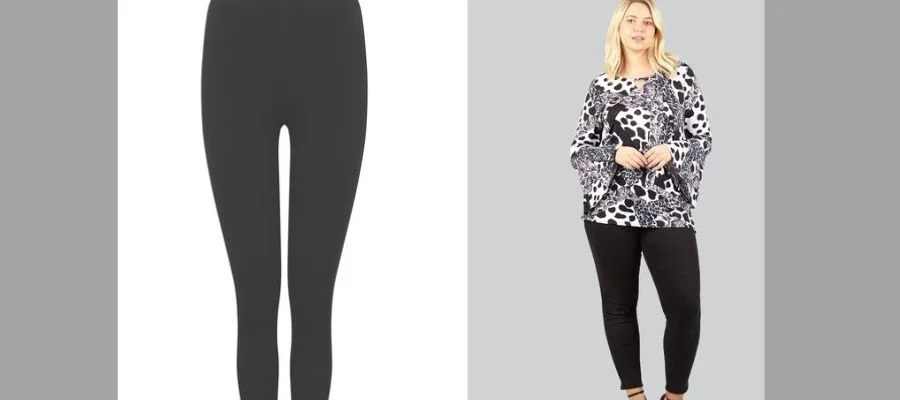 Most of us know the struggle of trying on a pair of lowers that fits the thighs but is too loose at the waist or finding your waist size but refuses to get pulled over your hip. We have the perfect solution for all you beautiful curvy women – stretchable pants. Like these Straight Leg Joggers that have an elasticated waist and soft jersey finish. These navy blue pants ensure maximum comfort and style. Pair it with your favourite trainers and sweatshirts and you are good to go!
For a more dressy look, M&Co.'s Spirit Bengaline Berry Trousers are a great option. Made of 74% Viscose and available in two statement dark colours, these bengaline style trousers are cut with a slim fit leg making it super easy to style with a tee-shirt or even a formal shirt.  
3. Swimwear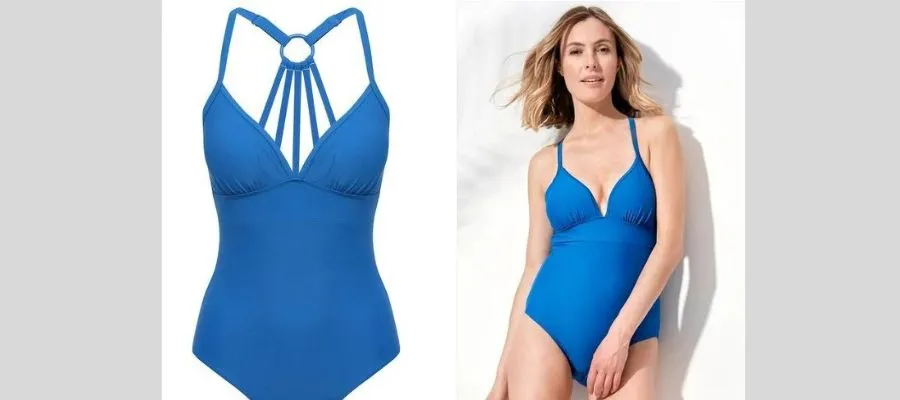 There is nothing harder for plus sized women to find when shopping than swimwear. They are either never the right size or super boring. Everyone deserves to feel sexy and fun for an outing at the beach or while chilling at the pool. Luckily for us, M&Co. has the answers to all our problems with their size inclusive swimwear collection. This beautiful Lattice Swimsuit available in blue or black colour is just one of the many options. It offers a contemporary style to your poolside look. This is a flattering and stylish option for a fun vacation with lightly padded cups, a V neckline, and a lattice back complete with silver ring detail.
For a two-piece option, the Orange Textured Bikini Top is the way to go. It is designed in a balcony style with underwire to get the ultimate shape and support. You have the option to wear it as a halter neck or remove the tie entirely to become strapless. It can be paired with the matching bikini top or mixed and matched with their birds of paradise collection.
4. One pieces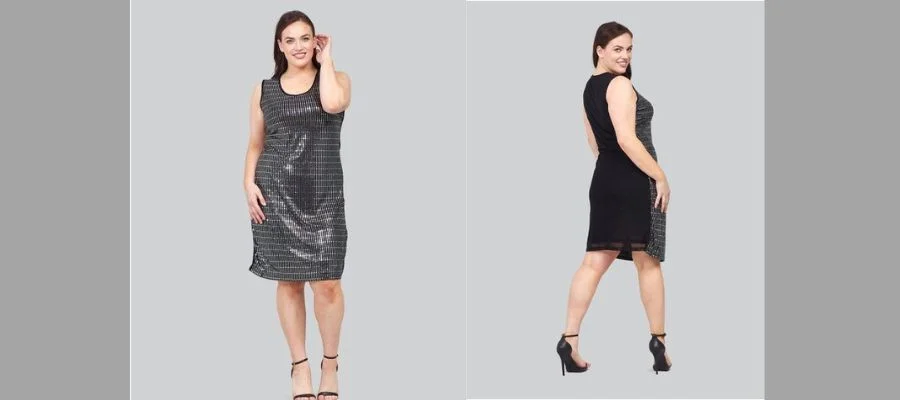 A classy one-piece outfit, paired with accessories to your liking is the perfect choice for any event – casual or formal, day or night. They are super easy to style, comfortable and versatile. One of the options that M&Co carries for a one-piece dress is the Izabel Curve Sequin Bodycon Dress which looks just absolutely perfect for a clubbing night out. In a figure-hugging cut it has a round neck, is sleeveless and sits on the knee. Style it with heeled sandals and a clutch and you are all set!
Another option is the Blue Vanilla Curve Halter Neck Culotte Green Jumpsuit which is for sure a must have for the summer. This culotte style jumpsuit features a halterneck with ring detail on the front, you absolutely cannot go wrong with this.
Head over the M&Co's website and avail all the customer friendly policies while exploring their all-inclusive clothing lines.
FAQ
Free delivery options on UK orders over 50 Pounds.