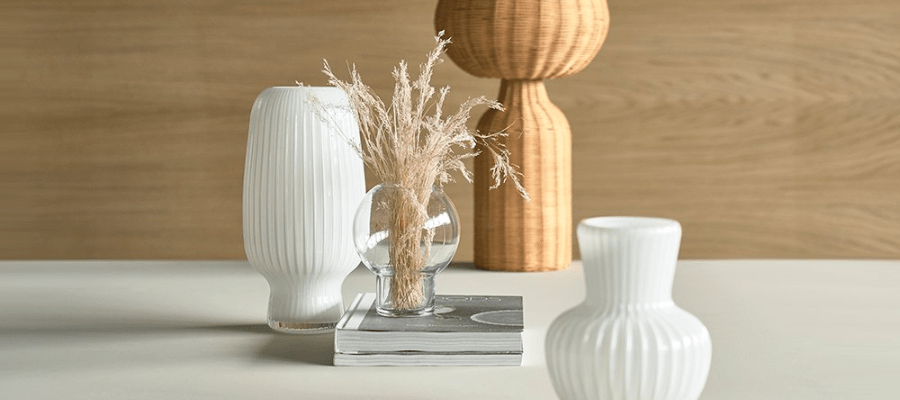 Table vases are such pieces that are known for their versatile and timeless decor, adding a touch of elegance and charm to any space be it a living room or dining area. Besides their main functional use for holding flowers, these vessels are a significant element of interior design, enabling individuals to showcase their creativity and style. 
In this exploration of table vases on Privé by Zalando, we dive into the varied styles, materials, and art of arranging flowers to complement these decorative pieces. These vases for flowers come in an extensive range of styles and designs, meeting diverse tastes and interior aesthetics demanded by the customers. 
Classic designs are often characterised by timeless shapes like urns or amphorae, while modern ceramic vases showcase innovative forms, come in different abstract shapes, and are constructed of unconventional materials. From sleek and minimalist to intricately detailed table vases, the wide variety of styles enable individuals to search for a table vase that complements their home decor. 
Features of a table vase 
The vase for flowers is recognised as a versatile and elegant decor item that can be used in different ways to enhance the aesthetic appeal of a space. Primarily known for holding flowers, the table vase goes beyond its functional role and becomes a centerpiece of artistic expression in interior design. 

Whether it is about displaying a single stem or a curated bouquet, the table vase adds a touch of nature and freshness to the room. 

The art of arranging flowers in a table vase enables individuals to build visually appealing compositions that complement the overall decor. It is because of the design and form that contribute to the overall aesthetic of a room. 

From classic to modern, the choice of a table vase allows individuals to express their artistic preferences and match up with their existing decor. 
---
Explore Privé by Zalando's collection of signature table vases
Privé by Zalando offers a captivating collection of table vases, each a testament to the intersection of artistry and functionality. It is in this curated selection, that we grasp the diverse world of table vases, offering a range of styles, materials, and designs that transcend the ordinary. Each ceramic vase is a meticulously designed piece of architecture, blended with timeless elegance with contemporary flair, to hike up the aesthetics of any space. Ranging from classic to ornate designs all these works evoke a sense of tradition to modern, minimalist pieces that speak to the current design sensibilities, Privé by Zalando's table decoration is a collection showcasing diversity. Crafted from premium materials such as glass, ceramic, porcelain, and more, these table vases are not just vessels or vases for flowers, but they are regarded as expressions of style and sophistication.
1. Iplex- table vase – light grey
The affordable table vase comes under the affordable price range of €16.50 in comparison to the list price of €50.00 that is available in the market. The size of the item comes in the standard size of 25cm. The material used for crafting such elegant table vases is plastic which reduces its capacity to break down and get destroyed. The platform stands on giving premium quality material products crafted out of the best quality material. The light gray colour of the tray gives it a shiny and classy look thus making it stand out from other designed table vases.
---
2. Iplex- drappeggi – table vase – black
One of the intricately designed table vases is available in a different colour range of white, gray, and black colours. These vibrant colours vases for flowers come in the best unique shape and sizes. The normal size within which this uniquely designed piece is available is 14 cm. The cleaning instructions given to keep the vase clean and shiny is that it should be cleaned with mild alcohol-free detergents with the help of a soft cloth. The proper dimensions of the piece are given with a length of 14cm length of 21cm and a width of 14cm length of 17cm. 
---
3. Iplex- drappeggi – table vase – multi coloured
This supreme multi-coloured vase for flowers adds an aesthetic look to not only the living space but also increases the beauty of the flowers kept in the table vase. Crafted with plastic material, it is resistant to breaking if it falls. Ceramic vases are known for their grace and style and so are the table vases offered by the platform with supreme quality features. 
---
Conclusion
In conclusion, Privé by Zalando has successfully transformed the criteria of table vase into exquisite pieces of functional art. The platform's carefully curated selection presents a diverse array of styles, materials, and designs that works to redefine the role of table vase in interior decor. Each vase for flowers becomes a statement piece, reflecting the mix of form and function, making the platform a destination for those seeking not just furniture but an elevated living experience. The commitment to quality is evident right from the premium materials and impeccable craftsmanship showcased in every table vase. Whether customers gravitate or move towards the timeless allure of wooden tables, the sleek sophistication of glass, or the fusion of various materials, Privé by Zalando ensures a collection that resonates with various design preferences.
For more information, visit Hermagic.
FAQ