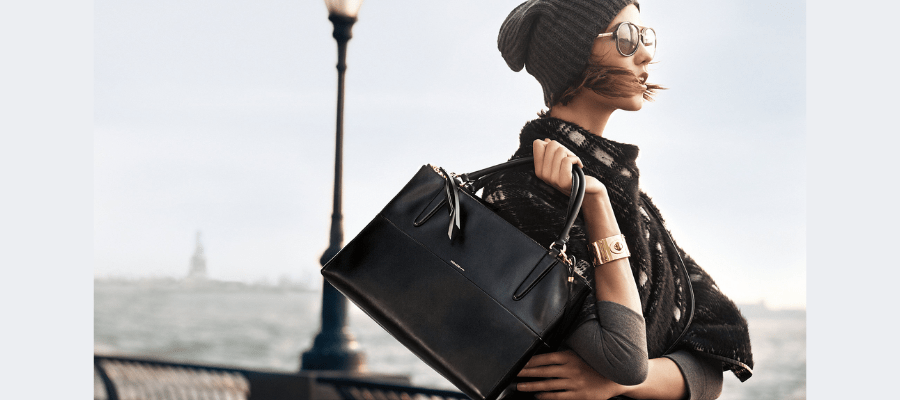 In the age of sustainability and conscious consumerism, the rise of eco-friendly and stylish bags for women is a fashion revolution. Discovering the perfect blend of chic design and environmental responsibility can be a rewarding experience. 
In this guide, we'll unveil the secrets to finding the trendiest sustainable bags that not only enhance your style but also contribute to a greener planet. From materials to brands leading the way, let's explore the world of eco-conscious fashion.
Tips for Finding the Top Brands that Offer Sustainable and Stylish Bags for Women
Discovering top brands that offer sustainable and stylish bags for women is a conscious fashion choice. Here are some tips to help you on your eco-friendly journey:
Prioritise Sustainable Materials
Seek out brands that use eco-conscious materials like recycled plastic, organic cotton, and vegan leather for their bags.
Consider Ethical Production
Sustainable and stylish bags for women are often produced in factories that uphold ethical labour practices and minimise environmental impact.
Evaluate Commitment to Sustainability
Look for brands with a clear sustainability strategy and transparent supply chains, showcasing a true dedication to eco-responsibility.
Research and read product reviews to gauge the quality and sustainability of the brands you're interested in.
Seek certification from organisations like the Global Organic Textile Standard (GOTS) or the Fairtrade Foundation.
Check the brand's online presence for transparency regarding supply chains and sustainability practices.
Don't hesitate to reach out to brands with questions about their sustainability efforts, material sourcing, fair labour practices, and environmental impact reduction. Supporting sustainable brands ensures responsible and ethical fashion choices.
By following these tips and exploring these brands, you can make informed choices that align with your sustainability goals and budget, all while embracing eco-friendly and stylish fashion.
Top 5 Choices for Stylish Bags for Women you must Consider Buying
1. Karl Lagerfeld Shoulder Bag – Black
The Karl Lagerfeld shoulder bag in classic black exemplifies timeless elegance and contemporary style. The black hue, a symbol of chic simplicity, complements any outfit, while the well-thought-out compartments offer practicality without compromising on aesthetics. With the iconic Karl Lagerfeld branding, this shoulder bag is not only a fashion statement but a symbol of refined taste and enduring quality for those who appreciate both style and substance.
---
2. Chiara Ferragni Range Eyelike Sketch Bags – Shoulder Bag – Dark Pink
The Chiara Ferragni Eyelike Sketch Bag in dark pink is a stunning blend of fashion and artistry. This shoulder bag captures attention with its vibrant hue and eye-catching sketch-like design. Chiara Ferragni's unique and playful aesthetic shines through, making it a true statement piece. Crafted with attention to detail, it combines style and function seamlessly. The dark pink colour exudes confidence and personality, while the compact yet spacious design makes it ideal for daily use. Chiara Ferragni's range is a symbol of contemporary fashion that allows you to carry a piece of art while making a bold and fashionable statement.
Read more: What Makes The Premium Bag Experience Truly Exceptional?
---
3. Zac Zac Posen Eartha – Handbag – Black
The ZAC Zac Posen Eartha Handbag in sleek black is the epitome of timeless sophistication. Crafted with meticulous attention to detail, it exudes an air of elegance and versatility. The bag's design seamlessly combines fashion and function, with its smooth, glossy black exterior and well-organised interior. This handbag is the ideal accessory for various occasions, effortlessly elevating your style. ZAC Zac Posen's signature touch is evident in every aspect, making it a symbol of enduring quality and refined taste. Whether for a formal event or everyday use, the Eartha handbag in black is a fashion statement that embodies both style and substance.
---
4. Michael Kors ISLA – Shopper – Zwart
The Michael Kors ISLA Shopper in elegant black, known as "Zwart," is a stunning blend of style and functionality. Being one of the stylish shoulder bags for women, this bag is the epitome of luxury and sophistication. The smooth black exterior exudes timeless charm, making it a versatile accessory for any occasion. The spacious interior offers ample room for your essentials, ensuring practicality without compromising on aesthetics. The iconic Michael Kors branding adds a touch of glamour to this already chic piece. With the ISLA Shopper, Michael Kors has created a fashion statement that combines quality, style, and the ultimate in contemporary elegance.
Read more about: Carry Your Passion: Sports Bags For The Dedicated Athlete
---
5. Just Cavalli Shoulder Bag – Cognac
The Just Cavalli Shoulder Bag in rich cognac is a stunning blend of elegance and contemporary style. The supple cognac-coloured leather adds a touch of warmth and timeless charm, making it a versatile accessory for any occasion. The spacious design offers both style and practicality, with room for all your essentials. The Just Cavalli logo subtly graces the bag, a testament to its designer quality. With its combination of quality craftsmanship and a classic yet modern design, the Just Cavalli Shoulder Bag in cognac is a statement piece for those who appreciate style and substance.
---
Conclusion
When it comes to finding fashion and accessories that cater to both men and women, Lounge by Zalando stands out as the ultimate destination. It's a fashion haven where style meets sustainability, offering a wide array of eco-friendly and stylish bags for women. 
Elevate your fashion game while making responsible choices at Lounge by Zalando, the go-to platform for eco-conscious shoppers. Visit their official website today to explore the exclusive range of sustainable and stylish bags for women. 
Besides, for more such fashion blogs, follow our website HerMagic. 
Also read: 5 Must-Have Clutch Bags For Women Of All Styles
FAQs