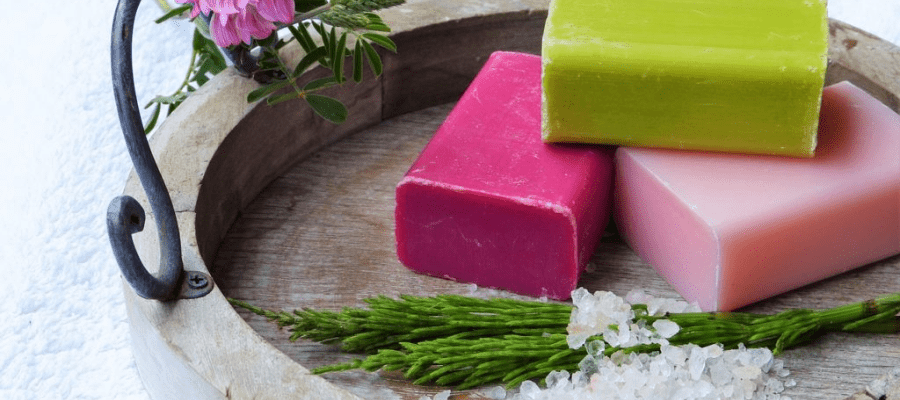 Discover the best soap bars to get your skin squeaky clean, and nourished with LOOKFANTASTIC's selection of top cleansing bars. From gentle bars ideal for the face to exfoliating and clarifying soaps that smooth and retexturize the body, find your perfect match.
LOOKFANTASTIC offers an array of soap bars packed with skin-loving oils, butter and botanicals like shea, cocoa, coconut and more. They help hydrate and moisturise as you wash. Plus, these soap bars are free of harsh sulphates and parabens for a gentle, non-drying cleanse. 
Bars also last longer than liquid soaps and reduce plastic waste—a win-win! Indulge in a luxurious lather with scented and unscented soaps from top brands like L:A Bruket, Aussie, Dove and more. Pamper your skin the old-fashioned way with the best bar soap for face and body, available at LOOKFANTASTIC.
Top 5 Soap Bars on LOOKFANTASTIC that will Leave your Skin Feeling Soft and Smooth
1. Gallinée Prebiotic Cleansing Bar Perfume Free
Specifically formulated for sensitive skin, this soap-free cleansing bar by Gallinée harnesses the power of prebiotics and lactic acid to balance the skin's microbiome. The gentle, perfume-free formula removes impurities without disrupting the skin's protective barrier. It's enriched with nourishing sunflower seed oil to cleanse and soften skin.
---
2. Weleda Calendula Soap 100g
Gentle enough for the whole family, Weleda's Calendula Soap is thoughtfully formulated with organic calendula flower extract to soothe and comfort sensitive skin. This vegetable-based bar soap has a rich, creamy lather that leaves skin feeling soft, not tight. It's free of synthetic fragrances, making it a great option for easily irritated complexions.
---
3. UpCircle Fennel and Cardamom Chai Soap Bar 100g
Made with repurposed chai spices, this handcrafted soap bar from UpCircle deeply cleanses while creating an aromatic spa-like experience. The clarifying blend of fennel, cardamom and black pepper essential oils helps detoxify and stimulate the senses. It's perfect for normal to oily skin types looking to rejuvenate.
---
4. Australian Bodycare Cleansing Bar 100g
Formulated for very dry and sensitive skin, this extra-gentle cleansing bar from Australian Bodycare helps calm and relieve irritated complexions. The soap-free formula with calming olivine mineral leaves skin feeling clean, cool and soothed without tightness or redness. It's ideal for those with eczema, psoriasis and dermatitis.
---
5. Aesop Refresh Bar Soap 150g
Aesop's geranium leaf bar soap deeply cleanses without stripping away natural oils. Skin feels cool, calm and refreshed with notes of rosemary and mandarin rind. It's ideal for frequent use on all skin types, including sensitive. The soap produces a rich lather to lift away impurities without dehydrating the skin's barrier.
---
Tips on Choosing the Right Soap Bars from LOOKFANTASTIC:
When choosing a bar soap, it's crucial to take into account your specific skin type. If you have dry or sensitive skin, it's advisable to seek out soaps that incorporate moisturising components such as shea butter, coconut oil, and olive oil. In case your skin is prone to irritation, it's a wise choice to opt for unscented or naturally-scented soaps.
Exfoliating soap bars with ingredients like oatmeal, sea salt, or ground seeds can provide gentle exfoliation to help reveal brighter, smoother skin. Just don't use them daily, as they may be too abrasive for some.
Try searching for soap bars formulated for your specific skin concerns, like acne-fighting bars with tea tree oil or eczema-soothing bars with colloidal oatmeal. The right bar soap can help address skin issues.
You'll also want to decide on the texture you prefer – some bars create a rich, creamy lather, while others have more lightweight, bubbly foams. Test out sample sizes to discover your favourite lather.
And don't forget to store soap bars properly between uses! Keeping it dry on a well-draining soap dish can help maximise the bar's longevity.
Finding your perfect soap bar is a mix of trial and error. Pay attention to how your skin looks and feels after use to determine if a soap is right for you. And have fun experimenting with different bars from LOOKFANTASTIC!
---
Conclusion
Finding the right soap bar is a personal journey that requires paying attention to your unique skin concerns and preferences. LOOKFANTASTIC offers an extensive selection of bar soaps spanning different formulations, textures, scents and ingredients. Take your time browsing their offerings and try out sample sizes to discover your perfect match. The right bar soap can make a noticeable difference in the health and feel of your skin. And with a little trial and error, you're sure to discover a LOOKFANTASTIC bar that exceeds your expectations and leaves your skin looking and feeling its best. For more such updates, visit HerMagic.
FAQs