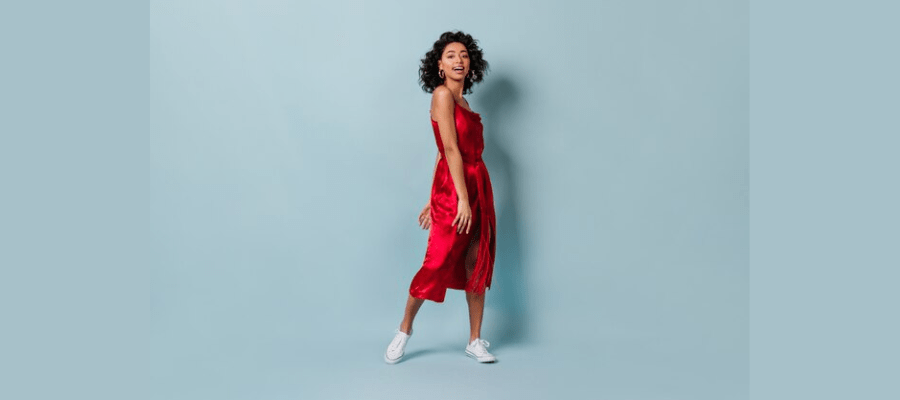 Shift dresses are timeless and versatile pieces that have become a staple in women's fashion. Characterised by their straight, loose-fitting silhouette that hangs from the shoulders, these dresses offer a chic and effortless style suitable for various occasions. Originating in the 1920s as a symbol of women's liberation from restrictive fashion, these dresses have evolved over the decades, adapting to different trends while maintaining their classic appeal. The beauty of shift dresses lies in their ability to flatter different body shapes and provide comfort without sacrificing elegance. They can be dressed  with accessories, making them a go-to choice for both casual outings and formal events. With their enduring popularity and adaptability, shift dresses continue to be a go-to wardrobe essential for women seeking a blend of comfort and timeless style.
How to Style Shift Dresses: In-Detail 
Casual chic for day outings: For a laid-back yet chic daytime look, opt for a shift dress in casual fabrics like cotton or denim. Pair it with white sneakers for a relaxed vibe, and keep accessories minimal with a dainty necklace or classic watch. This ensemble is perfect for brunches, shopping trips, or any casual gatherings, offering both comfort and effortless style.




---

Office elegance: Achieve office-appropriate style by selecting a solid-coloured shift dress and adding a structured blazer for a polished touch. Complete the look with classic pumps or block heels and subtle jewellery like stud earrings or a delicate bracelet. This tailored ensemble exudes professionalism, making it ideal for office meetings, presentations, or any formal workplace setting.




---

Boho vibes for a music festival: Embrace a carefree, bohemian aesthetic for music festivals with a flowy shift dress featuring vibrant patterns or embroidery. Layer with a fringed or denim jacket, and complete the look with ankle boots or gladiator sandals. Don't shy away from statement accessories like a wide-brimmed hat or layered bracelets. This boho-inspired shift dress is perfect for outdoor events, offering both style and comfort.




---

Evening glamour for a night out: Transform your shift dress into stunning evening wear with the right embellishments. Choose a dress with touches of glamour, such as sequins or metallic accents, and pair it with strappy heels or heeled ankle boots. Opt for a clutch and statement earrings to elevate the look, making it suitable for dinners, cocktails, or a night on the town.




---

Effortless vacation style: Make a statement on vacation with a shift dress in a lightweight, breathable fabric for warm weather. Choose bright colours or tropical prints to capture a vacation vibe and pair them with comfortable sandals or espadrilles. Complete the look with sunglasses and a wide-brimmed hat for both style and sun protection. Shift dresses are the perfect vacation essential, offering easy-breezy comfort and playful prints to enhance your resort or beach look.
---
Best Shift Dresses by Marks & Spencer
1. Cord Mini Shift Dress
The Albaray Cord Mini Shift Dress features a minimalist, sleeveless design that provides versatility for layering on any occasion. Crafted from organic cotton-rich cord fabric, it offers a luxuriously soft feel in a regular fit. The dress showcases a sleek scoop neck and a mini-length hemline, creating a playfully feminine look that combines comfort with chic style.
---
2. Pleated Keyhole Detail Shift Dress
For formal events, the Sosandar Pleated Keyhole Detail Shift Dress is the perfect answer. Designed in a regular fit, this mini-shift dress boasts long blouson sleeves with pleated fabric, creating a distinctive and stylish appearance. The crew neck is adorned with a keyhole detail, complemented by an elegant golden metal trim. With the convenience of a back zip fastening, this elegant shift dress ensures easy slip-on and go for any occasion.
---
3. Sequin Mini Shift Dress
Get ready to shine at any party with the Sequin Mini Shift Dress from Sosandar. It's designed to hug your body in a flattering way and has sparkling sequins for a standout look. With sheer three-quarter sleeves and a neat crew neck, it adds a touch of sophistication, while a discreet back zip makes it easy to put on. Perfect for a stylish and effortless party-ready outfit.
---
4. Cord Round Neck Knee Length Shift Dress
Stay cosy and stylish in the Cord Round Neck Knee Length Shift Dress from White Stuff. This dress, made from fine corduroy, feels comfortable. It has long sleeves, a relaxed fit, and buttons at the neckline. The dress also features two pockets on the chest for a practical touch and a tier at the knee-length hem for a flattering look. Perfect for a comfy and fashionable outfit.
---
5. Pure Wool Checked Mini Shift Dress
Craft a classic look with the  Pure Wool Checked Mini Shift Dress from Hobbs. Made from high-quality pure wool, this dress features a timeless checked pattern. The smart shift design comes in a regular fit, showcasing a clean square neckline and a sleeveless silhouette. Ensuring comfort, the dress is lined and fastened with a concealed zip at the back for a polished and streamlined appearance. Perfect for an effortlessly elegant and comfortable ensemble.
---
6. Floral Knee Length Shift Dress with Bolero
Dress up for special occasions in the Floral Knee Length Shift Dress with Bolero from Gina Bacconi. The sleeveless dress is knee-length with a floral pattern, a round neckline, and a handy back zip. It allows easy movement with a split at the back. The matching bolero has three-quarter sleeves and clasps at the neckline, creating a stylish and comfortable outfit for your special moments.
---
Conclusion
Marks and Spencer's collection of shift dresses embodies a perfect blend of timeless elegance and contemporary style. Their attention to detail, quality fabrics, and commitment to providing a range of fits and sizes ensure that every woman can find a shift dress that complements her style and silhouette. From classic shift dress designs to modern trends, Marks and Spencer's elegant shift dresses stand out for their quality craftsmanship, making them a reliable choice for individuals seeking both comfort and style in their wardrobe. For more information, visit Hermagic. 
FAQs