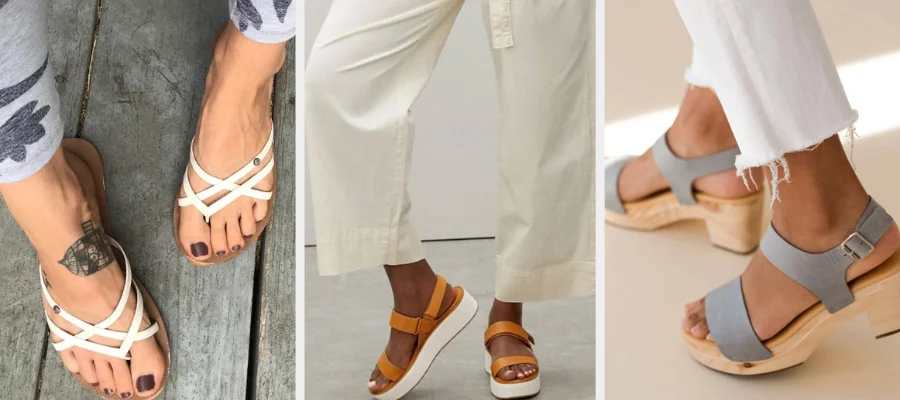 Traveling is difficult and ending up with a bad pair of shoes takes away all the fun out of it and leaves you with pain. It is important to invest in sandals for women that are cute, comfortable and functional. The right pair ensures that your feet do not get stuffy and you do not feel uneasy while walking in them. In this blog, Hermagic will help you find the right sandals for women that will make your life easier and your wardrobe cuter. 
Types of sandals for women 
Flip-flops. 
Flip-flops are considered strictly beach shoes, but this season they have entered the fashion mainstream. Flip-flops are a trendy summer shoe choice right now. You can combine them with wide-leg pants – cargo pants, linen or baggy jeans – or use them to create a more sophisticated outfit.
Sports strips
Sports sandals are basically any sandal specifically designed for hiking or other activities. These more casual sandals for women are ideal for everyday wear
Strappy sandals
If there's one 2000s trend that's here to stay with us, it's strappy sandals. Strappy sandals for women can be worn day and night and in all weathers. However, the more modern implementation is different; a razor-sharp square tip and minimal hardware.
Platform sandals
The platform sandals are another Y2K trend that is pretty cool because they're just awesome! The sophisticated style adds a touch of fashion to your summer outfit. Platforms are way better than heels, they do not make you want to cut your leg off! All you have to worry about is not spraining your ankle.
Wedge heel
Wedges are traditionally a summer outfit staple, and for good reason. Their legs extend from front to back with a raised heel, so they act as both a sole and a heel. They provide the same buoyancy as your favourite pair of pumps and provide additional support and stability on the court.
How to find the right size of sandals for women
Stand with socks on a piece of paper secured to the ground. Mark the tip of your longest toe and the tip of your heel and use a ruler to measure the length between these two marks. Write down the number and measure the other foot. It is preferable to measure your feet in the afternoon as this is the time when your feet will be most swollen. To determine your size, use the largest measurement. Say your foot length is 25.2 cm, which rounds up to 26 cm. Tally your foot measurement against the size chart for sandals for women.
Sometimes it is best to choose a size or half size larger than usual as your feet may expand throughout the day, especially in the warmer months or when standing for long periods of time. Choosing a size larger will give your feet enough room to expand and prevent the sandals from becoming too tight.
Cute sandals for women that will hug your feet 
1. Surf Beach Sandals
This Hawaiian sunny sandal is a simple and elegant addition to your wardrobe. The sandal features a black strap that goes behind the heel for a maximized secure fit. The strap also ensures comfort while walking. They are made of rubber and are very comfortable to wear 
2. Woman Black Brazilian Sandals With Sun
These black Brazallian urban sandals are so soft, that you will practically glide in your steps. The non-slip EVA sole ensures that you will not slip and fall. It also gives the entire sandal a curved and wavy look which offers adequate friction on all terrains. They perfectly reflect the soul of summer. 
3. Pink Brazilian Women's Beach Flip Flops 
These pink flip-flops are also good for walking comfortably because of their non-slip EVA soles. The linen base and the crossed straps make it perfect to wear for a calm and relaxed day. You can easily wear them inside the house and outdoors. 
4. Beach sandals for Brazilian women
These beach sandals have a spar-inspired base and are a great match for your vacations. They are incredibly lightweight and soft and will make your life very easy! Wear them to a beach and if sand gets stuck to them, simply clean them with a damp cloth and it will restore their glory 
5. Puma Fluff Solo Flip Flops
These Puma fluffy sliders are a great choice when staying indoors. The easy-to-wear design makes it perfect for a homely vibe. Puma is known for its durable products and these flip-flops are no exception. The high-quality outsole and the premium synthetic material will give you a comfortable wearing experience. 
6. Hiking Sandals – NH110 
These hiking sandals are perfect for occasional walks on a hiking trail. The sandals have a double EVA sole that gives you good cushioning, making it perfect for a high-tension walk. The sandals are also very resistant to water giving you a smooth hiking experience. 
Conclusion 
Finding the perfect sandals for women is supremely important for every woman. It is more than footwear, in fact. They are the parameters of how comfortable a woman is going to be. You can easily find lots of varieties of sandals for women on Decathlon. Check out some of the sandals that Hermagic likes and show off your style.
FAQs