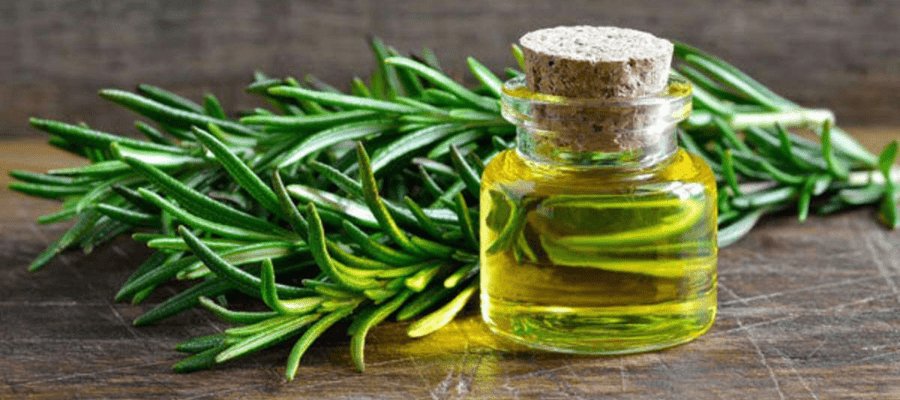 Rosemary oil has been used for ages for various medicinal benefits. It can help you with skin deformities and hair fall issues. Some people also use them for muscle pain and memory stimulation. In this blog, Hermagic will help you understand the various uses of rosemary oil and where to get the best options. 
What is rosemary?
Rosemary is an aromatic evergreen herb native to the Mediterranean region. It is used as a culinary spice, to make body perfumes and for its potential health benefits. It is also a good source of iron, calcium, and vitamin B6. It is usually prepared as a whole dried herb or as a powdered dry extract, while teas and liquid extracts are made from fresh or dried leaves. The herb has been known for its medicinal properties since ancient times. Rosemary has traditionally been used to relieve muscle pain, improve memory, stimulate the immune and circulatory systems, and promote hair growth.
Benefits of rosemary oil 
Antioxidants and anti-inflammatory compounds
Rosemary is a rich source of antioxidants and anti-inflammatory compounds that are believed to boost the immune system and improve blood circulation. Laboratory studies have shown that rosemary is rich in antioxidants, which play an important role in neutralising harmful particles called free radicals.
Improved memory and concentration
According to the ancient Greeks and Romans, the scent of rosemary could improve a person's concentration, performance, speed, precision, and, to a lesser extent, their mood. In fact, other research suggests that inhaling rosemary and other essential oils may improve brain function in older adults with Dementia, including people with Alzheimer's disease.
Neurological protection
Scientists have discovered that rosemary could also be good for the brain. Rosemary contains an ingredient called carnosic acid, which can fight free radical damage to the brain.
Hair loss and damage
One of the most common types of hair loss is androgenetic alopecia, more commonly known as male pattern baldness, although it can also affect women. Rosemary oil treats androgenetic alopecia by preventing a byproduct of testosterone from attacking hair follicles, which is the cause of this condition.
Repels certain insects
To deter harmful insects that might bite you or infest your garden, consider rosemary oil as a natural alternative to chemicals. 
Potential side effects of rosemary oil 
Rosemary leaves may be safe for most people when taken as medicine for up to 8 weeks. However, ingesting undiluted rosemary oil or very large amounts of rosemary leaves is not very safe. Copious amounts of rosemary can cause vomiting, sun sensitivity, and skin redness. Next, applying rosemary oil on skin and hair is mostly safe for people but may cause allergic reactions in some people. When used in aromatherapy, rosemary is probably safe for most people 
How to prolong the life of your rosemary oil 
Reduce oxygen exposure
To prevent your essential oils from expiring prematurely and to ensure they remain effective, minimise the amount of time the bottle remains unlocked. The longer the bottle remains open, the more the oil is exposed to oxygen in the air. Also, make sure that the cap is firmly back on the bottle. If it is not screwed tightly, oxygen can still get into the bottle and start the oxidation process. 
Protect from light and heat
The best place to store your essential oils is a cool, dry place, such as your kitchen cabinet or your bathroom medicine cabinet. Keep your oils away from direct sunlight or other direct sources of light and heat. It's best to also buy or use dark glass containers for your oils. The opacity of the glass protects your oil against oxidation.
Use smaller containers to store your oils
Smaller containers prevent oxygen from being trapped in the bottle when opened. This will prevent oxidation from occurring sooner than it should and extend the life of your oils.
Top picks for rosemary oil 
1. Kneipp massage oil goodbye stress – 100ml
This mint and rosemary oil gives you a refreshing and calming scent that will help you relieve the stress of a long workday. The nourishing plant oil will also enrich your body with useful antioxidants and relieve body pain 
2. Kneipp bath oil rosemary – 100ml
This bath oil has a chilling spicy scent that has a very rejuvenating effect on the body. It relaxes your body muscles and replenishes the energy you have lost over the day. The bath oil contains rosemary oil that activates your muscles and gives you much-needed energy. 
3. The Gardens rosemary essential oil – 30ml
This essential oil is made of 100% pure rosemary oil and has a fresh, spicy scent that guarantees its purity. It can be used in multiple ways, like as a bath oil, aromatherapy, etc. It comes in recyclable packaging too for an eco-conscious choice.
Conclusion 
Rosemary oil has a lot of benefits that cover most of the organs of your body. It is highly beneficial for your skin as it carries antioxidants that purify and soothe your skin. Its benefits even expand to your hair as it slows the process of premature aging. You can also use it in a diffuser for a fresh scent all day long. Head over to Holland & Barrett's online store and check out one of the rosemary oil products that Hermagic recommends. 
FAQs