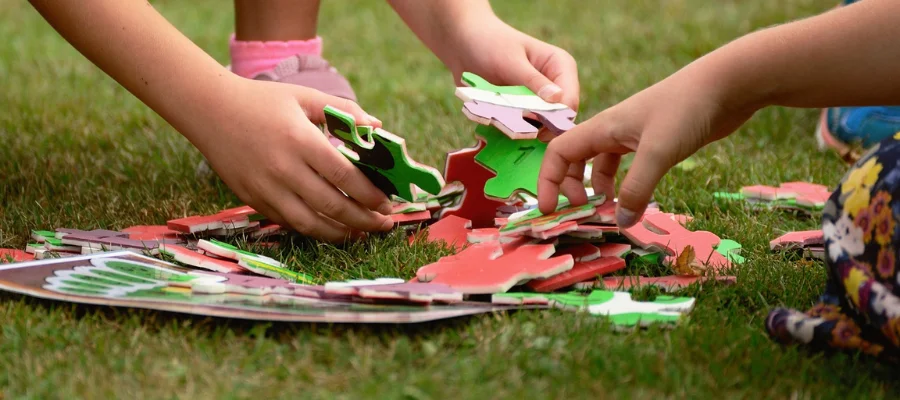 Waterstones is a renowned bookseller that offers a wide range of products for children, and one category that has gained immense popularity is puzzle games for children. These engaging and educational games are designed to stimulate young minds, enhance problem-solving skills, and provide hours of fun. With a plethora of options available, Waterstones ensures that children of all ages can find the perfect puzzle game to challenge and entertain them. Puzzle games for children at Waterstones come in various formats, including jigsaw puzzles, brain teasers, logic puzzles, and more. Jigsaw puzzles are particularly popular, as they encourage children to develop their spatial awareness and fine motor skills while assembling the pieces to create a complete picture. In this article, we will discuss about the bestselling puzzles for children. 
Features of Puzzle Games for Children by Waterstones 
Waterstones also offers educational Puzzle games for children that focus on specific subjects such as mathematics, language, and science. These games provide a fun and interactive way for children to reinforce their learning in a particular area. From counting and letter recognition to geography and anatomy, these educational puzzles help children consolidate their knowledge while having a great time.
In addition to promoting cognitive development, puzzle games for children at Waterstones also foster social interaction and collaboration. Some puzzles are designed for cooperative play, allowing children to work together, communicate, and solve problems as a team. This aspect not only enhances their social skills but also teaches them valuable lessons in teamwork and cooperation.
Here is the list of the top 5 Puzzle games for children by Waterstones: 
1. Fun Puzzles, Mazes & Word Games For Kids 
The "Fun Puzzles, Mazes & Word Games For Kids – Activities Book For Kids (Paperback)" is a treasure trove of excitement that combines learning with fun in the most engaging manner possible. Packed with a wide array of activities, this paperback is guaranteed to keep your kids entertained, stimulated, and busy for hours on end. Inside, you'll find a vibrant assortment of puzzles, mazes, and word games, each designed to challenge young minds and improve their problem-solving skills. Whether it's a complex maze that tests their logic or a creative word game that expands their vocabulary, this activity book is a perfect blend of education and entertainment.
---
2. Hidden Puzzle Games
"Hidden Puzzle Games 3: An Anime Secret Word Puzzle Book for Kids (Paperback)" offers an engaging and imaginative adventure that combines puzzle-solving with an enthralling storyline. In this third edition of the Hidden Puzzle Games series, young readers embark on a quest with the main character, Sota, who is on a mission to find his sister, Mei. This unique puzzle book supplies readers with a detailed map and a series of cryptic clues that guide Sota through a myriad of challenges and obstacles. To help Sota find Mei, readers need to use their problem-solving skills to decipher the clues, navigate the map, and discover the hidden portal that leads to his sister.
---
3. Poo Bingo – Magma for Laurence King 
Poo Bingo follows the classic bingo format, with a unique twist centred around animal faeces. The game includes a set of bingo cards featuring various animals, from elephants to penguins, and their corresponding droppings. Instead of numbers, the game employs faeces illustrations, making it both entertaining and educational. The objective is to match the droppings called out by the game leader with the corresponding animals on the bingo cards. 
While the subject matter may seem unusual, Poo Bingo offers educational benefits, particularly in the field of zoology. The game introduces players to the diversity of animal faeces and teaches them about the distinctive characteristics of different species. By exploring the various shapes, sizes, and textures of droppings, players gain insight into animal diets, digestive systems, and habitats.
---
4. Puzzles Games for Kids 
"Puzzles Games for Kids : Big Kids Learning and Coloring Book Christmas with Color by Number and Dot to Dot Puzzles for Unrestricted Edutaining Experience (Paperback)" is a captivating activity book designed to keep children thoroughly engaged during the festive season. This all-in-one activity book serves as a perfect blend of education and entertainment, promoting creativity and learning in the most delightful manner.
The book features a diverse array of puzzles, including color by number and dot to dot puzzles that are centered around the enchanting theme of Christmas. These puzzles are not only fun and engaging but also help children improve their number recognition, fine motor skills, and concentration.
---
Conclusion 
With an extensive collection of puzzle games for children, Waterstones ensures that parents and caregivers have a wide variety of options to choose from. Whether it's a classic jigsaw puzzle, a challenging brain teaser, or an educational game, Waterstones offers something for every child's interest and skill level. These puzzle games are not only entertaining but also contribute to the overall development of children, making them an excellent choice for parents seeking engaging and educational activities for their little ones. For more information, visit Hermagic.
FAQ's