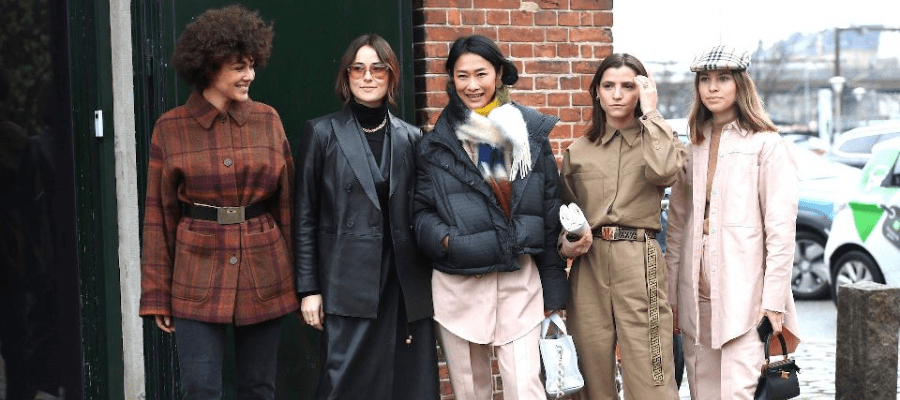 With a rising emphasis on appreciating variety in body shapes and sizes, fashion has changed over time to become more inclusive. The apparel industry has made great strides for plus size women in particular, and one area where this growth is seen is in the category of plus size coats for women. 
Winter calls for elegant yet functional gear, and plus size trench coats for women have become wardrobe staples for many. We shall examine plus-size jackets for women in this post, emphasizing both their practicality and stylish styles.
Plus Size Winter Coats for Women
With winter drawing near, plus-size ladies no longer need to forgo elegance in favour of warmth. Women's plus-size winter jackets have changed, now providing a variety of choices that blend style and utility. In addition to offering weather protection, these jackets are made to exude confidence and style. When looking for plus-size winter coats, take into account the following important characteristics and styles:
Designs with Hoods: 
Hoods are a great way to protect against snow and rain, and they are a feature found on a lot of plus-size winter coats. Hoods can be customized according to the weather by being permanent or detachable.
Material Options: 
Plus-size winter coats are frequently made of wool, fleece, and waterproof materials like Gore-Tex. From the enhanced protection of waterproof materials to the timeless elegance of wool, each material has its own distinct set of advantages.
Colour and designs: 
To accommodate a wide range of preferences, plus-size winter jackets come in a variety of colours and designs. Women can freely express their style with their choice of outerwear, ranging from bold and vibrant hues to basic neutrals like black, grey, and camel.
---
Top 5 plus size coats for women by Dorothy Perkins
1. Curve Longline Belted Coat
In terms of plus-size women's coats, the "Dorothy Perkins Curve Longline Belted Coat" is a chic and useful addition. This sophisticated coat is made especially for people looking for extended-size fashion-forward outerwear solutions. This coat, designed by the renowned fashion company Dorothy Perkins, meets the needs of curvaceous women who value comfort and style together.
The "Dorothy Perkins Curve Longline Belted Coat" is a fashion statement in itself in addition to being a winter necessity. It is perfect for the winter months because of its longline shape, which offers additional warmth and coverage. A belted waist ensures a tailored fit while highlighting the wearer's curves for a pleasing finish.
---
2. Curve Straight Fit Blazer
The blazer's straight fit skims the body, giving off a clean, aerodynamic profile. Its classic style makes it appropriate for a number of settings, from dressing up for a business meeting to enhancing your casual ensemble with a refined touch. Because it is constructed from premium fabrics that guarantee comfort and longevity, the Dorothy Perkins Curve Straight Fit Blazer fits plus-size women's special needs in terms of stylish, well-fitting coats. This blazer is an excellent option if you're looking for plus size coats for women that are both fashionable and practical.
---
3. Curve Navy Turn Back Cuff Blazer
In terms of plus-size women's coats, the Dorothy Perkins Curve Navy Turn Back Cuff Blazer is a chic and elegant addition. This jacket meets the needs of plus-size people who want both style and utility in their outerwear by combining timeless elegance with a comfortable fit. It was designed with the modern, fashion-conscious woman in mind.
This blazer, which is made of premium navy cloth, is very versatile and professional looking. Its turn-back cuff design gives it a unique touch and makes it appropriate for a range of settings, including social events and business meetings. Plus-size women's curves are complemented by the blazer's fitted silhouette, which boosts their self-esteem and gives them the confidence to own their individuality.
---
4. Curve Short Wrap Coat
For plus-size women who want to look chic and feel warm during the winter, the Dorothy Perkins Curve Short Wrap Coat is a classy and sophisticated choice. This coat is made to create a comfortable and flattering fit, especially for people with curves. The timeless wrap-style design gives an air of refinement to any ensemble, making it a flexible piece for your closet. 
Women of all sizes can enjoy a stylish and cosy coat thanks to the Dorothy Perkins Curve Short Wrap Coat's assortment of sizes that accommodate a variety of body types and preferences. Plus-size ladies who wish to stand out in their outerwear choose it for its classic style and meticulous craftsmanship.
---
5. Curve Black Turn Back Cuff Blazer
The Curve Black Turn Back Cuff Blazer by Dorothy Perkins is a gorgeous addition to the selection of plus-size women's jackets. This blazer is made with comfort and style in mind, highlighting the modern woman's curves and making them seem great. Its chic black hue makes it an adaptable option that works well for a variety of settings and situations. 
Turn-back cuffs on this blazer lend an air of refinement to your outfit. This blazer guarantees that you will always look your best, whether you're going to the office or a special function, all while remaining quite comfortable. Dorothy Perkins is committed to offering fashionable and fashionable options for plus size jackets for women, and this blazer is a perfect example of their understanding of the demands of plus-size women.
---
Conclusion
Plus size coats for women, such as plus size trench coats and winter coats, have come a long way and now provide a vast range of fashionable and cosy solutions for any season. These coats let ladies show off their individual flair while offering warmth and weather protection. Because of the fashion industry's emphasis on inclusivity, women of all sizes can now feel confident and stylish regardless of the weather thanks to a wider variety and more affordable outerwear alternatives. For more information visit the official website of Hermagic.
FAQs