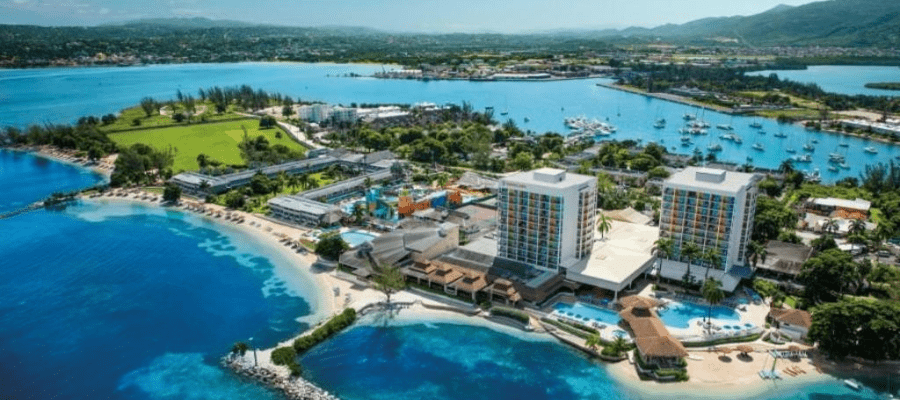 Montego Bay, on Jamaica's scenic coast, is eminent worldwide for its beautiful beaches, luxurious accommodations, and rejuvenating spas. This city offers a comprehensive range of amenities for individuals seeking a holiday characterized by sunbathing on pristine sandy beaches, enjoying the luxury of a private swimming pool, and indulging in top-tier spa services. 
Upon arrival, you will be captivated by the inherent natural splendor and serenity that characterizes this particular locale. We invite you to accompany us on an exploration of premier Montego Bay resorts, each providing a glimpse into a heavenly retreat, where every individual need is meticulously attended to.
How to search for Montego Bay Resorts for Couples, Families, and Solo Travelers?
Searching for the ideal Montego Bay resorts can be a tailored experience, catering to couples, families, or solo travelers. Consider these valuable tips for your search:
Utilize travel search engines that allow filtering by traveler type. For instance, you can specify "Montego Bay resorts for couples" or "Montego Bay resorts for families."

Prior to booking, delve into traveler reviews. These insights provide a realistic view of the resort and whether it aligns with your expectations.

Set a budget to guide your search. Montego Bay offers a range of resort prices, so knowing your financial boundaries will help you narrow down choices.

Ponder the amenities you desire. Resorts may cater to specific traveler types, offering features like kids' clubs for families or adult-only pools for couples.

Take location into account, considering proximity to beaches, the airport, and city attractions.
---
Consider the following tips to find ideal Montego Bay resorts:
– Flexibility with travel dates can lead to better deals.
– Booking in advance is vital, especially during peak seasons.
– Look out for deals and packages offered by resorts.
– Consider enlisting a travel agent's expertise to find the best deals and facilitate bookings.
These tips aim to assist you in discovering the perfect Montego Bay resorts to suit your travel preferences.
---
Montego Bay All Inclusive Resorts you Must Book for an Unforgettable Vacation
1. Round Hill Hotel & Villas
Located less than 20 minutes from Sangster International Airport, this resort in Montego Bay offers an exquisite experience with its golden sand beach and a picturesque pool. Modern yet distinctly exotic rooms at Round Hill Hotel & Villas feature amenities like free Wi-Fi, iPod docking stations, Jamaican Blue Mountain coffee, air conditioning, and irons.
Dining options are abundant, with traditional Caribbean cuisine crafted from on-site ingredients. Guests can savor delectable meals at The Seaside Terrace, The Grill at Round Hill, and the pool and beach bars, including the delightful tradition of afternoon tea.
For the active traveler, a variety of sports and activities such as water-skiing, diving, and tennis can be arranged. The resort also offers a complimentary shuttle service to the Tryall Golf Club. Additionally, guests can indulge in on-site spa services, providing the perfect blend of relaxation and adventure.
---
2. S Hotel Jamaica – Montego Bay – Small Luxury All-Inclusive Hotel
Nestled in the heart of Montego Bay, S Hotel Jamaica offers a luxurious 4-star experience as a Small Luxury All-Inclusive Hotel. Guests are welcomed by a 24-hour front desk, multiple swimming pools, rooftop sky pools, bars, room service, and complimentary WiFi. The hotel's restaurant specializes in serving delectable Caribbean dishes.
The well-appointed rooms feature flat-screen TVs with cable channels, private bathrooms with showers, and free toiletries. Each unit also provides a convenient desk for guests.
Start your day with a satisfying buffet breakfast offered each morning. For those looking to stay active, the hotel offers a fitness center and a rejuvenating spa with ancient baths.
S Hotel Jamaica's strategic location makes it easy to explore, with Negril just 50 km away and Rose Hall 13 km from the property. Sangster International Airport, the nearest airport, is conveniently situated just 5 km from the accommodation.
Read more: The Best Hotels In Oslo, Norway For This Season's Most Awaited Vacation
---
3. Jewel Grande Montego Bay Resort and Spa
Jewel Grande Montego Bay Resort and Spa, a 4-star beachfront resort in Montego Bay, has several amenities for a wonderful visit. Use the exercise facility, swim in the outdoor pool, and enjoy the gorgeous gardens. Water sports, a lounge, a busy bar, a hot tub, nighttime entertainment, and a kids' club are available at the resort.
Enjoy a delicious continental, American, or vegetarian breakfast. The resort's restaurant delivers delicious American, Caribbean, and Italian food, with vegetarian options.
A children's playground entertains younger guests. Being one of the best Montego Bay resorts, this resort includes billiards and table tennis, and the area is known for windsurfing and snorkeling, making for an entertaining Caribbean vacation.
Also read: Hotels In Dublin: A Luxurious Haven In The Heart Of Ireland's Capital
---
Conclusion
Located in the central region of Montego Bay, an enticing realm of coastal allure eagerly awaits exploration. These resorts in Montego Bay Jamaica provide an exceptional retreat for anyone in search of leisure and luxury, boasting breathtaking beaches, exclusive pools, and top-tier spa facilities. Do not overlook the opportunity to partake in the aesthetic and opulent offerings of Montego Bay. 
When strategizing your travel arrangements, it is important to bear in mind that Booking.com serves as an optimal platform for effortlessly reserving both your flights and accommodations, ensuring a remarkable Jamaican vacation experience. With their extensive selection of hotels filtered according to different budget requirements, Booking.com is the go-to option for booking Montego Bay resorts.
For more such informative and interesting travel content, visit our website HerMagic. 
FAQs