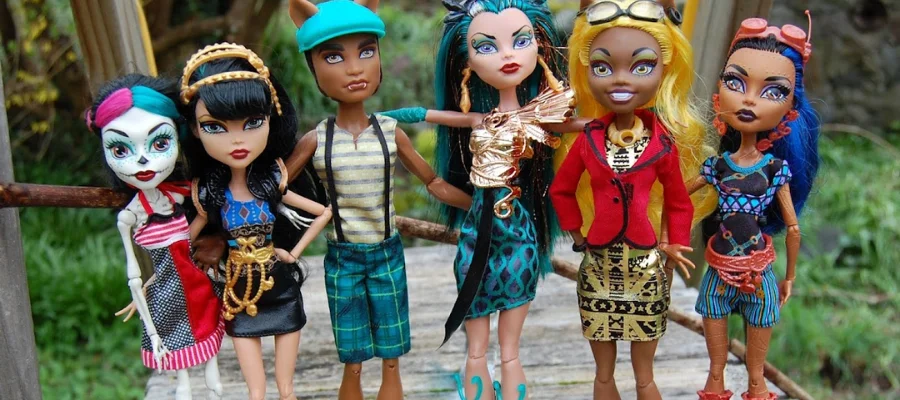 Explore the fascinating world of Monster High Dolls and their spooky charm with Etsy. Whether you're a devoted enthusiast or a newcomer, prepare to be drawn into a world where creepiness meets amazing characters. Etsy houses a vast collection of Monster High Dolls for you to shop quickly. So, delve into the universe of Monster High and take your favourite pick.
Different Plastics Used to Make New Monster High Dolls
1. Polyvinyl Chloride(PVC)
PVC is a common material used for the main body and limbs of the dolls. It is known for its durability, flexibility, and ease of moulding into various shapes.
2. ABS Plastic
ABS (Acrylonitrile Butadiene Styrene) plastic is often used for the doll's head, hands, and some accessories. It is known for its strength and impact resistance.
3. Fabric
Monster High Dolls often have fabric clothing and accessories, which can be made from various textile materials like cotton, polyester, and satin.
4. Soft Vinyl
Soft vinyl may be used for specific body parts that require flexibility or a softer texture, such as the doll's hair or clothing.
5. Thermoplastic Elastomers(TPE)
TPEs are rubber-like materials that can be used for certain doll features like shoes or accessories that need to be both soft and durable.
6. Paint and Glitters
Paints and glitters are applied to the dolls for their intricate details, such as facial features, makeup, and embellishments on their clothing.
7. Decorative Materials
Additional materials like faux fur, lace, and plastic jewels may be used to enhance the doll's overall appearance.
Most Famous Monster High Dolls Characters to Know About
1. Draculaura
Draculaura is the daughter of Count Dracula and is known for her friendly and sweet personality. She's often depicted with pink and black hair, fangs, and bat-themed fashion.
2. Frankie Stein
Frankie Stein is the daughter of Frankenstein's monster. She has bolt-like stitches on her neck, electric green eyes, and striking black and white hair. Frankie is known for her energetic and friendly nature.
3. Clawdeen Wolf
Clawdeen Wolf is the daughter of the Werewolf. She's known for her confidence, fashion-forward style, and fierce loyalty to her friends. Clawdeen has brown skin, pointy wolf ears, and a penchant for animal prints.
4. Lagoona Blue
Lagoona Blue is the daughter of the Sea Monster, and she has a love for water and surfing. She's typically seen with blue skin, fins, and beach-themed fashion.
5. Ghoulia Yelps
Ghoulia Yelps is the daughter of the Zombie and is known for her intelligence and love of books. She has pale blue skin, and glasses, and speaks in Zombie language.
6. Abbey Bominable
Abbey Bominable is the daughter of the Yeti. She has white hair, and blue skin, and is known for her athleticism and strength.
7. Operetta
The Operetta is the famous daughter of the Phantom of the Opera King. She's known for her musical talent, particularly her love for the accordion, and her distinctive red hair.
---
Where to Buy Monster High Dolls?
Buying Monster High Dolls from Etsy can be a fantastic choice for collectors and fans looking for unique and customised options. Many Etsy sellers specialise in crafting custom Monster High dolls, offering a wide range of creative designs, from intricate repaints to custom outfits and accessories. This platform allows buyers to connect directly with skilled artisans who bring a personal touch to each creation, making it an ideal place to find one-of-a-kind dolls that may not be available through conventional retail channels.
5 Best Monster High Dolls to Purchase in 2023
1. Pick Monster High Dolls
This set includes a fantastic collection of five iconic Monster High dolls: Nefera de Nile, Abbey Bominable, Catty Noir, Operetta, and Clawdeen. Each of these dolls brings their unique personality and style to the pack, making it a must-have for Monster High enthusiasts. Whether you're a collector looking to complete your set or a fan seeking a diverse assortment of characters, this pack offers a delightful combination of ghoulishly fabulous friends from the Monster High universe.
---
2. Monster High Doll Pearl and Peri Serpentine
Pearl and Peri Serpentine are intriguing characters from the Monster High franchise, specifically hailing from the Great Scarrier Reef collection. These twin sisters, inspired by sea serpents, boast distinctive aquatic features, scales, fins, and striking hair colours. The 'Great Scarrier Reef' storyline invites Monster High enthusiasts to explore an underwater world filled with sea-themed adventures and new aquatic friends. 
---
3. Pack of Monster High Dolls
With various variants to choose from in this Monster High Dolls 2023 pack, you have the freedom to select the specific dolls that resonate with your preferences and interests. Whether you're drawn to classic characters or eager to explore the latest additions to the Monster High lineup, these packs provide a customizable and enjoyable way to dive into the enchanting world of Monster High and curate your own unique collection.
---
4. Monster High Emoji Dolls
The Monster High Emoji Dolls pack features a delightful trio of fan-favourite characters: Draculaura, Frankie Stein, and Clawdeen. These dolls are creatively designed to capture the essence of the Monster High universe while embracing the fun and expressive world of emojis. With their spooktacular outfits and playful emoji-themed accessories, this set of three dolls adds a whimsical twist to the beloved Monster High collection, making it a fantastic addition for collectors and fans of all ages.
---
5. Monster High Dolls Set
With an impressive selection of around 48 dolls to choose from, the Monster High Dolls Set offers an extensive array of ghoul-tastic options for collectors and fans alike. Each doll in this diverse collection showcases the brand's trademark creativity, with a variety of unique characters, styles, and themes to suit different tastes. Whether you're seeking classic characters or exploring new additions to the Monster High universe, this pack provides an exciting opportunity to assemble your own entourage of stylishly spooky companions.
Conclusion
If you are a fan of ghoulish or scary articles, these Original Monster High Dolls are surely the best articles to add to your collection. Available globally at Etsy, you can easily order a single or a pack of these dolls at pretty cheap prices and in great condition. So, explore Etsy's website and pick your favourite monster high doll characters to shop right away. For more information, visit HerMagic.
FAQs