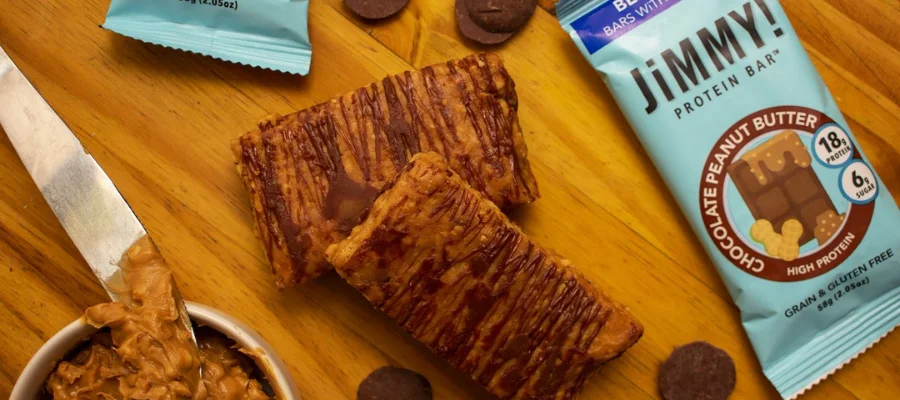 JiMMY protein bars, available on iHerb, offer a delectable solution that not only caters to your cravings but also supports your health goals. Whether you're seeking a post-workout refuel or a quick bite to curb your hunger, JiMMY protein bars present an array of flavors and options that align with your taste preferences and dietary requirements. JiMMY protein bars are not just your run-of-the-mill snack option; they're a testament to the fusion of taste and nutrition. With a commitment to quality ingredients, exceptional flavor profiles, and a dedication to meeting diverse dietary needs, JiMMY bars have established themselves as a noteworthy player in the realm of protein-packed snacks.
Here's what sets JiMMY protein bars apart:
Nutrient-Rich Goodness: JiMMY bars are designed to provide a balanced combination of essential macronutrients. This makes them an optimal choice for maintaining energy levels, satisfying hunger, and supporting your overall well-being.
A Flavorsome Spectrum: From timeless favorites to innovative blends, JiMMY protein bars boast a wide variety of flavors that cater to different taste preferences. Whether you're fond of indulgent chocolate, nutty goodness, or fruity surprises, JiMMY has something for everyone.
Emphasis on Quality Ingredients: JiMMY bars prioritize real, wholesome ingredients that pack a punch in terms of flavor and nutrition. These bars often feature nuts, seeds, and natural sweeteners, making them a satisfying and guilt-free snack choice.
Inclusivity in Dietary Needs: JiMMY bars offer options that cater to various dietary requirements. Whether you're gluten-free or following a vegan lifestyle, you can enjoy JiMMY protein bars without compromising on taste or quality.
A Glimpse into the best JiMMY protein bar collection
1. JiMMY!, Be radiant bars with benefits, White Berry Bliss, 12 Protein Bars, 1.9 oz (54 g) each
Indulge in a snack that celebrates your beauty while nourishing your body. With 13g of protein and 190 calories, this delectable option is not only a satisfying treat but also grain and gluten-free. Enriched with collagen, it offers potential benefits for skin, hair, and nail health. The thoughtfully curated blend includes a medley of ingredients like dates, a protein blend featuring pea protein isolate and soy protein crisps with tapioca starch, tapioca fiber syrup, creamy peanut butter, along with the sweetness of dried blueberries, cranberries, and raspberries. To add a touch of luxury, the mix incorporates white chocolate made from sugar and palm kernel oil, enriched with whole milk powder. Delight in this wholesome creation that combines taste and well-being in every bite.
---
2. JiMMY!, be electric bars with benefits, Cookies 'N Cream, 12 protein bars, 2.05 oz (58 g) each
Start your day with enhanced alertness and concentration as you indulge in the JiMMY Wake & Focus protein bar, boasting an impressive 19g of protein and a mere 7g of sugar. Infused with invigorating Guarana caffeine and fortified with the nourishing goodness of MCT and Omega 3 oils, this bar not only satisfies your taste buds but also fuels your cognitive prowess and physical vitality. Wrapped in a delightful blend of gluten-free cookie crumbles and luscious chocolate coating, JiMMY Wake & Focus is the ultimate recipe for a mind-body synergy, ensuring you stay sharp, attentive, and energetically charged throughout your day. This bar's strategic blend of Guarana, Omega 3, and MCT oils offers a trio of benefits—natural caffeine for alertness, Omega 3 for potential brain cell enhancement, and MCT oil for potential cognitive performance.
---
3. JiMMY!, Be Lean bars with benefits, Strawberry Nut, 12 protein bars, 1.59 oz (45 g) each
Are you intrigued by the wonders of keto living? Dive into the world of JiMMYBAR! where 15g of fats and a mere 5g of net carbs await. With a commitment to grain and gluten-free goodness, these bars boast high fats and low net carbs to cater to your keto aspirations. The narrative behind JiMMYBAR! began in 2014, a collaborative venture between siblings, driven by the desire to offer healthier eating choices. Their delectable bars, now keto-friendly, are the epitome of deliciousness with a natural messiness that's hard to resist. Introducing the Keto JiMMY STRAWBERRY Macadamia Nut, a symphony of flavors blending strawberry, macadamia nuts, almonds, and peanuts, all enrobed in a rich dark chocolate coating. It's the perfect keto snack to satiate your cravings while adhering to your high-fat, low-carb goals, ensuring both taste and nutrition are elevated in every bite.
---
4. JiMMY!, Be fierce bars with benefits, Caramel Chocolate Nut, 12 protein bar, 2.12 oz (60 g) each
Elevate your energy with the JiMMY! Eye of the TigerTM bar—a triumph of flavors and performance. Embrace the natural essence of turmeric and plant-based caffeine from guarana as you tackle life head-on. Designed to fuel your inner warrior, this bar boasts an impressive 25g of protein, a mere 6g of sugar, and the invigorating duo of caffeine and turmeric. It's a grain and gluten-free powerhouse that empowers you to push your limits. Bask in the harmonious blend of caramel, chocolate, and peanuts, propelling you to perform, recover, and repeat with every bite. Delve into the benefits of natural guarana caffeine and the potential muscle recovery prowess of turmeric, encapsulated within a single bar that fuels your vitality.
---
5. JiMMY!, Be well bars with benefits, Immune Citrus Burst, 12 protein bars, 1.58 oz (45 g) each
Elevate your immune support with the power of 5 carefully chosen ingredients: embrace 300% of your daily Vitamin C intake, with just 5g of sugar, as you relish the dynamic blend of orange, mango, acerola cherry, almonds, and turmeric. This peanut-free and gluten-free creation encapsulates the essence of wellness while offering additional benefits, like Vitamin C content exceeding recommended daily values. Processed in a facility with peanuts, this bar is meticulously crafted with almonds, maltitol, soy protein crisps, mango, oats, and a white chocolate coating. Immerse yourself in the potential benefits of acerola cherry and turmeric, all within a single bar designed to nourish your immunity.
---
Why JiMMY protein bars should be a part of your routine
The benefits of incorporating JiMMY protein bars into your daily routine extend beyond their delectable taste. Here's why you should consider making these bars a staple in your snack arsenal:
Convenience at Its Best: With their compact and portable nature, JiMMY protein bars are the ultimate convenience snack. They're perfect for when you're on the move, whether you're commuting, working at the office, or hitting the gym.
Post-Workout Recovery: After a workout session, your body craves protein to repair and build muscles. JiMMY bars offer a quick and enjoyable way to replenish your protein levels after exercise.
Sustained Energy Boost: The combination of protein, healthy fats, and carbohydrates found in JiMMY bars provides sustained energy. This makes them an excellent choice to combat midday fatigue or keep you going during a busy day.
Healthy Snacking Alternative: Instead of reaching for sugary or calorie-laden snacks, JiMMY protein bars offer a satisfying and nutritious alternative. They support your health goals without compromising on flavor.
Conclusion
JiMMY protein bars, proudly offered by iHerb, represent more than just a snack—they embody a commitment to flavor, quality, and health. With a delightful range of flavors and options catering to different dietary needs, JiMMY bars offer a versatile solution for individuals seeking a convenient and satisfying way to refuel, recharge, and indulge in guilt-free goodness. Whether you're a fitness enthusiast, a busy professional, or simply someone who appreciates a flavorful snack, JiMMY protein bars offer a delectable avenue to explore on your journey to balanced nutrition and overall wellness.
FAQs