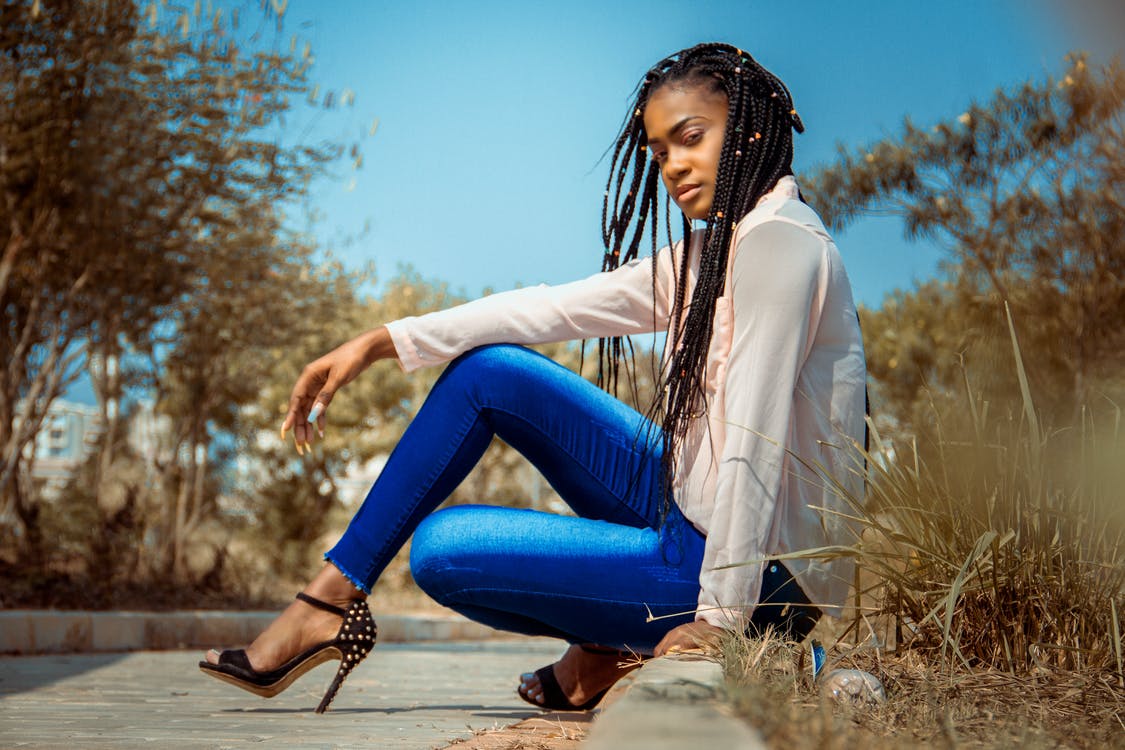 Jeans and Heels are a classic combination.
It's no secret that most women adore high heels. In addition to heightening a woman's appearance, wear pair of jeans with heels also improve her posture and give her a more graceful stride. There are a lot of different kinds of heels out there. It's difficult to choose which pair to wear.
Heels come in all shapes, sizes, and styles, whether you prefer boots, pumps, wedges, sandals, pointed fronts, or peep toes. High heels can be worn with a wide range of ensembles. It is smart, stylish and chic to wear a pair of heels with jeans. Jeans give off a casual vibe, but they also elevate it to a formal level, making them appropriate for both business casual and formal settings.
Wearing Heels with Jeans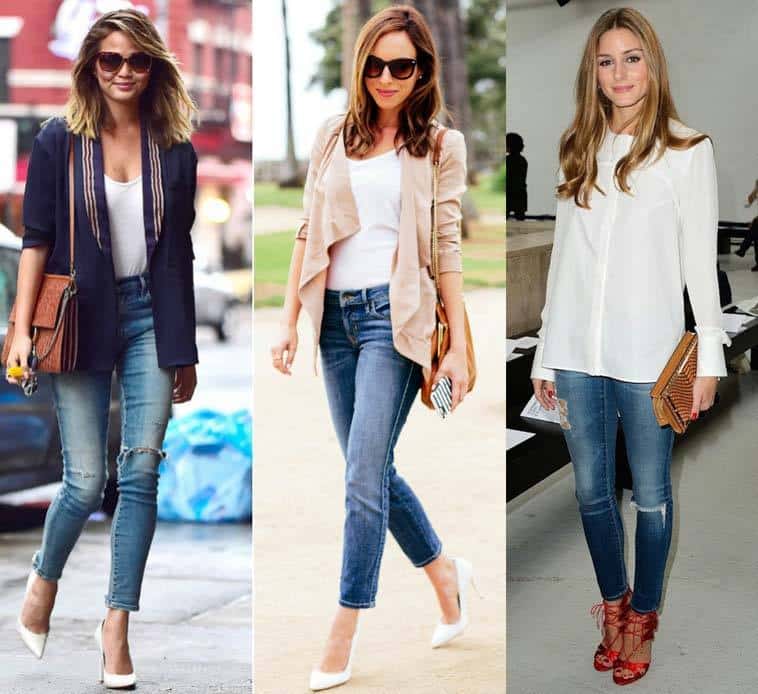 If you're going to be wearing jeans, remember the following tips:
Make sure your heeled shoes are the correct size. Stylists say that the most common mistake women make when wearing heels is not purchasing the correct size shoes. This may seem like common sense to you.
Even if the style is flattering, high heels can be excruciatingly painful if the shoe size is off. RECOMMENDED: New Heels to Add to Your Shoe Collection
Another common sense rule applies here, but women can make the same mistake. 
For a rough camping weekend, avoid wearing high heels. Hiking, trekking, or running in the outdoors shouldn't be done in high heels. You should only wear a particularly high heel to an event if you are prepared to run a marathon in it. If that happens, you may need to go to the hospital.
If you suffer from back pain or leg cramps, avoid wearing high heels. Ask a doctor's advice before making a decision.
When you're dealing with a lot of pressure at work, it's best to wear heels that are as comfortable as possible. For example, if you're hosting a birthday party for your child and have to deal with a group of rowdy children. If you're having a large dinner party at your house and you don't have any catering, this is a problem.
Avoid wearing high heels for long periods of time and take breaks. Relax your feet by kicking them off whenever you have a spare moment.
With the few exceptions listed above, you are free to walk around town in heels with self-assurance and grace. People of all ages and sizes can walk in style while wearing high heels, it just takes a bit of practice.
Here are twenty different ways to wear jeans with heels
20.A pair of ankle boots worn with skinny jeans and high heels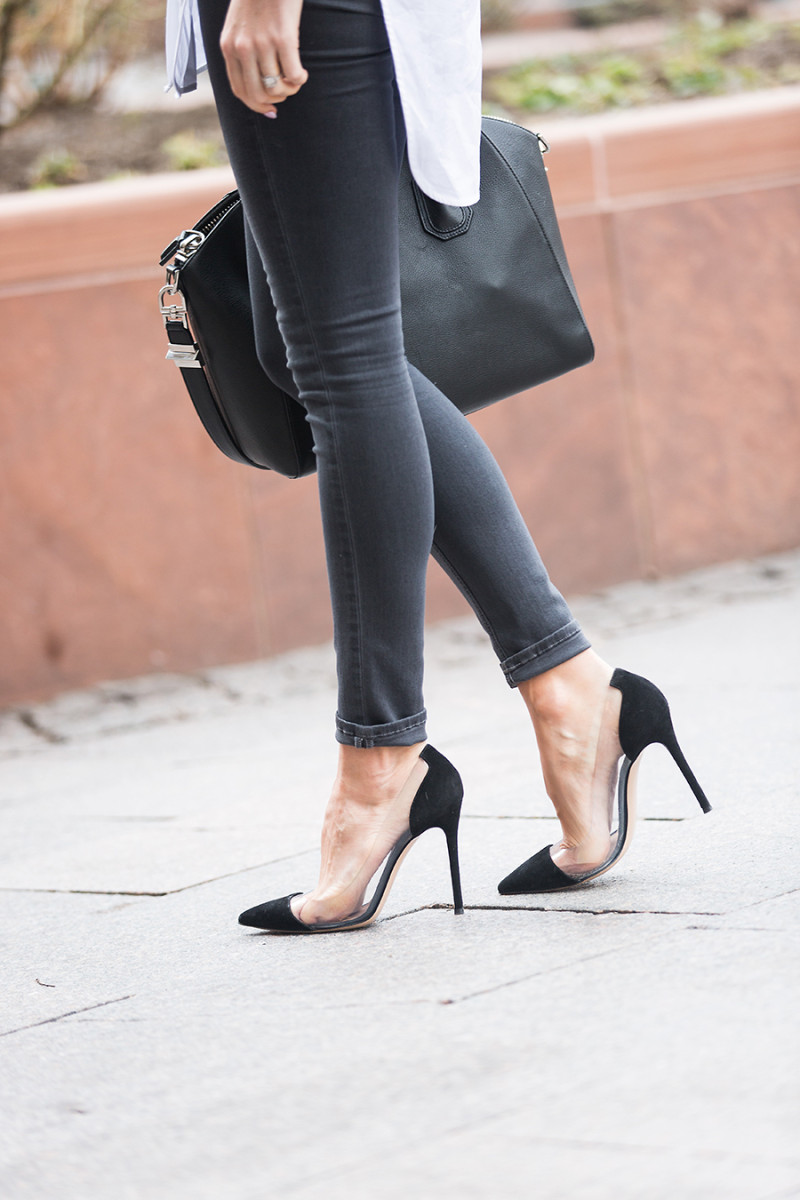 High heeled ankle boots look great paired with jeans and a high heeled shoe. If you're going for a strong cowgirl look, opt for lower heels in ankle boots, while a higher, more delicate heel looks great with skinny jeans and a casual blouse or even a tee. 
19 . Jeans and a Pair of Multi-Colored Peep-Toe Heels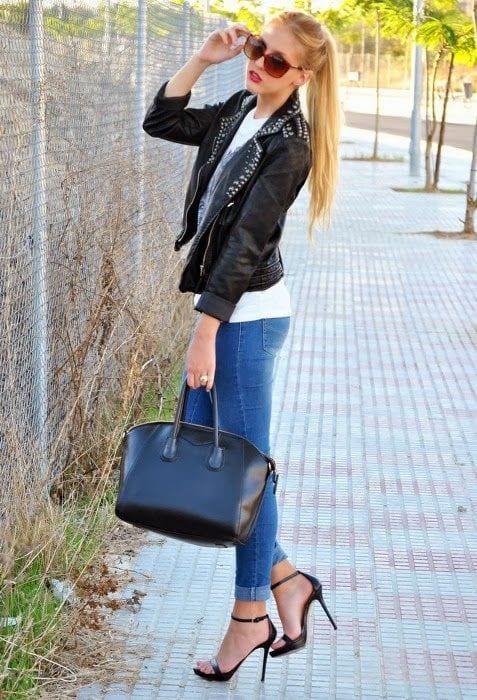 It's always a good idea to wear peep-toe heels with jeans. You will be the center of attention wherever you go if you combine them with a wonderful colour combination.
18.A Denim on Denim Look with High Heels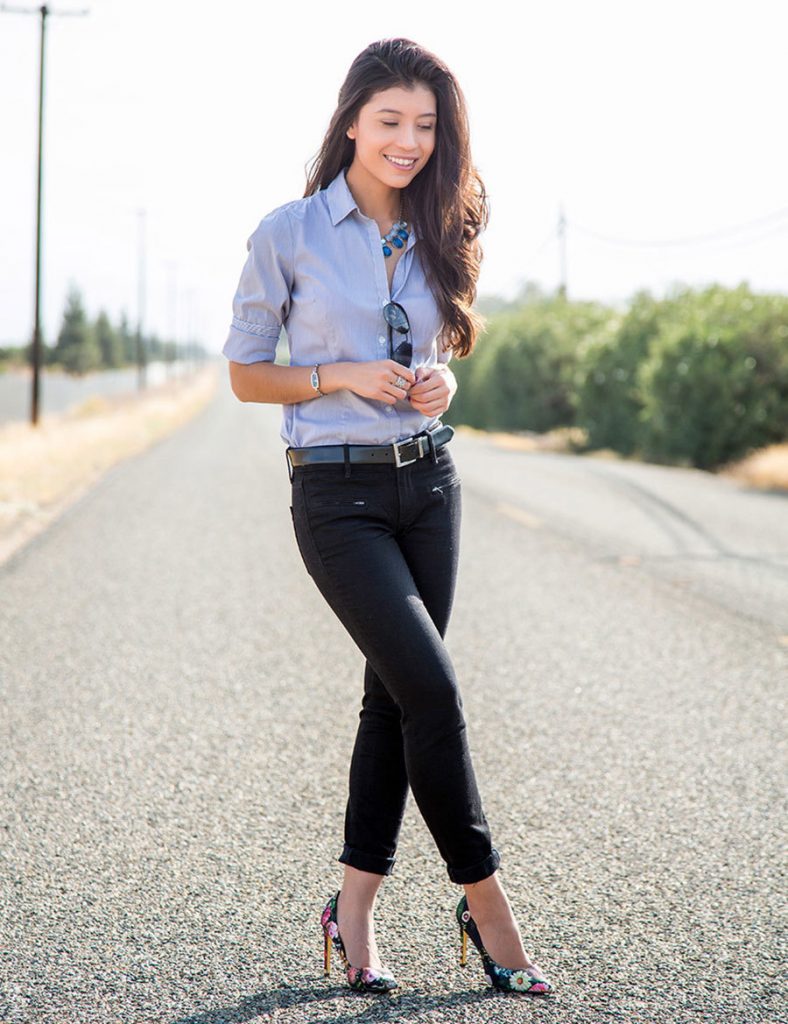 Even though wearing denim all the way down your legs can be challenging, Kim Kardashian proves that it's possible by wearing a stylish pair of high heels with her top-to-toe denim look. What better way to dress up than with a pair of black jeans? – Style your black denim pants in a myriad of ways!
17.Casual Jeans And Heels For School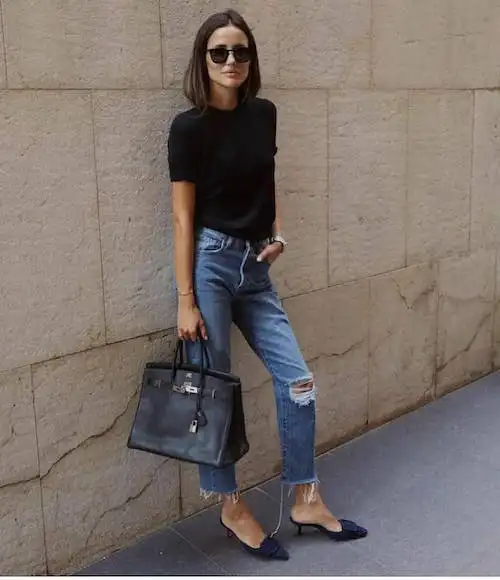 You don't have to do much more than wear jeans and heels to make a fashion statement at school or college.
16 . Women of Plus Size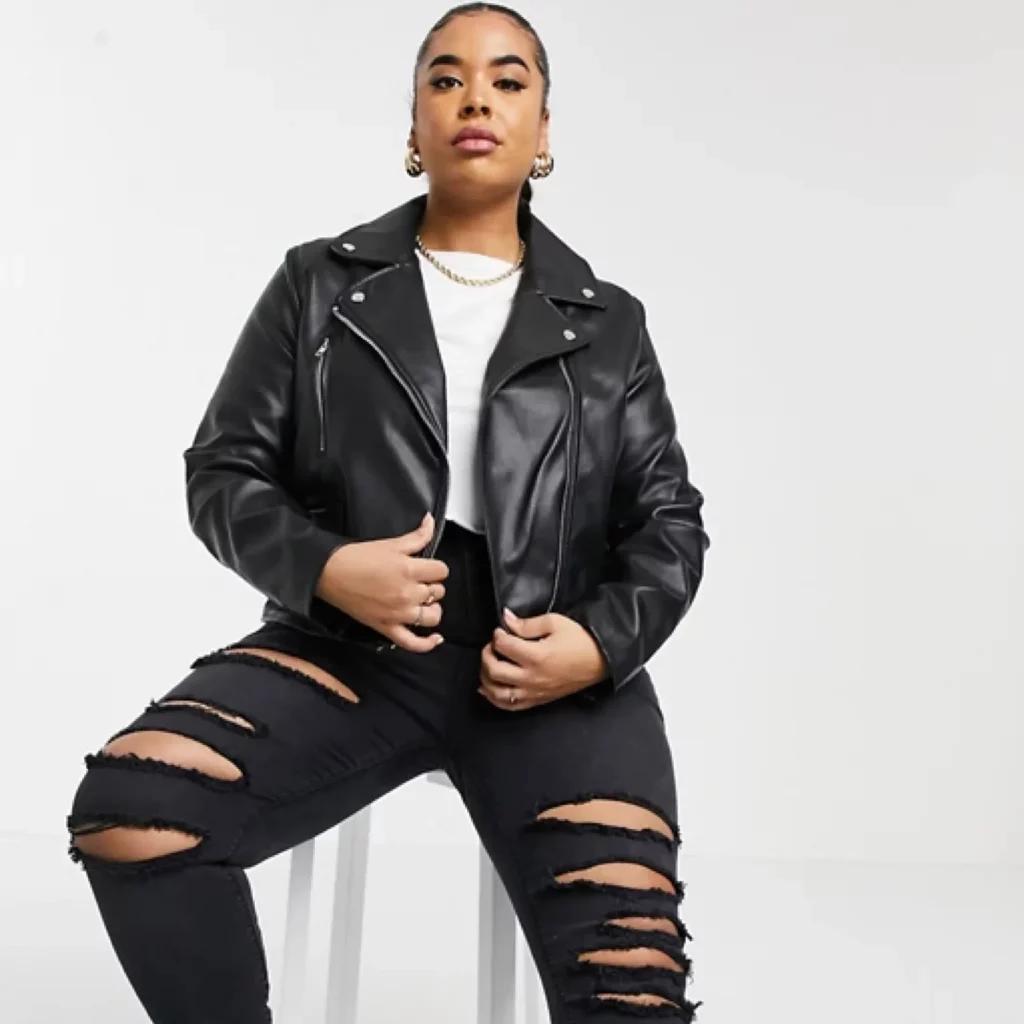 Don't be afraid to wear jeans with heels even if you are a plus size. It's a look you can pull off with ease. Casual Outfits for Plus Size Women-14 Funky Curvy Women Style is a great place to start.
15.A Jeans and Heels Office Look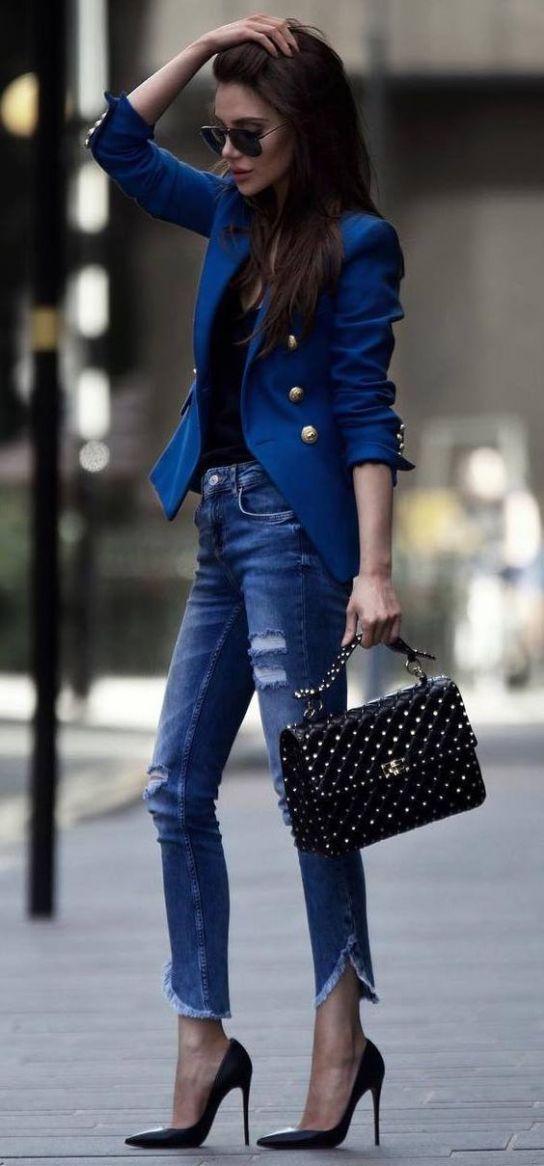 You can also wear jeans and heels to the office. To look professional in the office, choose a business-casual bottom and a few accent pieces.
14 . Jeans and Animal Print Heels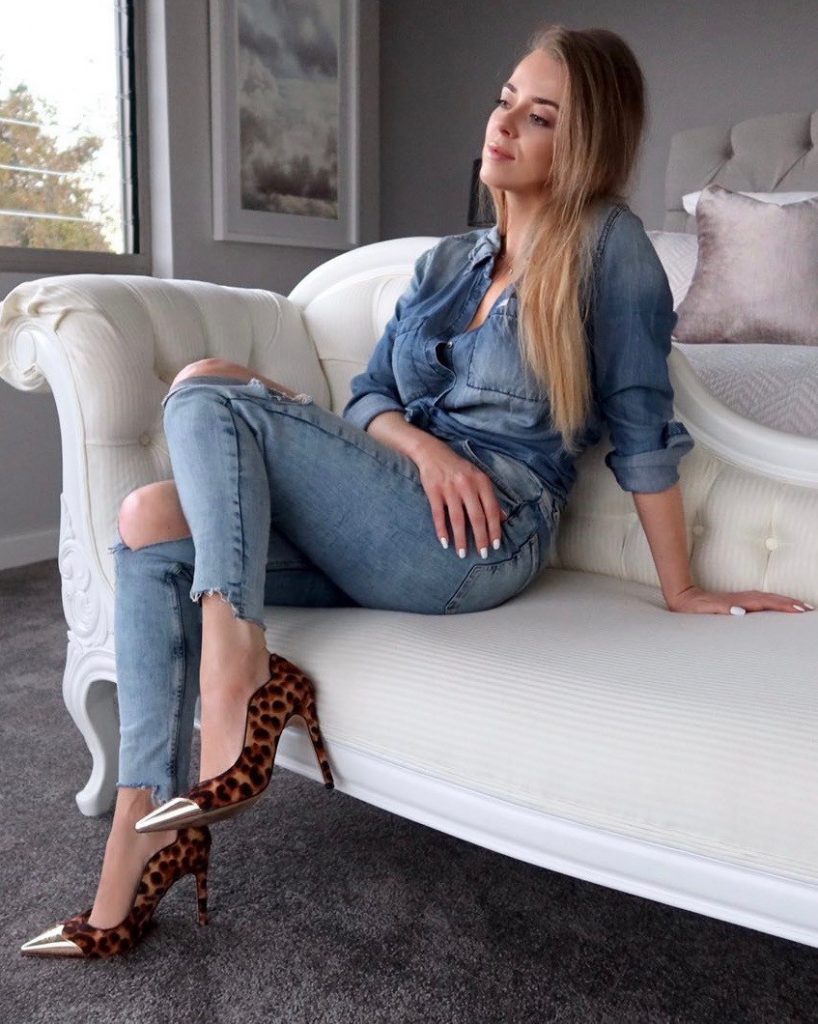 Animal-print heels are always in style. However, plain denim and printed heels should always be worn together. To make a plain top and denim outfit pop, add printed heels. 
13.Jeans and Colorful Heels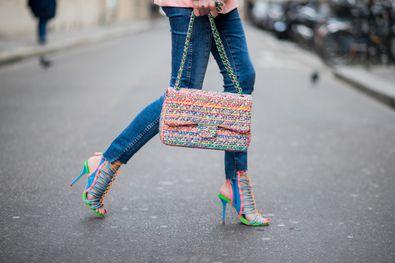 Wearing jeans to a party? Add a pair of brightly coloured heels and you're ready to go.
12.Jeans and Wedged Heels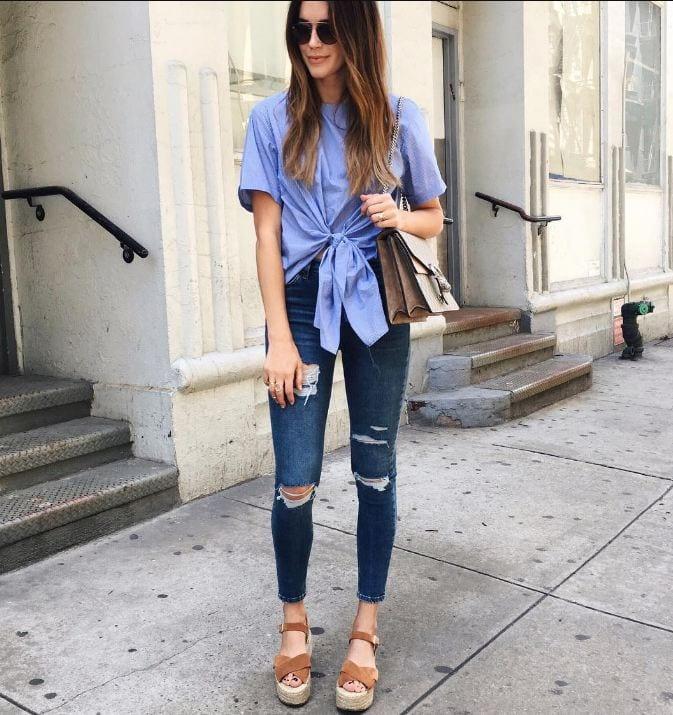 Sandals, ankle straps, and pointy toes are all good options for wearing with jeans when you have the right wedge heels.
11.Jeans And Heels For The Streets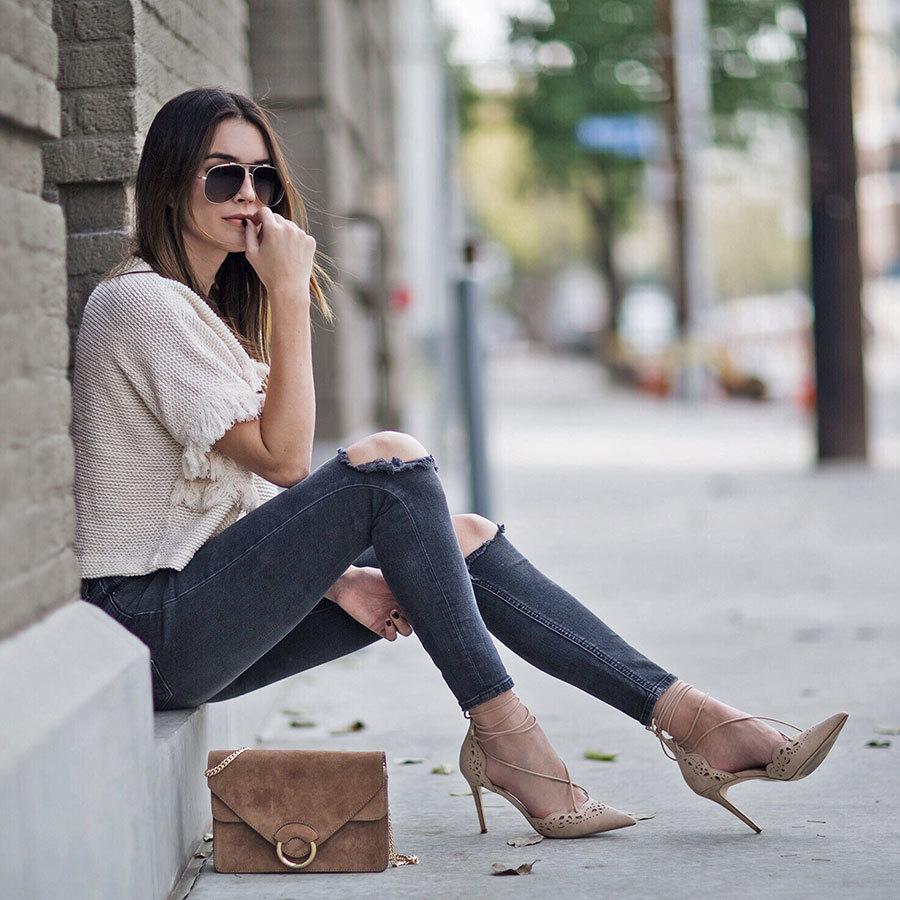 Take a look at this casual street style outfit featuring jeans and heels.
10.Jeans and Heels for Winter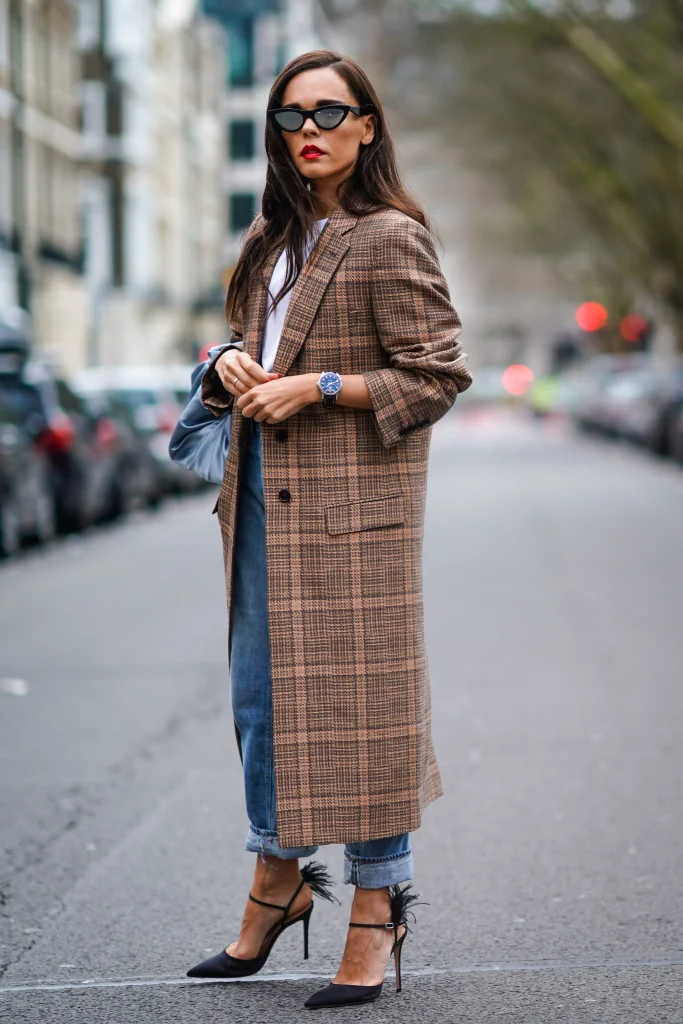 T-shirts that look great with jeans; 21 ways to wear jeans and top.
9. Pointy Medium-Sized Heels with Jeans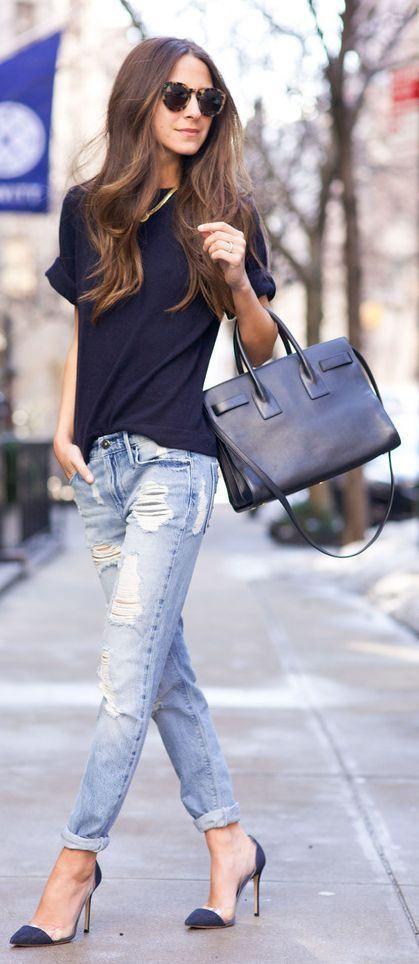 For a change of pace, medium-sized heels can be a good option. It's even more important when you're trying to relax.
8. With High Heels and Denim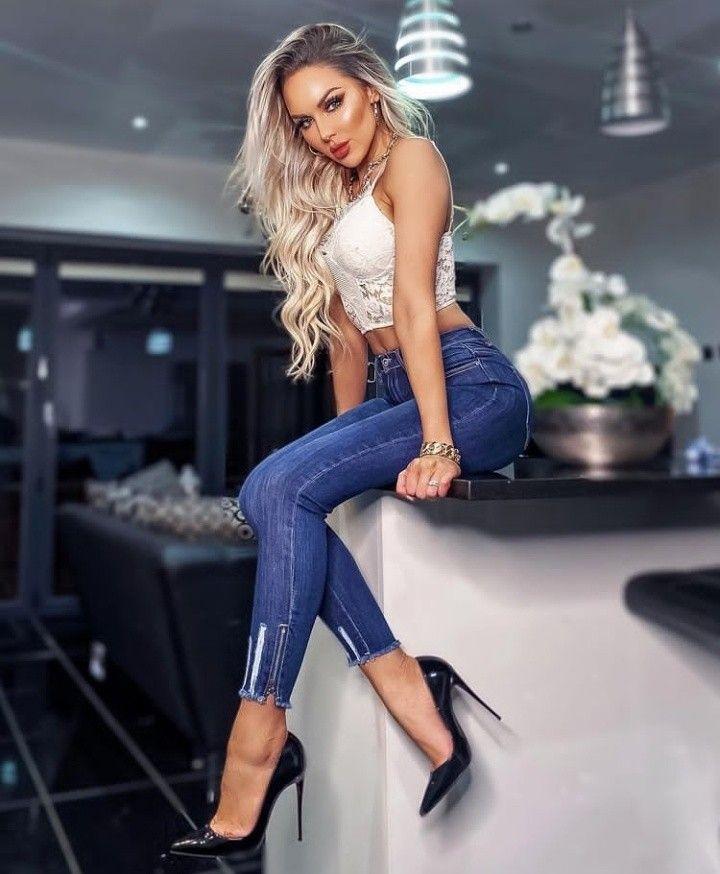 When it comes to dressing up a casual ensemble, a pair of knee-high boots are an excellent choice.
7. That Work With Denim And Shoes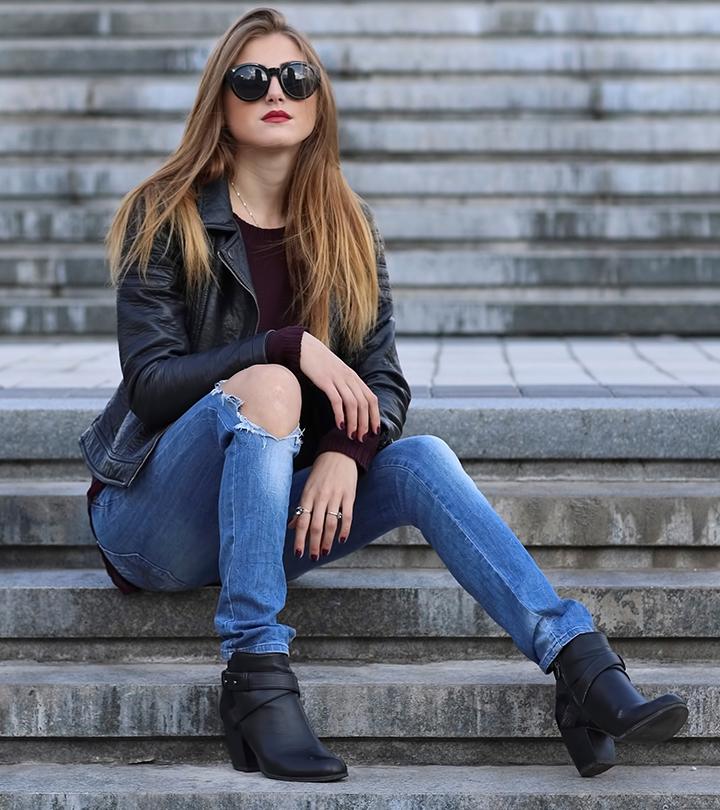 In our opinion, this hairstyle for jeans will become your go-to style because it takes very little effort and still manages to make you look great.
6. Heels and Skinny Jeans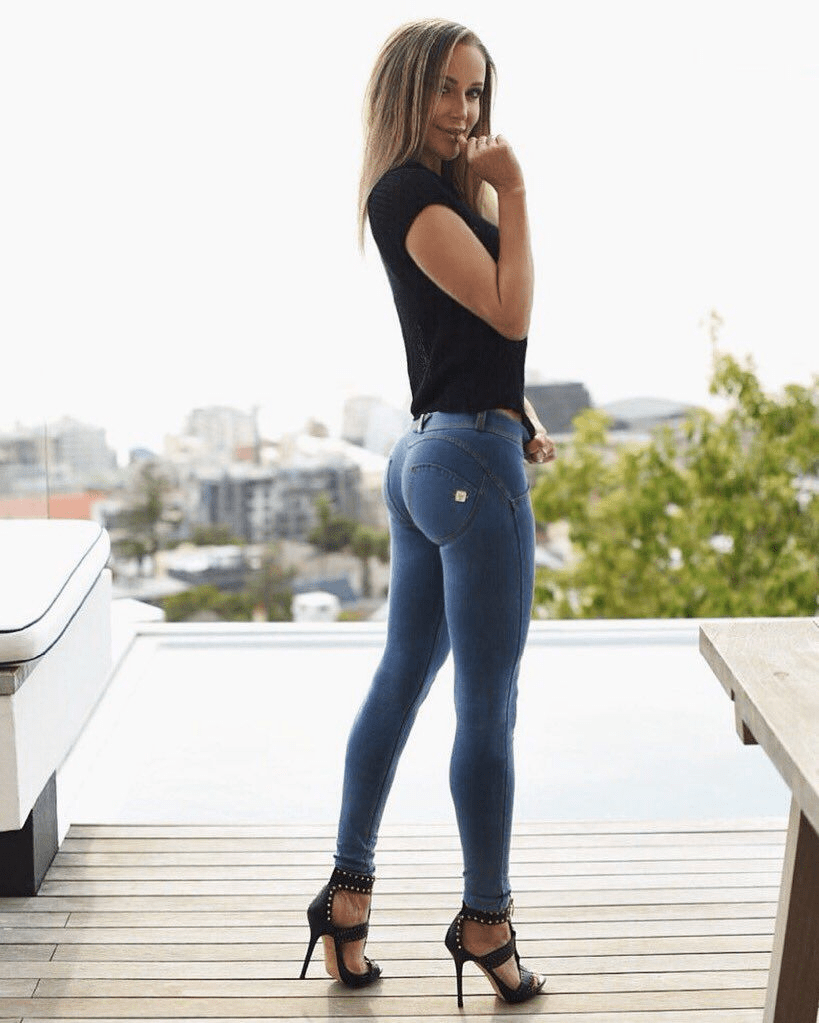 The combination of skinny jeans and high heels is a beautiful one. As if that wasn't enough, there are a plethora of styles of heels to choose from. If you're looking to elongate your legs, these boots will do the trick!
5. Crop Jeans and Heels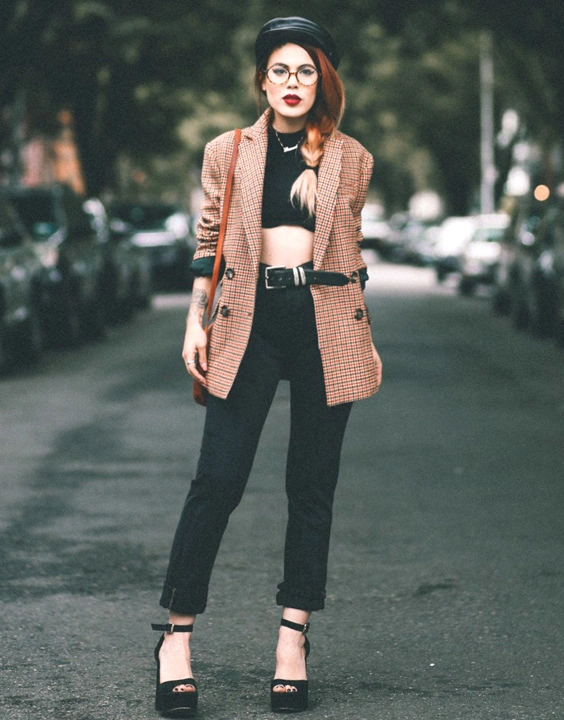 While creating flawless boyfriend jeans with heels outfit, it is important to select a pair of stilettos that are comfortable. You can also opt the stilettos out for a nice vibrant pair of stacked heels.
4. Jeans And A Pair Of Black Pumps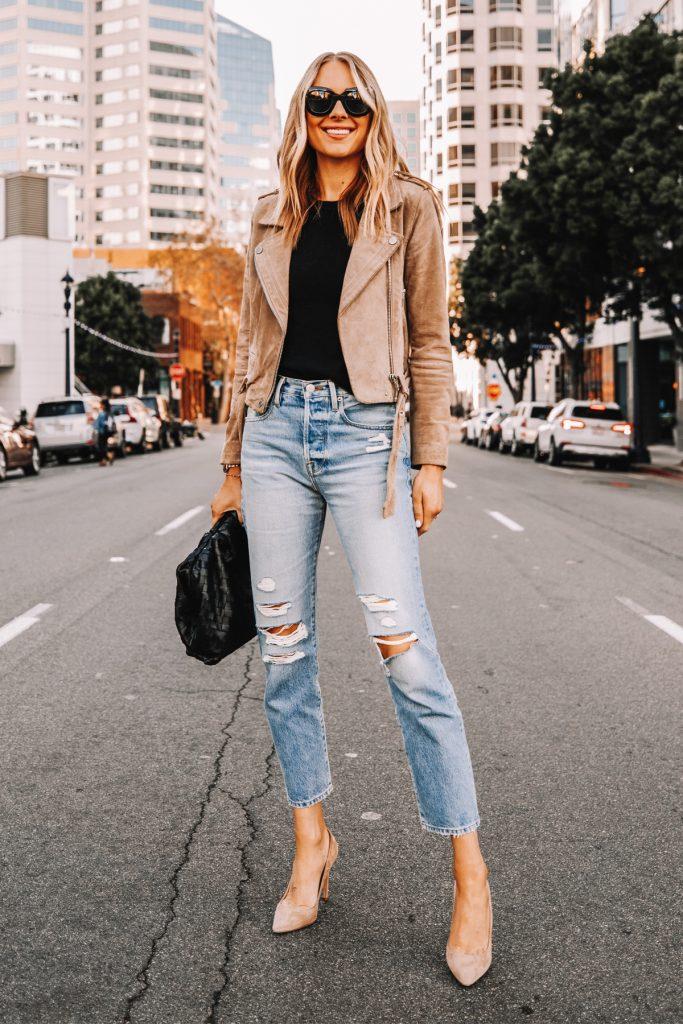 Every woman should own a pair of black statement pumps. It's a versatile piece that goes well with nearly anything.
3. With Heels and Jeans, I'm in love with this look!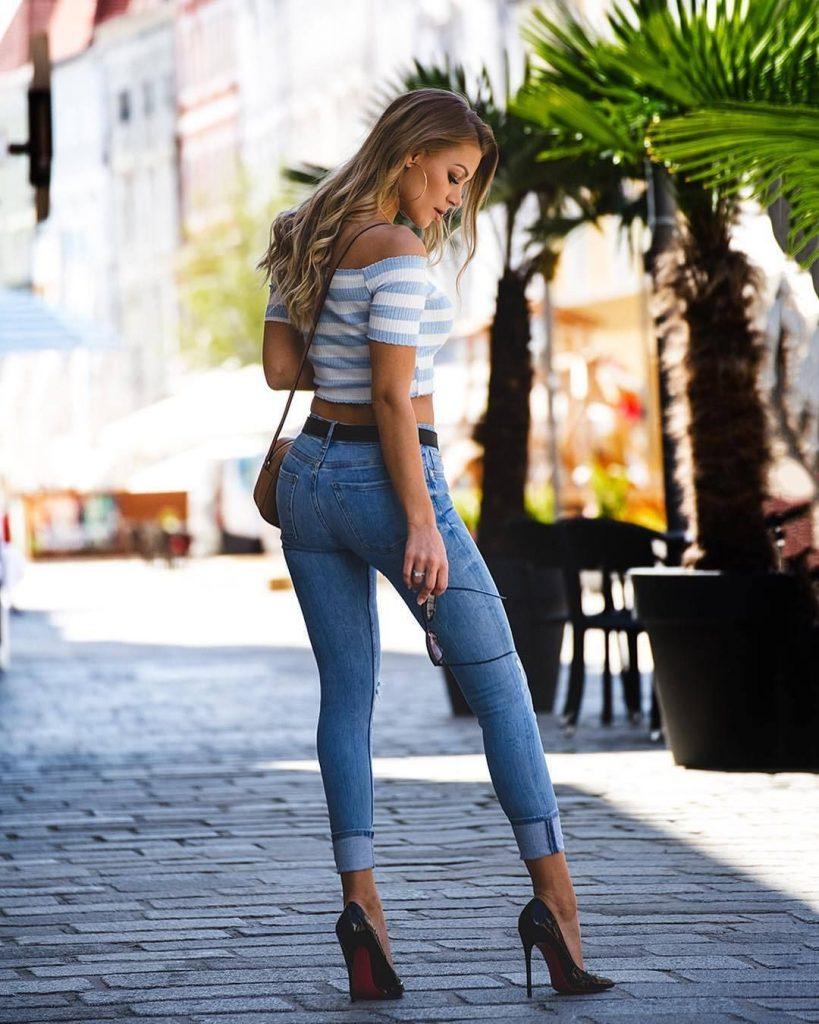 Jeans and heels look great with a leather jacket. Alternatively, you might want to consider a stylish pair of dark sunglasses. The colour of your bag or clutch should either match or complement your top. When wearing jeans, avoid wearing heavy jewelry to avoid looking overdone.
2 . Ankle Strap Sandals With High Heels and Jeans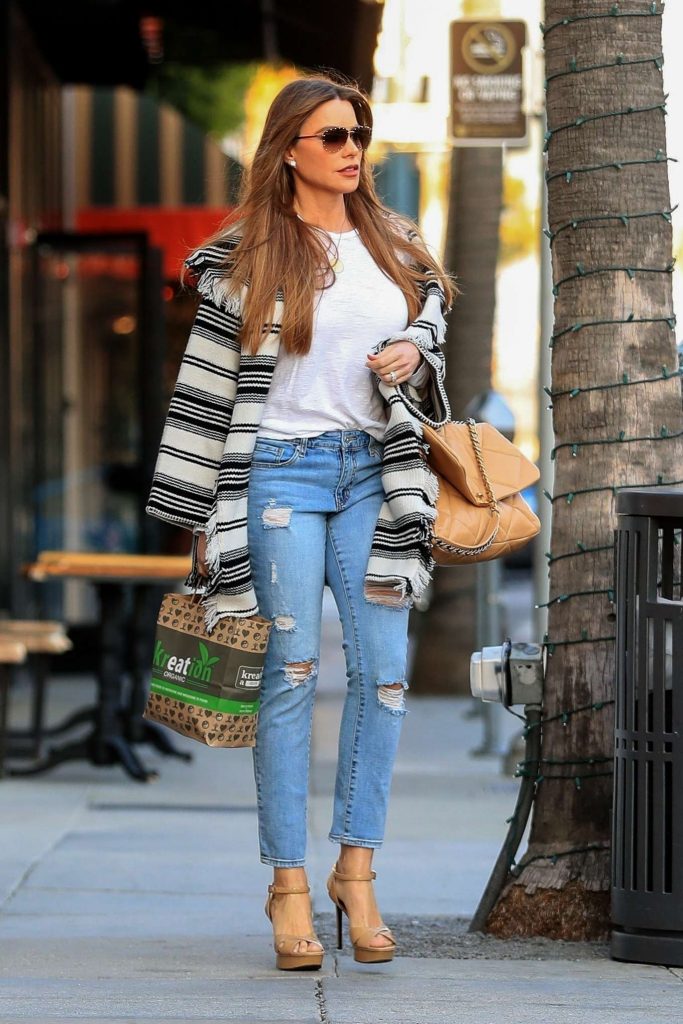 Sleek straight-leg or boyfriend jeans can be dressed up or down with bright and strappy heeled sandals and an oversized blazer. If you're going for a double jacket look, you'll get an extra point.
1.  Wear a pair of jeans with  Ankle Strap Heel Sandals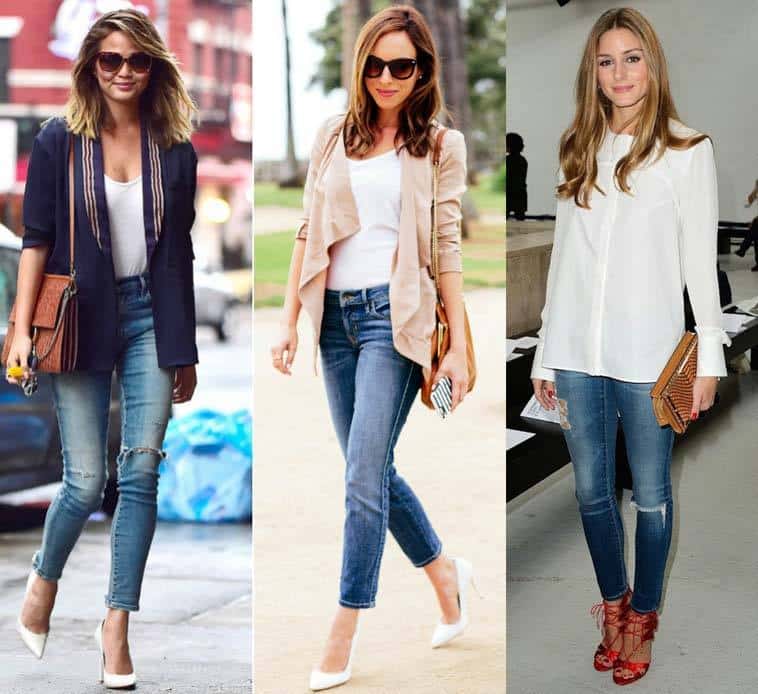 You can wear sandals with jeans and a slouchy T-shirt or a flowy tank top because they are more casual. See what looks best on you by experimenting with different outfits. When the weather is nice, this is a great casual look to wear. Here are some ideas to get you started.
Is it okay to wear heels with jeans?
A nice pair of jeans with heels will help bring elegance to your outfit & up your fashion game. Read more to find out the right jeans with heels outfit, which is necessary for every girl's wardrobe. A jeans and heels outfit is a staple in any woman's wardrobe.