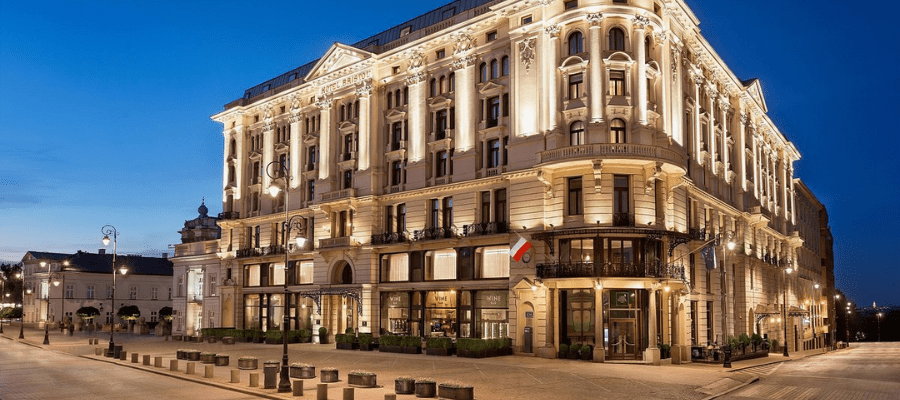 Warsaw, Poland's capital, is a thriving and dynamic metropolis noted for its historical significance, cultural diversity, and economic importance. Warsaw has a wide variety of hotels, including hotels in Warsaw, to suit the demands of any visitor, be they tourists, businesspeople, or history buffs.
Types of Hotels in Warsaw:
Luxury Hotels:
Warsaw boasts a range of luxury hotels that provide impeccable service, opulent accommodations, and a taste of royalty. Some of the notable luxury hotels in Warsaw include the Hotel Bristol, Raffles Europejski Warsaw, and the Westin Warsaw. These hotels in Warsaw often feature fine dining restaurants, spa and wellness facilities, and stunning views of the city.
Business Hotels:
Warsaw holds a prominent position as a major business center in Eastern Europe, thus leading to a proliferation of business-oriented hotels that cater specifically to the requirements of corporate travelers. These hotels are commonly situated in the central areas of cities and provide facilities such as meeting rooms, fast internet connectivity, and convenient proximity to significant commercial areas.
Boutique Hotels:
Boutique hotels in Warsaw are a favorable option for guests who desire a more intimate and distinctive experience. These hotels in Warsaw are distinguished by their compact dimensions, individualized customer care, and unique interior aesthetics. Two examples of boutique hotels are the H15 Boutique Hotel and Hotel Indigo Warsaw Nowy Świat.
Budget and Mid-Range Hotels:
Warsaw boasts a wide array of budget and mid-range hotels that offer reasonably priced and comfortable lodging options. The hotels in question are distributed throughout several locations within the city and cater to guests seeking affordable accommodations without sacrificing comfort.
---
Best Locations for Hotels in Warsaw:
City Center:
The heart of Warsaw's hotel scene lies in the city center. Here, you can find an abundance of luxury, business, and boutique hotels. Staying in the city center provides convenient access to historical landmarks, shopping districts, and a lively nightlife.
Old Town:
For those seeking a more historic and charming atmosphere, the Old Town is home to several quaint boutique hotels. Staying in this area allows you to explore Warsaw's rich history, including the Royal Castle and the Market Square.
---
Hotels in Warsaw listed on Booking:
1. Courtyard by Marriott Warsaw Airport
One notable characteristic of Courtyard by Marriott Warsaw Airport is its advantageous geographical positioning. The hotel is conveniently located within close proximity to Warsaw's primary international airport, making it a highly favorable option for guests who are either arriving or departing from the city. 
The close proximity to the airport not only mitigates the inconvenience of transportation but also guarantees that visitors are effectively linked to the central area of Warsaw, as the city center can be reached within a mere 15-minute drive. The strategic positioning of this central location facilitates convenient exploration of Warsaw's cultural, historical, and business attractions, rendering it a very suitable option for both business and leisure travelers.
The Courtyard by Marriott Warsaw Airport provides a range of dining choices to accommodate a diverse range of culinary interests and palates. The primary dining establishment of the hotel is the Kitchen & Table restaurant, which provides a wide range of culinary options encompassing both foreign and Polish cuisine. The establishment offers a pleasant ambiance and amiable service, catering to individuals seeking a substantial morning meal, a professional midday repast, or a delectable evening feast.
---
2. Radisson Collection Hotel, Warsaw
One of the standout features of the Radisson Collection Hotel, Warsaw is its exceptional dining options. The hotel's signature restaurant, "Avenue," offers a refined culinary experience. International and Polish food, made with fresh ingredients and presented well, is served here. The hotel's elegant bar, "The Bar," serves a variety of cocktails, wines, and spirits in a comfortable atmosphere.
For business visitors, the Radisson Collection Hotel, Warsaw has a modern meeting, conference, and event facilities. From intimate boardrooms to vast ballrooms, the hotel has event venues with the newest technology and a dedicated events team. The hotel executes corporate meetings, gala dinners, and wedding receptions flawlessly.
Read more: The Best Hotels In Oslo, Norway For This Season's Most Awaited Vacation
---
3. Holiday Inn – Warsaw City Centre, an IHG Hotel
Holiday Inn – Warsaw City Centre offers a delightful culinary experience that showcases the diverse and delicious Polish cuisine. Flavoria, the hotel's restaurant, features many foods made from local products. Whether you want traditional pierogi or foreign flavors, you'll find something you like. City Lounge, the hotel's lounge, is a great location to relax with a cocktail or Polish vodka while watching Warsaw's busy streets.
The hotel has excellent meeting and event facilities for corporate guests. Conferences, seminars, and business gatherings are ideal at the Holiday Inn – Warsaw City Centre, which has many meeting rooms with modern audiovisual equipment. The professional event staff ensures that every detail is attended to, making it a preferred destination for business meetings.
To unwind and rejuvenate after a day of exploring or working, the hotel offers a well-equipped fitness center. Whether you prefer to maintain your regular fitness routine or want to kickstart a healthy lifestyle during your stay, the facilities cater to all your workout needs.
Also read: Hotels In Dublin: A Luxurious Haven In The Heart Of Ireland's Capital
---
Conclusion
Warsaw's hotel scene offers a diverse array of options to cater to the needs and preferences of every traveler. From luxury hotels in Warsaw to contemporary boutique hotels in Warsaw and budget-friendly options, there is a wide range of accommodations to choose from. With their central locations, unique features, and Polish hospitality, Warsaw's hotels not only provide comfortable lodgings but also enhance the overall travel experience in this remarkable city. For more information about cheap hotels in Warsaw visit the official website of Hermagic.
FAQs