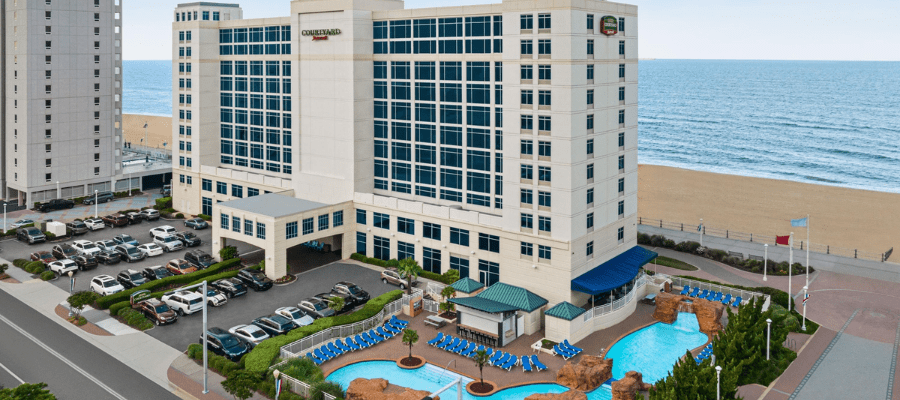 The "Old Dominion State," Virginia, is home to a variety of attractions, including dynamic cities and breathtaking natural settings, in addition to its rich historical legacy. If you're thinking of a romantic retreat, a family holiday, or a weekend break, Virginia has a variety of lodging options to choose from. Booking.com is your go-to source for ensuring the greatest lodgings and service for an amazing trip to Virginia. It guarantees you locate the ideal location that fits your interests and budget thanks to its user-friendly website and large selection of hotels in Virginia. Booking.com can help you find a deluxe getaway in Richmond, a historic adventure in Williamsburg, or a coastal refuge at Virginia Beach. 
Best Hotels in Virginia by Booking.com
1. Country inn & suites by Radisson – Virginia beach (Oceanfront), VA
Located at 1801 Atlantic Avenue, Virginia Beach, VA 23451, United States, the Country Inn & Suites by Radisson, Virginia Beach (Oceanfront), VA is just 3.1 miles from the Virginia Beach Convention Center. This hotel offers free amenities such as an indoor pool and WiFi. Rooms include balconies or patios with ocean views, a 32-inch HDTV, microwave, and refrigerator. Guests have access to a business centre, 24-hour fitness centre, and daily breakfast. Laundry service is available, and nearby attractions include the Virginia Aquarium and Marine Science Center, the Virginia Beach Fishing Pier, and Amusement Park, all within a few kilometres of the hotel.
---
2. Capes Hotel
The Capes Hotel, situated at 2001 Atlantic Avenue, Virginia Beach, VA 23451, United States, offers a beachfront escape on the Virginia Beach Boardwalk. Just steps from the beach, it's conveniently located, with First Landing State Park 4 miles away and the city's fishing pier a 4-minute walk. Rooms feature private balconies with ocean views, a microwave, and a refrigerator. Hotel amenities include an indoor pool, a beachfront café, and laundry service. Nearby attractions include the Virginia Aquarium and Museum of Marine Science (1 mile away) and Ocean Breeze WaterPark (3.2 km away).
Read more: The Best Hotels In Oslo, Norway For This Season's Most Awaited Vacation
---
3. Ramada Plaza by Wyndham Virginia Beach Oceanfront
The Ramada Plaza by Wyndham Virginia Beach Oceanfront, located at 2809 Atlantic Ave, Virginia Beach, 23451, United States, offers oceanfront rooms on the Virginia Beach Boardwalk. All rooms are non-smoking and include a refrigerator, coffee maker, microwave, and a private terrace or balcony. Guests can dine at the boardwalk restaurant and café and enjoy indoor and outdoor pools, a fitness centre, and a games room. The King Neptune Statue is a short 320 metres away, while the Virginia Aquarium and Marine Science Center are 4 km from the hotel, with Ocean Breeze WaterPark located 3.9 km away.
---
4. Ocean Resort
Ocean Resort, situated at 2417 Atlantic Avenue, Virginia Beach, VA 23451, United States, offers beachfront accommodations with rooms featuring balconies and stunning ocean and beach views. This Virginia Beach hotel, located near the Virginia Beach Boardwalk, provides free WiFi and features 105 rooms, each with a balcony, coffee maker, refrigerator, microwave, flat-screen TV, and a safe. Guests can also enjoy the indoor pool. The Ocean Resort is conveniently located 4.2 km from the Virginia Aquarium and 5.2 km from Ocean Breeze WaterPark.
---
5. Wyndham Virginia Beach Oceanfront
The Wyndham Virginia Beach Oceanfront, situated at 57th Street and Atlantic Avenue, Virginia Beach, VA 23451, United States, is a beachfront hotel offering dining options and free WiFi in rooms. Each room comes with a balcony, flat-screen TV, and refrigerator. Guests can enjoy the fitness centre, hot tub, and indoor and outdoor pools. The hotel also provides banquet rooms and meeting facilities. The Surf Club Ocean Grille serves seafood for breakfast, lunch, and dinner, complemented by a full-service bar. The hotel is conveniently located 3.6 km from Fort Story and 1.6 km from the boardwalk.
---
Things to Do in Virginia
1. Historical Sites
Colonial Williamsburg: Explore this live history museum and go back in time.

Monticello: Visit Thomas Jefferson's stunning plantation home in Charlottesville.

Appomattox Court House: The site of General Lee's surrender, marking the end of the Civil War.
---
2. Outdoor Adventures
Shenandoah National Park: Hike the famous Appalachian Trail and admire the breathtaking Blue Ridge Mountains.

Virginia Beach: Enjoy swimming, sunbathing, and various water sports along the beautiful Atlantic coastline.

Luray Caverns: Discover the awe-inspiring underground world of stalactites and stalagmites.
---
3. Culinary Delights
Virginia Wine Country: Embark on a wine tour to taste world-class wines and enjoy picturesque vineyard landscapes.

Richmond Food Scene: Explore the city's emerging food scene, from southern comfort food to international cuisine.
---
4. Arts and Culture
Virginia Museum of Fine Arts: Admire an impressive collection of art from around the world in Richmond.

Wolf Trap National Park for the Performing Arts: Enjoy live performances in a scenic outdoor venue near Vienna.
---
When is the Best Time to visit Virginia?
Spring (March to May): Enjoy blooming flowers and outdoor activities.

Summer (June to August): Ideal for beachgoers, festivals, but book accommodations early.

Fall (September to November): Experience stunning foliage, wine, and milder weather.

Winter (December to February): Quieter, budget-friendly, great for winter sports and exploring.
---
Main Airports in Virginia 
Richmond International Airport (RIC): Serving central Virginia from Richmond, this airport provides a variety of domestic and limited international flight options.

Washington Dulles International Airport (IAD): Located in Northern Virginia, this major international gateway offers extensive connectivity to global destinations.

Norfolk International Airport (ORF): Catering to the Hampton Roads region, this airport grants access to Virginia Beach and Norfolk, with domestic flights and limited international connections.

Newport News/Williamsburg International Airport (PHF): Situated on the Peninsula, it serves Williamsburg and neighbouring areas with a primary focus on domestic travel.
Also read: Hotels In Dublin: A Luxurious Haven In The Heart Of Ireland's Capital
---
Conclusion
Booking.com provides travellers with a seamless and convenient platform to access an array of exceptional hotels in Virginia, catering to various preferences and budgets. Whether you seek a beachfront escape, a historic immersion, or a luxurious retreat, Booking.com ensures you find the ideal hotels in Virginia for a memorable stay. Booking.com offers user-friendly tools, reviews, and suggestions to assist you in making an informed choice.. This improves your trip to Virginia and enables you to take advantage of the state's abundant natural beauty, fascinating history, and varied attractions. For more information, visit HerMagic. 
FAQs