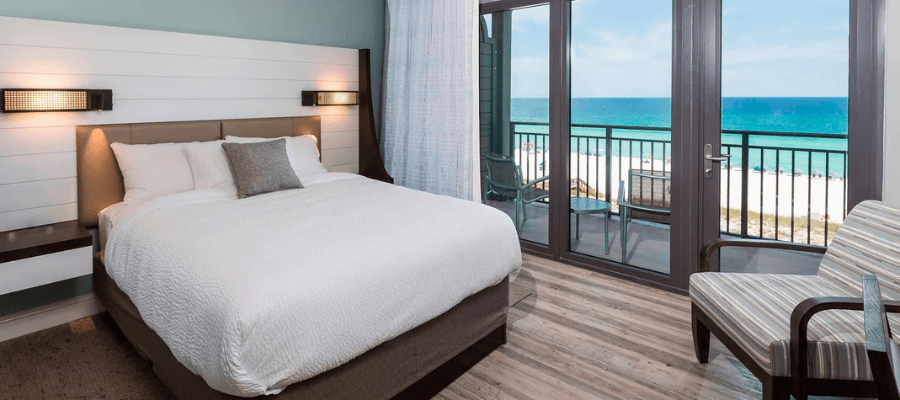 Nestled along Florida's Gulf Coast, Navarre offers pristine beaches, nature preserves, and lively festivals year-round. Planning a getaway to this seaside paradise? Discovering the ideal spot to stay is crucial for a perfect getaway. That's where Booking.com comes in! With over 25 properties to choose from, Booking makes it easy to book top-rated hotels in Navarre for any budget or travel style. In this article, we'll highlight some of the best hotels in Navarre available on Booking.com. Peruse oceanfront resorts, cosy B&Bs, value motels and more. Then, reserve a room knowing you secured a top-rated property in an ideal location to experience all that charming Navarre has to offer.
Top 5 hotels in Navarre on Booking that are affordable and come with a view!
1. Hampton Inn & Suites Navarre
Overlooking the serene Navarre Beach, the charming Hampton Inn & Suites Navarre offers convenient beach access paired with modern comforts, making it one of the most popular hotels in Navarre. Guest rooms feature soothing coastal décor, while suites add extra space and kitchenettes for extended stays. Start your sun-filled days with a complimentary breakfast before heading to the sprawling outdoor pool and hot tub. Inside, keep up with work at the business centre or stay fit in the fitness room. The hotel also has beach chairs and umbrella rentals to make your beach days a breeze. With its family-friendly amenities and prime location, the Hampton Inn & Suites is an ideal Navarre Beach base camp.
---
2. Best Western Navarre Waterfront
Perched along the Navarre Beach Causeway, the Best Western Navarre Waterfront provides panoramic views and easy access to the area's top attractions. Guest rooms are decorated in soft beachy tones and outfitted with mini-fridges and microwaves for convenience. Upgrade to a spacious suite for extra amenities like a wet bar, pull-out sofa and balcony. Onsite amenities include a shimmering outdoor pool and hot tub, a well-equipped fitness centre, and a meeting room. The place also offers complimentary breakfast to fuel up for your beach days, making it one of the best hotels in Navarre. With gorgeous waterfront vistas and proximity to beaches, parks and shopping, the Best Western is a comfortable Navarre home base. 
---
3. SpringHill Suites by Marriott Navarre Beach
Ideally situated on Navarre's sandy shores, SpringHill Suites by Marriott Navarre Beach places you steps from frolicking in the Gulf of Mexico. Bright, spacious suites offer beachy décor and balconies overlooking the water, while the complimentary breakfast fuels up for fun. Take a dip in the outdoor pool or hot tub, then rent beach chairs and umbrellas for relaxing seaside. Kids will love the games in the fun zone, and parents can stay productive at the lobby computer station. The hotel also has a round-the-clock fitness centre, convenience store and guest laundry. With its family-friendly amenities and beachfront location, SpringHill Suites is a top choice when it comes to luxurious hotels in Navarre.
---
4. Navarre Beach Regency 308
For a home away from home on sunny Navarre Beach, look no further than Navarre Beach Regency 308. This condo-style property offers fully equipped units with homey conveniences like full kitchens, separate living areas, and private balconies with Gulf views. Wi-Fi and cable TV keep you entertained while the year-round heated pool beckons you outside. Or take a short stroll to the sandy shores and pier right across the street. The Regency 308's spacious condos, friendly service and beachside setting make it a wonderful accommodation choice for families and groups. 
---
5. Sundunes 123
Escape to the sugary shores of Navarre Beach at the Sundunes 123 condominiums. Spacious units feature full kitchens and homey conveniences, with screened balconies boasting breathtaking Gulf views. Keep the kids occupied at the outdoor pool, then take a short stroll to the beach access right across the street. Later, fire up the grills for an evening barbecue on your private balcony while reminiscing about the day's adventures. With its family-sized units and excellent location, Sundunes 123 offers an inviting beach retreat in the heart of Navarre Beach, making it one of the best beachfront hotels in Navarre.
---
Fun things to do in Navarre to make the most of your trip
Now that you know which hotels in Navarre to try, let's explore some fun things to do that will make your vacation even more memorable:
– Enjoy gorgeous sandy beaches and swim in the gentle waves at Navarre Beach. 
– Rent beach chairs, umbrellas, surfboards, stand-up paddleboards, and other beach gear for a perfect day by the shore.
– Splash and play at the Navarre Beach Marine Park's splash pad, volleyball courts, and playground. 
– Walk the scenic boardwalk lined with beach bars, restaurants, and shops.
– Fish of the Long Navarre Beach Fishing Pier.
– Kayak or canoe on the Santa Rosa Sound to spot dolphins.
– Hike or bike the trails through Navarre Beach Conservation Park. 
– Marvel at the sunset views from the Navarre Beach Causeway.
– Let kids play at the wooded Navarre Park's sports fields, treehouse, and picnic spots.
– Take surfing or stand-up paddleboard lessons for a chance to ride the waves.
– Sign up for a dolphin or snorkelling cruise to explore the beautiful emerald coast waters.
– Enjoy a picnic on the soft sandy beach with beautiful ocean views.
---
Conclusion
With scenic beaches, outdoor adventures, and small-town charm, Navarre is a can't-miss Gulf Coast destination. Build sandcastles, splash in the surf, kayak the waters, hike coastal trails, and unwind on the beach. After sunny days filled with family fun, cosy up in one of the many wonderful beach rentals and hotels in Navaree available on Booking.com. From national chains like Hampton Inn and SpringHill Suites to condos like Navarre Beach Regency, you'll find the perfect accommodations for your Florida vacation. With so much natural beauty and endless ways to enjoy the outdoors, Navarre offers an idyllic coastal escape for all interests and ages. For more such updates on cheap hotels in Navarre, visit Hermagic.
FAQs