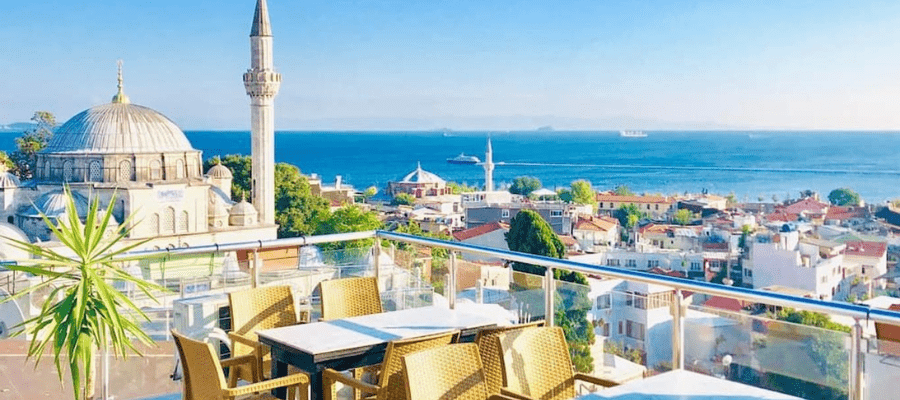 Istanbul is one of the most visited tourist places and fairly so. It is a captivating city that has ancient and modern architecture which will mesmerise you. It also has monuments and landmarks that are like none other. With a culture as vibrant as you, it is one of the best places to visit this season with your friends or family. With the sea of Marmara on one side and the black sea on the other, it is filled with ethereal architecture in the middle. 
Are you looking for comfortable accommodations in Istanbul? Fret not because Booking.com offers some of the best hotels in Istanbul. Let's explore them in this blog!   
Which area in Istanbul is best to stay in?
While the entire city is beautiful, here are some of the most well-known places to stay in:
Beyoglu: If you are someone who loves art and culture.

Sultanahmet: if you are someone who loves ethereal views and unmissable sights.

Fener and Balat: If you are someone who is active on Instagram and wishes to show the world the best area for antique shopping. 

Kadikoy: If you want a mix of culture along with amazing nightlife. 
You will find some of the most sought-after hotels in Istanbul in these areas! 
---
Why is Istanbul famous?
Istanbul was previously called Constantinople. It is now a hub of art, culture, music and architecture. Built with 17 captivating palaces, 64 mesmerising mosques, and around 49 beautiful churches, it is one of the most visited tourist places. 
---
6 Best and most luxurious hotels in Istanbul 
While Istanbul in itself is a huge city, it has many luxurious 5-star hotels and 4-star hotels that offer the best service with mesmerising views and amazing architecture. The following are some of the top-rated hotels in Istanbul. 
1. Wyndham Grand Istanbul Europe
Located in Bagcilar, Istanbul, this 5-star luxurious hotel is lit up with the culture that the city has to offer. With a whopping 8.9 rating, it offers soundproofed rooms that are equipped with Wi-Fi so you can work from there if need be. It has features such as a refreshing spa, a fitness centre for all the gym freaks and an indoor pool for those who want to relax after a day of touring. 
---
2. Windsor Hotel & Convention Center Istanbul
With its location in the beautiful Bayrampasa, who would not want to stay in this 5-star hotel? Located just 6.5 km away from the centre of the city, everything you might need or wish to visit is nearby this hotel. It features free private parking for your convenience along with a well-equipped bar too. With free Wi-Fi in all the areas, it also offers airport shuffles and a buffet breakfast.  
Read more: The Best Hotels In Oslo, Norway For This Season's Most Awaited Vacation
---
3. Ramada Plaza Sultanahmet 
Being one of the closest luxurious hotels in Istanbul to the subway, the Ramada is located in Faith, Istanbul which is only 1.5 km from the center. It offers spacious rooms to make your stay as comfortable as possible. One of the best parts about this hotel's location is that it is only 500 metres away from the Grand Bazaar of Istanbul so you can easily come back to relax after a long day of shopping. It features 3 different well-stocked bars along with a rooftop restaurant to give you the best views. A cherry on top is its unmissable hammam with sauna. 
---
4. Fideya Boutique Hotel 
Located near Faith, Istanbul, this luxurious 3-star hotel is just 0.6 km away from the centre of the city. With free Wi-Fi available and private parking as well, it is rated 9.7 by many customers. It features a satellite TV in every room and is extremely close to attractions such as the Column of Constantinople, the Suleymaniye mosque, and the spice bazaar. A fully stacked room, it offers enough space, especially for all the couples looking to make a trip to Istanbul!
---
5. Millennium Istanbul golden Horn
Located in Faith, this 5-star luxurious hotel in Istanbul is barely 1.4 km from the famous Eyup Sultan Mosque. Moreover, it also has a fitness centre for all those who do not want a break from the gym on their vacation. With spacious rooms to fit a family, they offer a buffet breakfast along with an in-house restaurant. One of the best parts is that it also has a hot tub and a sauna to relax you after a day of visiting the attractions of Istanbul. It is only 3.6 km from the spice bazaar! It is also pet-friendly and has free Wi-Fi as a cherry on top. It is one of the most sought-after hotels in Istanbul. 
---
6. Cronton Design Hotel 
With an overwhelming 9.5 rating by the customers, this hotel is only 1 to 5 km away from the Basilica Cistern, Hagia Sophia, and the Suleymaniye mosque. The hotel features a 24-hour front desk service, an airport shuttle, and room service. It has balconies with almost every room to give you the perfect view of the city. Moreover, the rooms are spacious enough for families and they are known for their breakfast!
Also read: Hotels In Dublin: A Luxurious Haven In The Heart Of Ireland's Capital
---
Conclusion 
Istanbul, the city of magic welcomes you with open hands to stay in these beautiful hotels. With customer satisfaction and luxury as their top priority, these hotels in Istanbul will be one of the best experiences of your trip. Finding the right hotel can be a daunting task, but these 6 hotels on Booking.com offer one of the best services you can find. Come back to your spacious rooms after a long day of touring and relax in your sauna or get your favourite spa done to untie those knots. Find out more about hotels in Istanbul on HerMagic. 
FAQ's