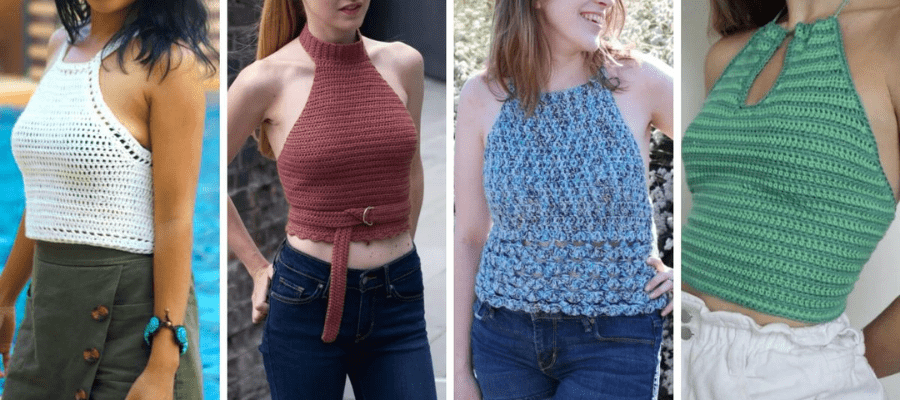 Halterneck tops have almost always been in fashion. From Chanel to H&M, all types of brands have focused on featuring halter tops at least once in their fashion line. These tops are versatile, stylish, and always trendy because of their features! Revolutionized into glitter tops and halter neck split tops, these tops are loved by women of all ages. 
PrettyLittleThing offers a wide variety of halter tops for you to choose from. Let's check out some of these chic options and elevate your wardrobe collection!
What can be worn with halter tops?
There are many outfits that can be worn with halter tops. Some of those are pairing a halter neck top with mom jeans and some strappy heels to make the entire look even more picture-perfect. You can also pair a halter neck top with a denim skirt and some knee-high boots to give it a chic look. 
Are halter tops in fashion?
Halter neck tops have been in fashion since the beginning of time. They have evolved from conventional and traditional tops to more adventurous and wild designs, thereby catering to everyone's needs equally. There is a halter neck top for every woman out there. They have been in fashion for many years and it is predicted they would be in fashion for many years to come, as well. 


8 halter tops you need to slay this season
Halter neck tops are not just versatile but also fun to wear and twin with your girlfriends in. These tops can be paired up with almost anything, anytime, and can turn from casual to formal with just a couple of tweaks, making them a customer favorite. 
1. Hot pink rhinestone fishnet cowl halter neck long top
Starting off with the perfect Barbie halter neck top, this product gives you a  sizzling look for a night out at a club or your birthday party. You can pair it up with a black faux leather skirt and some black knee-high boots to complete this perfect look. It is also available in a black rhinestone design making it more versatile than ever.
---
2. Black two tone knit halter neck split top
At the intersection where the past meets the present, this vintage halter neck top has been tweaked to fit the modern world, making it the perfect combination of the best of both worlds. Made with the best fabric of polyester, this top is durable and long-lasting. You can pair it up with matching pants or maybe a white denim skirt for some contrast.
Read more: 5 T-Shirt Bras That Are So Comfortable You'll Forget You're Wearing Them
---
3. Petite olive faux leather halterneck corset top
Made from the best material of polyester, this corset top ensures comfort, style, and durability above all else. Featuring an olive green color, this corset is perfect for springtime or a summer brunch near a beach. It gives off a refreshing and stylish look that you can pull off in any season. Moreover, it is size-inclusive as well!
---
4. Brown floral print devore underwire halter neck top
One of the most loved halter tops and dresses, this floral print design top with an open cleavage design and a string in the middle is the perfect pick for date night. You can pair it up with the matching floral skirt split at the side or with a pair of black jeans and some black heels to make a picture-perfect look.
---
5. Shape black matte faux leather snake halterneck top
Featuring a snake faux leather design, this halter neck top has a strappy finish with a V-neck design at the end that makes it chic and classic at the same time. You can pair this up with matching pants, or even with some faux leather pants.
---
6. Black cross front halter neck top
This black cross front halter neck top is the most apt choice for a date night out with your friends or partners. It offers an open cleavage and chest design that makes it sizzling hot and gives you a chic look. You can try pairing it up with some black pants or a matching black skirt with an open slit in the middle. 
---
7. White knot detail halter neck bodysuit 
Featuring a white bodysuit design, this halter neck bodysuit is stylish, classic, elegant, and full of grace. It offers a V-halter neck design with an open cleavage. The only thing missing in this bodysuit is you!
---
8. Brown washed faux leather lace up plunge halter neck top
Saving the best for the last, this versatile brown faux leather halter neck top is waiting to be in your closet this season. Featuring a ribbon knot design in the middle of it, this brown halter neck top hugs your body perfectly. 
Also read: Versatility Of Nude Tops: A Fashion Revolution Worth Exploring
---
Conclusion 
Finding the right halter tops is one of the easiest decisions you can make now because PrettyLittleThing has come up with their all-new halterneck top and halterneck bodysuit collection that is versatile, comfortable, hot, stylish, and picture-perfect for this season. You can pair it up during the summer season, winter, spring, and autumn as well. 
For more information on halter tops, visit Hermagic. 
FAQ's