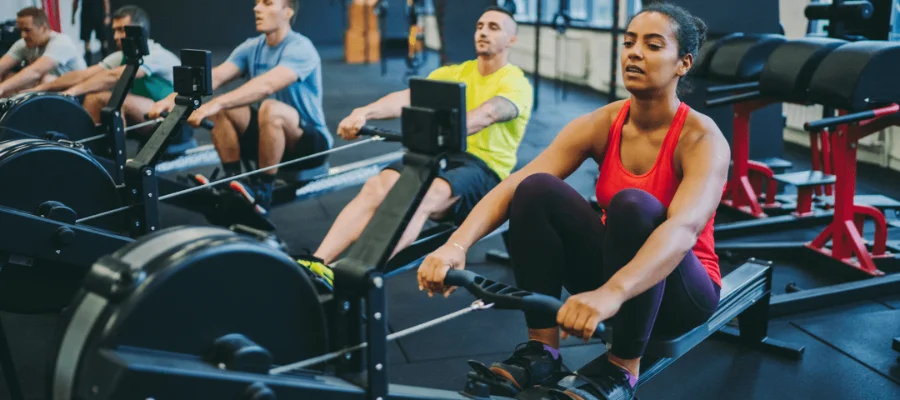 Gym rowing machines offer you the chance of a full-body workout and help you undergo a major transformation by shredding stubborn fat. Their ability to engage multiple muscle groups makes them an ideal choice for daily workout. In this blog Hermagica will help you choose gym rowing machines for yourself and understand how you can use them to perform workouts. 
What is a gym rowing machine?
A gym rowing machine imitates the movements of rowing and is optimum for a full-body workout. It provides a low-impact cardiovascular workout that improves your aerobic fitness. It also strengthens the muscles and tones the entire body. 
There is a seat and foot bar at one end of the machine, with straps to secure your feet.  The handle is attached to the flywheel at the front of the machine with a cable. What's best is that since a rowing machine weighs significantly less than a treadmill or cross trainer, rowing movements can be simulated indoors using a rowing machine. 
How to use gym rowing machine 
1. Catch phase
Start in a seated position with your feet attached to the platform and your hands gripping the handlebars. Slide the seat forward so your shins are perpendicular to the floor. Keep your arms straight and your upper body tilted slightly forward from the hips.
2. Drive phase 
Drive through your heels and push off the platform with your legs. Stand your upper body upright and move your arms in a straight line away from the flywheel.
3. Finish phase 
 Tighten your core muscles to move your upper body further back. Straighten your legs fully and hold the handlebar just below your ribs.
4. Recovery phase
Extend your arms over your legs and bend forward from your hips toward the flywheel. Once your hands are behind your knees, bend your knees and gradually slide the seat forward into the catch position.
Mistakes to avoid when using a gym rowing machine 
Poor posture, such as rounded shoulders or poor posture, can lead to injury or strain. Stop exercising if you are too tired to stay in good shape.

Another common mistake is to push with your legs and lean backward at the same time. It's important to keep these movements separate: first push off with your legs, lean back with your abdominal muscles tight, and then pull your arms toward you.

Remember to keep your knees straight and neutral throughout the movement.Try not to let them bend to the side, as this could cause hip problems. As you straighten your leg as you step back, remember to bend your knees slightly and avoid locking.
Gym rowing machines vs treadmills 
Rowing is a full-body workout, meaning it uses the entire body, not just the lower half of the body. Spending time on a rowing machine activates almost twice as much muscle mass as riding an exercise bike or running on a treadmill. A single pull on the rowing machine works all the muscles above your hips.
Treadmills, on the other hand, are not ideal for strength training. Treadmills are intended for people who don't want to train all muscle groups.
Although gentle walking may be beneficial for people with osteoporosis, you should avoid high-impact exercise such as running if you have osteoporosis or injuries that prevent you from withstanding repeated intense exercise efforts. However, you can exercise as much as you want on the rowing machine, as it allows for effortless exercise even at high intensity.
Best gym rowing machines you can get for yourself 
1. Titanium Strength Air Rowing Machine
This rowing machine is specifically designed for gyms and they offer high durability even after consistent usage. The lightweight frame and the transport wheels make it easy to be carried out anywhere. The resistance is generated by the wind from a fan itself. The machines also allows you for 10 variations with an adjustment lever. The smart technology also allows you to keep a track of your movements. 
2. Domyos x Waterrower WR3 Wooden and Water Rowing Machine
The compact design of this wooden and water rowing machine makes it a perfect fit. The machine offers you a self-regulating resistance combined with an unparalleled fluidity. This gym rowing machine has the capability to engage 84% of the body's muscles giving you a maximum efficiency in a very short span of time. 
3. Zipro Nix Magnetic Exercise Rowing Machine
The magnetic resistance gives you a smooth and trouble-free session. It has a mounted knob that allows you to make 8 levels of adjustments. The footrest is made of non-slip material. In fact, the machine also has a foldable design so it can be stored away easily. The built-in computer allows you to have control over your training data. 
4. 500B Self-Powered and Connected Rowing Machine
This rowing machine requires no socket and thus can be placed anywhere, in front of your window- in front of your TV, anywhere. The 6kg flywheel ensures you a smooth movement minus any jerks. The wide seat provided you with maximum comfort. The machine is also foldable and then it takes merely 1m2. 
Conclusion 
Gym rowing machines are a great way to engage your core and get rid of stubborn belly fat. It strengthens the muscles in your arms, legs and cores and increases your cardio endurance. The rowing action works wonders for your body without losing your breath. You can easily find quality gym rowing machines on Decathlon. Try one of the machines recommended by Hermagica and sweat your fat away! 
FAQs