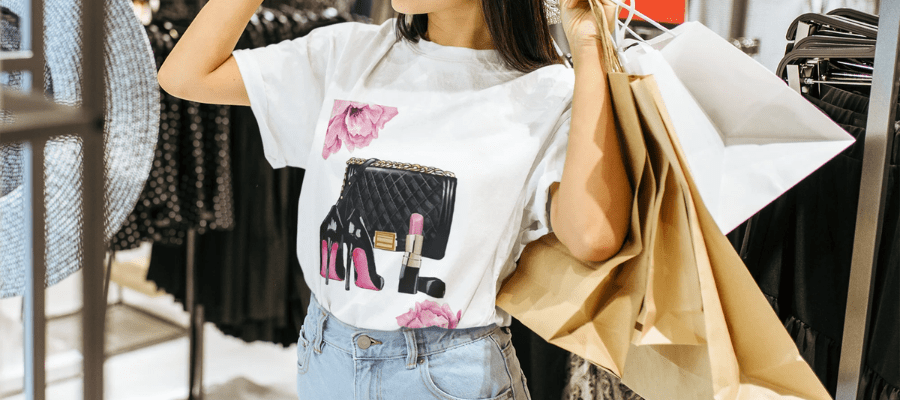 Throughout history, women's dress has served as a medium for individuals to express their unique identities and showcase their artistic abilities. In recent years, there has been a notable emergence of graphic tops as a fashionable and adaptable article of clothing that enables women to express their unique identities and personal fashion preferences. With PrettyLittleThing, you get to express yourself like never before. Check out their graphic tops collection in this blog! 
Occasions for women's graphic tops
A. Casual wear
One of the primary occasions for wearing graphic tops is casual outings. For any situation, such as a day at the beach, a picnic with friends, or a leisurely stroll around the city, graphic tops are a stylish yet casual option. You can wear them with skirts, shorts, or high-waisted jeans for casual events to seem put together yet still stylish.
---
B. Music F=festivals and concerts
Women's graphic tops have become a go-to choice for music festivals and concerts. The dynamic and expressive nature of these events aligns perfectly with the bold and eye-catching designs of graphic tops. It's not uncommon to see festival-goers wearing crop tops adorned with the logos of their favorite bands or artists, celebrating their music passion in style.
---
C. Fashion forward events
graphic tops have made their way into the world of high fashion and runway shows. Many renowned designers have incorporated them into their collections, demonstrating their potential for creating unique and chic looks. Women can sport graphic tops at fashion-forward events, pairing them with stylish accessories and clothing to create a statement look.
---
D. Gym and active wear
The comfort and breathability of graphic tops make them a popular choice for activewear. Women can stay motivated and feel confident in the gym with a crop top that inspires them. Additionally, the trend of athleisure has blurred the lines between fitness and fashion, making graphic tops a versatile choice for both.
---
Top 5 women's graphic tops by PrettyLittleThing
1. Sand graphic oversized fit sweatshirt
Oversized fit sweatshirts have been a fashion staple for a long time. Their appeal lies in their comfortable and relaxed design, which makes them suitable for various occasions. The Sand graphic oversized fit sweatshirt exemplifies this trend perfectly. With its loose silhouette, it offers freedom of movement, making it a practical choice for any casual event or daily wear. This versatile garment easily adapts to different body shapes, providing comfort without compromising on style.
The Sand graphic oversized fit sweatshirt stands out primarily due to its graphics. Graphic designs on clothing have gained immense popularity in recent years. They allow individuals to express their interests, passions, and artistic tastes. This sweatshirt showcases a unique graphic on the front that can be personalized to match one's personality or interests. Whether it's an abstract design, a favorite quote, or an artistic representation, the graphic adds an element of individuality to the outfit.
---
2. White copyright graphic zip through crop hoodie
The White copyright graphic zip through crop hoodie is incredibly versatile, making it suitable for a wide range of occasions and settings. Pair it with high-waisted jeans or leggings for a relaxed and comfortable look. The cropped length and graphic design add a touch of individuality to your casual outfit. This hoodie can also be part of your wardrobe. Combine it with workout leggings and sneakers for a sporty, yet stylish appearance, perfect for the gym or a post-workout brunch.
It serves as an excellent layering piece. Wear it over a basic top or under a jacket during colder weather, adding depth and dimension to your outfit. The streetwear culture has embraced this hoodie, as it complements the urban and edgy aesthetic. Pair it with cargo pants and chunky sneakers for a street-style look. Its cropped length and graphic designs appeal to a younger demographic, making it a symbol of youthful expression and individuality.
---
3. Black oversized graphic printed pocket front hoodie
The Black oversized graphic printed pocket front hoodie is a perfect choice for a casual and relaxed look. The oversized hoodie trend has deep roots in streetwear fashion. To achieve an urban and edgy streetwear look, pair this hoodie with trendy sneakers, and distressed jeans, and accessorize with a beanie or snapback cap. This ensemble is a favorite among fashion-forward individuals.
Surprisingly, the Black oversized graphic printed pocket front hoodie can also be dressed up. It can be layered over a form-fitting skirt or dress for a chic and original style contrast. You're ready for a night out when you accessorize with some sophisticated heels or ankle boots.
---
4. Khaki New York downtown graphic printed sweatshirt
One of the key factors to consider when evaluating any clothing item is the quality of materials used in its construction. The Khaki New York downtown graphic printed sweatshirt is crafted from high-quality materials, typically a blend of cotton and polyester. This amalgamation provides a harmonious equilibrium between the aspects of comfort and durability. 
The textile possesses a tactile quality that is both gentle and comforting when in contact with the epidermis, rendering it well-suited for occasions characterized by lower temperatures, such as milder days and evenings. The sweatshirt is specifically engineered to endure frequent use and laundering, guaranteeing its long-lasting durability and optimal state over an extended duration.
---
5. Stone New York downtown graphic printed t shirt
The Stone New York downtown graphic printed t-shirt is typically made from high-quality cotton, which offers exceptional comfort and breathability. The textile material guarantees a pleasant and ergonomic sensation when worn for extended periods of time.
The most notable characteristic of this t-shirt is its visually captivating graphic design. The graphics displayed on the t-shirt are intricately designed, frequently featuring a fusion of urban and artistic components. The design of Stone New York downtown may incorporate prominent landmarks, cityscapes, or other motifs inspired by urban themes, thereby establishing a sense of affiliation with the city.
---
Conclusion
In conclusion, women's graphic tops are a versatile and expressive fashion statement that has gained immense popularity in recent years. With a rich history, endless design possibilities, and the power to convey individuality, graphic tops have found their place on various occasions and in the hearts of fashion enthusiasts. Whether worn casually, at music festivals, fashion-forward events, or during workouts, these tops by PrettyLittleThing continue to be a trendy and meaningful choice for women looking to showcase their unique style and personality. 
For more information related to vintage graphic tops, visit the official website of Hermagic.
FAQ's