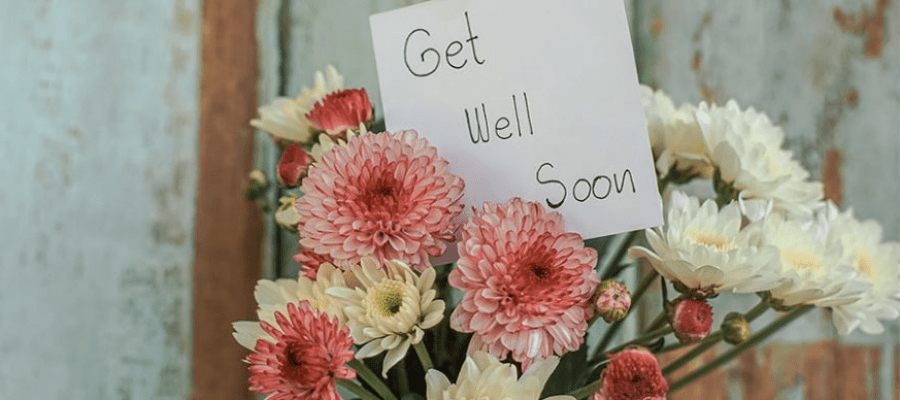 Empathy and thoughtfulness is what separates us from animals and makes us really human. We build connections, uphold them, love them and wish them well no matter what. In that tapestry of emotions, gestures are probably the most important part of human relationships. Among them, the humble "Get Well Soon" card is a testament to our innate capacity for compassion and connection. In a world of digital immediacy, where words fly across screens at the speed of thought, the enduring appeal of a handwritten message on a colourful card remains a poignant action. In this blog, HerMagic will take you on a journey to pick out some of the most relatable Get Well Soon cards that you can easily send to anyone to show them that they are on your mind. 
How to Personalize Your Get Well Soon Cards 
Include a Handwritten Message and Personal Anecdotes 
A handwritten note goes far beyond a printed note to show that you really care about the person. Think about what you feel for the person and say what you really want to. You can also add some personal memories that you associate with the person. You can also add a funny story instead of a solemn one, because, remember, at the end of the day, you want to see them smile. You can also add a fond memory of the two of you that means a lot for both of you.
---
Choose a card with a Meaningful and Appropriate Design 
You can find many Get Well Soon cards in the market, so choose one that actually reflects the kind of relationship with the receiver. Do not buy cards that have any kind of inappropriate message if you are sending them to a colleague. Similarly, do not buy a simple card for a partner. Choose one that the receiver will appreciate, both the card and your feelings.
---
Add a Small Gift or Care Box
You can also send a small gift like a bouquet of flowers, a box of chocolates, a fruit basket or a care package to show that you really care. They will definitely make the receiver feel special and precious and tell them that you are thinking of them.
---
Keep the Message Short and Positive 
It is understandable that you might have a lot to say to a loved one who is sick, but stick to a shorter message. No one wants to read a book when they are sick and can barely have enough energy to talk. Make sure that your get well soon cards are easy to read and honest. Always keep your messages positive, like hoping for a speedy recovery. 
---
Digital Get Well Soon Cards 
It has always been time-consuming to go to the store, buy a cute greeting card and leave it in the mailbox. But now the prospect of leaving the house just to find, purchase, and mail a card becomes an even more impossible task, especially given the all-too-common delays in mail delivery. Digital greeting cards make this process much easier. You can easily do this from the comfort of your sofa and no longer have to settle for just a simple card.
---
Where can I get Digital Get Well Soon Card
Moonpig is a digital messenger of heartfelt sentiments that traverses the digital world, conveying warm wishes and good news to dear friends and family members through email. These solemn 'envoys' are the vanguard of a modern era, freeing us from the limitations of the traditional printed cards. 
Moonpig's extensive digital gallery features a captivating tapestry of designs that include the spectrum of many occasions. You can easily find themes designed for weddings, baby showers, graduations, and life's milestones that await you. The process is simple: 
Simply select a digital painting, write a personal verse that resonates with your feelings for the recipient

Send the card via email address. In the blink of an eye, the e-card reaches the recipient and displays its digital brilliance on their screen.
---
Top picks for Get Well Soon Cards 
1. Get Well Soon Cards For Colleagues 
If you have a strictly professional relationship with your colleagues or are planning for a group card, it is best to go for one that has an appropriate message and visuals. Some cards that you can consider are:
Get Well Soon Card

Dalia Clark Design Bright Simple Typographic Get Well Card

Flower Personalised Get Well Soon Card
---
2. Get Well Soon Cards for children 
You can choose cards with cartoons or teddy bears on them for a cute feel. Add some healthy gifts for the kids to make them feel extra special. 
Some cards you can consider are:
Me To You Tatty Teddy Get Well Card

Speedy Recovery Get Well Soon Tatty Teddy Card

Cute Dog And A Butterfly Get Well Soon Car

Operation Game – Get Well Card

Patterned Background Get Well Soon Photo Upload Card

Disney Classic Winnie The Pooh Dandelion Personalized Get Well Soon Card
---
3. Get Well Soon Cards for Friends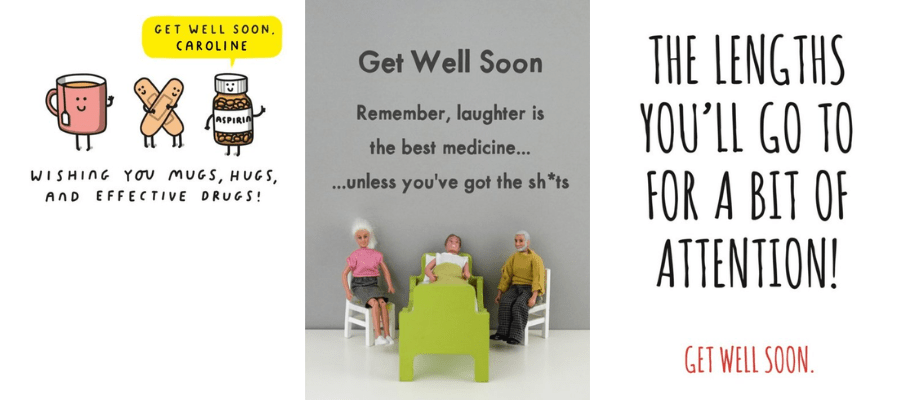 You can give your friends a funny card, depending on your relationship, that is, or anything really. After all, they are your friends! 
Some examples include:
Wishing You Hugs, mugs and effective Drugs Get Well Soon Card

Funny Rude Dolls Remember Laughter Is The Best Medicine Get Well Soon Card

Typographical The Lengths You Go To For A Bit Of Attention Get Well Soon Card

Lucy Maggie Whoops Card

Funny Rude Dolls Get Well Soon Card
Conclusion 
Moonpig ecards offer a combination of convenience and economy in the art of greeting. Additionally, they carry the flag of environmental management, eschewing the paper-heavy tradition in favour of a greener and more eco-conscious alternative. Get Well Soon cards, like the comforting hug of an old friend, contain within their folds the power to lift spirits and heal broken wings. These seemingly simple expressions of care have a remarkable complexity, a confusion that goes beyond their small size. HerMagic realizes what it may mean to you, which is why we are here with these stunning cards that will surely make your loved ones feel better. Check out the amazing Get Well Soon cards and others on the Moonpig website. 
FAQs