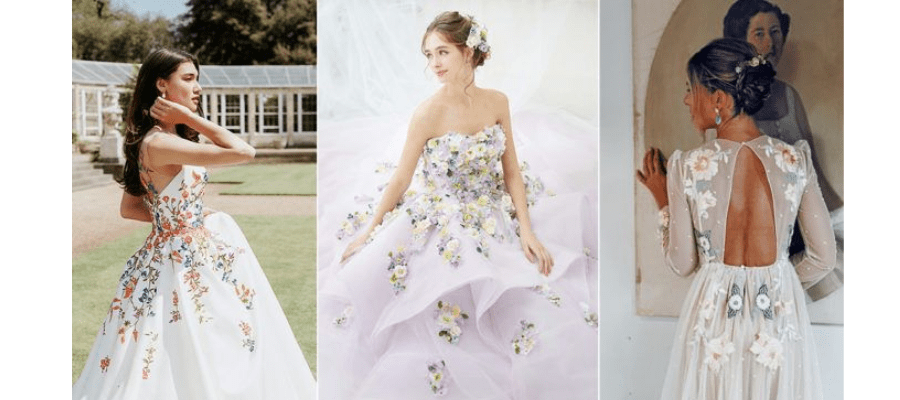 With the growing trend, brides prefer something versatile and lightweight for their wedding outfits. One of their choices is to walk down the aisle in a beautiful floral wedding dress. The dresses are embellished with exquisite flower designs, lending a natural beauty and romanticism to the bride's attire. In this blog, you will get to know about how these floral wedding gowns from Etsy get more importance than any other gown. No doubt, they come in various patterns and designs from colorful floral wedding dresses to unique floral wedding dresses.
Let's check out how these floral wedding dresses are just the reinventing bridal fashion-
Importance of Floral Wedding Dresses-
 Flowers are often compared with love, beauty, and the volatile nature of life. What can be a better option than a floral wedding dress for a new start to life? Here are some points that will lead you to why these dresses are the first preference for the bride-to-be-
1. Versatility 
Flowing wedding dresses ooze elegance and glamour. Romantic floral wedding dresses are something that will take the bride back in time to the era when women used to prefer floral dresses over any other dresses. No worries even if you have bought them for high prices as you can wear them as wedding guests too. 
---
2. Expressing Personal Style-
Floral wedding dresses are a lovely way for brides to display their uniqueness and personality. Whether you prefer gowns with subtle floral designs or with heavy embellishments, the reflection of these dresses will showcase your personality.  As a Bride, you will reflect your love for nature, art, and beauty on your wedding day with these beautiful floral dresses. 
---
3. A Classic Style-
Floral wedding gowns have become contemporary options for brides. Flowers symbolize artistry and attract guests who are attending the wedding. A floral wedding dress is something that will continue the gorgeous trend of wedding gowns and also emphasize the eternal symbols of love and nature. 
---
Choose Your Favorite Floral Wedding Dresses From the Garden OF Aisle-
1. Custom-Made Dusty Pink Lace Wedding Dress
If you are looking for a dusky pink color with floral prints for your wedding gown then this custom wedding dress is perfect for your fairytale wedding with floral designs. You can purchase this dress from Etsy as they lend you gowns that are lightweight, wrinkle-resistant and soft on your skin. 
---
2. Unique Bohemian Bridal Gown with 3D Flowers Leaf Lace
Embrace your special day in the most enchanting way with this unique Bohemian bridal gown with floral designs in 3D effect. Etsy is one single platform where you will find plenty of floral wedding dresses for yourself and even to gift to your bride-to-be friend. There are a lot of people who like beach weddings, and for them, we have this unique white wedding gown with 3D floral prints. This dress is lightweight and perfect to wear even after your wedding for any other occasion. 
---
3. Romantic Floral Lace Gown with Puffy Sleeves, Perfect for Woodland Wedding 
Romantic Floral Lace Gown is a  type of floral wedding dress that is good for your daughter's fairytale wedding. This wedding gown is embellished with floral lace, puffy sleeves and beautiful white color. The gown is easy to care for, requiring only delicate hand washing and line drying to preserve its intricate detailing. 
---
4. Individual size A-line silhouette Payton wedding dress
This Individual size A-line silhouette Payton wedding dress is a perfect dress for your wedding ceremony. The brides will love the guipure, mesh and decorated lace macrame dress with a deep v-neckline and short sleeves. There is a customizable option for these type of unique floral wedding dresses that Etsy provide to their brides. 
---
5. Sweetheart Neckline Wedding Dress Strapless Detachable Sleeves Floral Lace Corset Back Boho "Luiza"
This Sweetheart neckline wedding dress from Etsy features a neckline, and sleeves, and accentuates the decolletage and frames the face. It will create a romantic and feminine look on your wedding that is both flattering and timeless. The gentle curves of the neckline add a touch of softness and charm, making you feel like a true princess at your wedding. 
---
Conclusion
Floral wedding dresses are proof of eternal reflection of love and beauty. They enjoy a feeling of passion and individuality displaying their emotions on their sleeves in a floral language, whether it's a classical lace pattern or a vibrant floral print, these gowns allow brides to convey their own love stories while expressing nature's timeless beauty. With Etsy, you get the floral wedding dresses of your dreams with better and more customizable options. Some of the varieties are given above in the blog that you can go for. These wedding gowns are extremely versatile and lightweight for wedding purposes and will flaunt all over the wedding. For more ideas about these floral wedding dresses, you can visit Hermagic.
FAQs