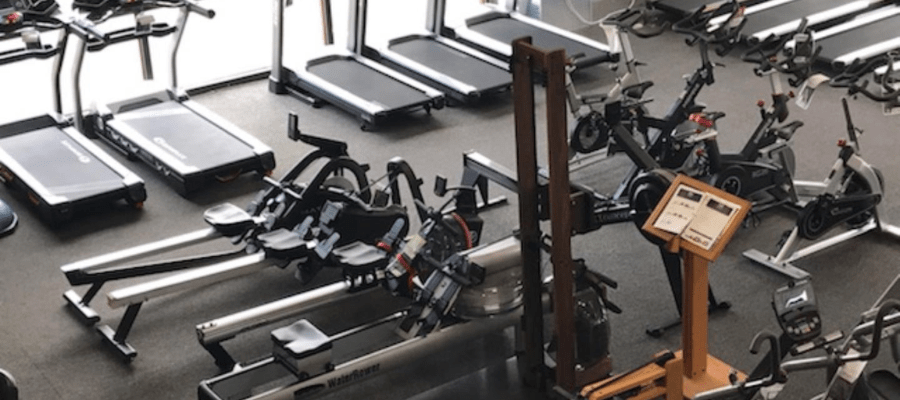 People now find it simpler to follow regimented fitness programmes because of technological advancement. Fitness equipment was developed along with technology. Today, we have access to a vast array of cutting-edge workout equipment that can meet any fitness requirement, ranging from wearable fitness technology to strength training machines and cardiovascular machines like ellipticals. Bidoo offers top-quality fitness equipment for you to stay active in the comfort of your home. Let's check them out in this blog! 
Types of fitness equipment
Cardiovascular equipment: 
Cardiovascular workout equipment is designed to strengthen and expand the heart. Popular options for cardio exercises include rowing machines, elliptical trainers, stationary bikes, and treadmills. They offer an excellent means of increasing cardiovascular fitness and burning calories.
Strength training equipment: 
Free weights, resistance bands, and machines are examples of strength training equipment that is used to build and tone muscles. Common examples are cable machines, dumbbells, barbells, and weight benches. They support people in increasing their lean muscle mass, strength, and general physical performance.
Functional fitness equipment: 
Enhanced everyday functional strength and flexibility, functional fitness equipment is made to replicate natural body movements. Crucial elements of this category are resistance bands, stability balls, and kettlebells.
Home workout equipment: 
The concept of home workout equipment has gained great appeal, especially in recent times. This includes compact and versatile exercise machines made to fit into smaller living spaces, making it easier for individuals to work out from the comfort of their homes. Examples include home gym systems, tiny ellipticals, and resistance bands.
Importance of fitness equipment
Better physical health: 
Investing in fitness equipment is essential for improving physical health. For instance, cardiovascular equipment supports heart health, and strength training apparatuses boost bone density and muscular mass. These kinds of devices working together can improve general health.
Customised workouts: 
Various folks have various fitness goals. Fitness equipment enables personalised workouts that suit various needs. Whether you want to lose weight, gain muscle, or increase flexibility, there is equipment intended to fit your aims.
Monitoring progress: 
Modern workout equipment often contains technology that enables users to track their progress. Many devices come with built-in fitness trackers, and there is a large assortment of wearable fitness tech available. Monitoring progress may be immensely motivating and assist in developing and accomplishing fitness goals.
List of fitness equipment that you shouldn't miss on
1. Ultrasport power tower
The Ultrasport power tower is an incredibly durable and versatile piece of exercise equipment that offers a comprehensive solution for strength training and bodyweight exercises. This sturdy power tower is the ideal addition to any home gym since it offers a wide platform for a range of exercises. 
The Ultrasport power tower is a solid alternative with its sturdy steel frame, ergonomic design, and multiple exercise stations for those looking to improve their general health and strength.
---
2. Schwinn exercise bike 510U
The Schwinn exercise bike 510U is a state-of-the-art piece of fitness gear made to meet your needs for at-home training. This exercise bike is a real credit to Schwinn's history of manufacturing fitness gear of the highest calibre. With its sleek and contemporary appearance, the 510U adds visual appeal to your home gym while offering a powerful workout.
With its many functions, the Schwinn exercise bike 510U is an adaptable piece of exercise equipment. Its extensive range of resistance levels lets you tailor your workouts to your desired level of fitness. The bike's ergonomic design guarantees effective and comfortable workouts, while the intuitive console offers crucial performance feedback. 
The Schwinn exercise bike 510U is a dependable and efficient piece of exercise gear that can help you reach your goals and give your home gym a sophisticated touch, regardless of how experienced you are in the fitness world.
---
3. Gravitational inversion bench
Its robust structure facilitates controlled inversion, enabling users to carry out workouts such as inverted squats, leg lifts, and sit-ups. This unique bench works the core muscles and decompresses the spine by turning the user upside down. It may help relieve back pain and improve spinal health. 
The fitness equipment is a good option for both home gyms and training centers because it is made with user safety in mind. It has pleasant padded surfaces and secure ankle-locking mechanisms. To summarise, the Gravitational inversion bench is a versatile fitness equipment choice that combines the benefits of inversion treatment and gravity to assist people in reaching their fitness objectives and improving their general health.
---
4. Spin bike
A spin bike, sometimes referred to as a stationary exercise bike, is a well-liked piece of fitness gear that enhances general physical fitness and offers a powerful cardiovascular workout. These devices simulate riding a conventional bicycle in a stationary environment. 
They are appropriate for both novice and experienced workout enthusiasts because of this characteristic. They provide a low-impact exercise option that is easy on the joints and particularly helpful for people healing from injuries. Spin bikes are designed with comfortable seats, handlebars, and pedals to make working out comfortable.
---
5. Multifunction fitness station
A functional piece of exercise gear, the fitness station serves as a one-stop shop for anyone looking to improve their physical health. With a variety of workout options and components, this all-in-one training equipment is meant to meet a variety of fitness objectives.
Users may engage in a comprehensive fitness regimen with the multifunctional fitness station, offering an extensive platform for strength training, cardio activities, core strengthening, and flexibility exercises. 
You may use this workout equipment at public fitness centres, at home gyms, or at outdoor training places. It comes with a variety of resistance training choices, pull-up bars, dip stations, and more.
---
Conclusion
Functional fitness tools, weight training equipment, and cardiovascular gadgets are just a few of the options available on Bidoo to satisfy various fitness objectives. The improved physical health, user-friendliness, customisation, and progress monitoring that exercise equipment provides make it evident why it is beneficial. As our knowledge of fitness increases and enables us to lead healthier, more active lives, exercise equipment becomes more and more crucial in our daily lives. For more information about the best home gym equipment, visit the official website of HerMagic.
FAQ's