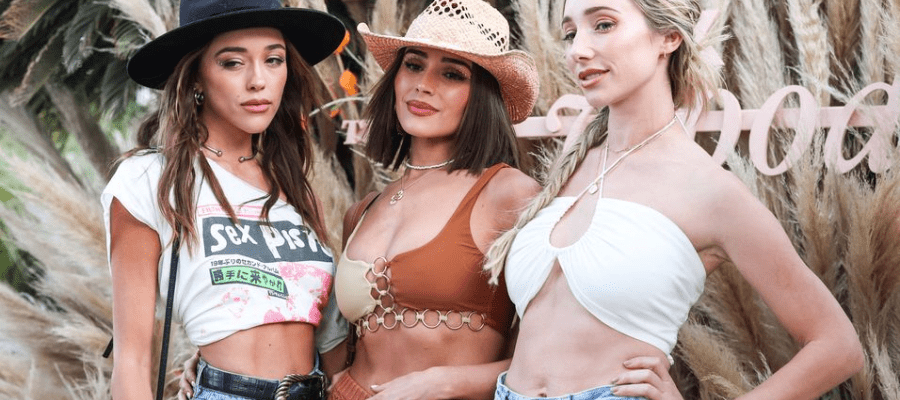 In contemporary society, festivals have transcended their traditional role as mere music and cultural festivities, evolving into a multifaceted platform that facilitates self-expression and fosters innovation. The selection of festival tops holds significant importance when considering women's festival attire. These tops not only define their style but also help them stay comfortable and chic throughout the event.
Types of Festival Outfits women
Off-Shoulder Tops: Off-shoulder tops are perfect for hot summer festivals, as they keep you cool and showcase a hint of skin without revealing too much.
Kimonos and Cardigans: Layering is key when it comes to festival outfits, especially for events that stretch into the evening hours. Kimonos and cardigans are ideal for adding a touch of style and providing warmth when the temperature drops.




Bodysuits: Bodysuits offer a sleek and streamlined look. They eliminate the need to worry about your top becoming untucked or wrinkled during all-day dancing and festivities. They pair well with high-waisted shorts or skirts.
Ruffled Tops: Ruffled tops add a playful and feminine touch to your festival look. They are often made from lightweight materials, making them perfect for hot and sunny days.
The Best Festival Tops on Prettylittlething
1. Black Distressed Ladder Knit Long Sleeve Top
The Black Distressed Ladder Knit Long Sleeve Top is a versatile addition to any festival wardrobe. Its black color, a timeless favorite, pairs effortlessly with a variety of bottoms, such as denim shorts, high-waisted jeans, or flowing skirts. This adaptability ensures that it can be worn on a hot summer day or layered for cooler nights, making it a valuable investment for festival-goers.
The primary feature that sets this top apart is its unique distressed ladder knit design. The distressed look has been a fashion trend that has permeated festivals and street style, offering a rugged, edgy, and effortlessly cool aesthetic. The strategically placed ladder knits create a playful peekaboo effect, adding a hint of allure without compromising comfort. It is perfect for those who want to add a touch of rebellion to their festival outfits.
---
2. Blue Printed Burnout Mesh Scoop Back Crop Top
The Blue Printed Burnout Mesh Scoop Back Crop Top is a stylish and eye-catching garment designed to make you stand out in the crowd. The striking blueprint is reminiscent of tie-dye patterns and bohemian aesthetics, making it a perfect fit for the carefree and expressive atmosphere of festivals. The unique burnout mesh fabric adds an extra layer of depth and texture, creating a visually appealing and dynamic look.
Festivals often take place during the hot summer months, and comfort is paramount when choosing festival outfits for women. This crop top is made from a breathable mesh fabric that allows air to circulate, keeping you cool and comfortable even in the midst of a packed festival crowd. The scoop-back design provides added ventilation while also adding a touch of sexiness to your look.
Read more: 5 T-Shirt Bras That Are So Comfortable You'll Forget You're Wearing Them
---
3. Nude Sequin Pointed Hem Cowl Long Top
The Nude Sequin Pointed Hem Cowl Long Top is a dazzling manifestation of sequins, and its shimmering surface adds a touch of ethereal magic to any festival outfit. Sequins have long been associated with celebrations, reflecting light and exuding a vivacious energy that perfectly complements the festival atmosphere. 
It flows gracefully, adding an intriguing layer of style and movement to your look. The cowl neck, on the other hand, exudes sensuality and complements the sequin embellishments beautifully. It strikes a balance between glamorous and comfortable, making it perfect for extended festival activities.
---
4. White Burnout Mesh Scoop Back Crop Top
The white burnout mesh scoop-back crop top is a fashion statement that combines elements of comfort, style, and versatility, making it a perfect choice for festival-goers. This unique garment is characterized by several key features:
The fabric used in this crop top features a burnout mesh pattern, adding an extra dimension to the top's texture and visual appeal. This feature allows for a playful combination of skin exposure and coverage.
The scoop-back design adds a touch of sensuality and glamour to the top, making it a standout piece in the festival outfits for women.
---
5. Pink Mini Crinkle Underwired Square Neck Bikini Top
The Pink Mini Crinkle Underwired Square Neck Bikini Top is a versatile and stylish garment that redefines the conventional use of swimwear. This top is designed to provide comfort and freedom of movement while ensuring that the wearer looks and feels their best. The underwired cups offer support and shape, while the square neck design adds an element of chic simplicity. Let's explore the unique features of this bikini top:
The vibrant pink color of the bikini top is an immediate attention-grabber, making it an excellent choice for festival-goers who want to stand out in the crowd. The crinkle material not only adds texture but also allows for stretch and flexibility, perfect for dancing the day and night away.
Also read: Versatility Of Nude Tops: A Fashion Revolution Worth Exploring
Conclusion
Festival tops are a pivotal element of festival outfits for women. They offer the opportunity to express personal style, stay comfortable, and embrace the festive spirit. We hope that above mentioned list of festival tops will be helpful for you. So start your shopping for this festival season. For more information about plus size festival outfits visit the official website of Hermagic.
FAQs