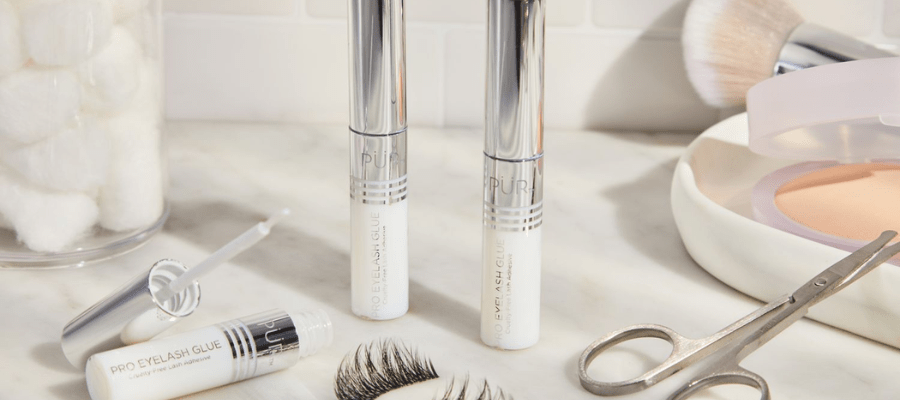 When it comes to makeup and attractiveness, eyelashes are essential for making a person seem better overall. Long, thick lashes are frequently regarded as a sign of attractiveness and attraction. To achieve this look, many individuals turn to false eyelashes. However, for these falsies to stay securely in place, a vital component is required – eyelash glue.
Significance of Eyelash Glue in the Beauty Industry
Eyelash glue holds a significant role in the beauty industry and has gained popularity for several reasons:
Enhanced Aesthetics: 
False eyelashes are a versatile beauty accessory that can dramatically transform one's appearance. Eyelash glue is the invisible force that keeps these lashes securely in place, allowing wearers to achieve a wide range of looks, from natural to dramatic.
Confidence Boost: 
Many individuals feel more confident when wearing false eyelashes, as they create the illusion of fuller, longer lashes. Knowing that eyelash glue is keeping their falsies secure helps boost their self-assurance.
Versatility: 
Eyelash glue is a versatile product used not only for false eyelashes but also for other creative makeup applications, such as adhering rhinestones or glitter to the eyes. It serves as an indispensable tool for makeup artists and enthusiasts alike.
Accessibility: 
Portable eyelash glue has become increasingly popular, making it convenient for people to carry a touch-up solution in their bags. This accessibility allows for quick and easy fixes if eyelashes begin to loosen during the day or night.
---
Best Eyelash Glue by LOOKFANTASTIC
1. Duo Striplash Adhesive Glue 7g – White/Clear
Eyelash glue is a cosmetic adhesive specially designed to adhere false eyelashes, extensions, or strip lashes to the natural eyelashes. It plays a crucial role in ensuring that your chosen eyelash enhancement method remains intact throughout the day or night. Without a reliable adhesive, eyelashes might come loose, leading to discomfort, embarrassment, or the need for constant adjustments.
Duo Striplash Adhesive Glue is known for its exceptional holding power, ensuring that false eyelashes stay in place all day and night, without the need for constant adjustments.
With the option of white or clear adhesive, Duo Striplash Adhesive Glue accommodates various makeup looks and styles. The clear variant is perfect for a natural appearance, while the white variant can provide additional depth and intensity.
---
2. Quick Set Striplash Adhesive – Clear 5g
Before delving into the specifics of the Quick Set Striplash Adhesive, it is essential to understand the significance of eyelash glue in the realm of beauty and cosmetics. Eyelash glue, often known as eyelash adhesive, is an essential part that makes sure the fake lashes stick to the real lashes. It functions as a bonding agent to hold the fake eyelashes in place for a longer amount of time, and the wearer's comfort and overall appearance are greatly influenced by the formulation.
The adhesive dries to a clear and transparent finish. This is advantageous as it ensures that there are no visible traces of glue once the false eyelashes are in place. This clear finish contributes to a natural and seamless look.
Quick Set Striplash Adhesive forms a strong and long-lasting bond between the false eyelashes and the natural lashes. This ensures that the lashes remain in place throughout the day or night, even in challenging conditions.
---
3. Brush On Striplash Adhesive – White/Clear (5g)
One of the standout features of this adhesive is the brush applicator. The built-in brush makes the application process incredibly precise, allowing you to apply the glue evenly along the lash strip. This precision ensures that there are no messy clumps or uneven distribution of adhesive, resulting in a cleaner and more professional look.
The Brush On Striplash Adhesive is known for its quick-drying formula. This implies that you may apply your lashes right away without waiting for the glue to solidify. Those who are constantly on the go or who need to save time when getting ready for an event may find this very helpful.
Your artificial eyelashes will stay firmly in place day or night thanks to the sturdy and dependable grip that this glue provides. Even in difficult circumstances, you may wear your lashes with confidence and not worry about them falling out.
One big plus is that there are transparent and white adhesive solutions available. For a more natural look, the transparent adhesive is perfect since it fits in well with your natural lashes. However, because it can also be used as an eyeliner to draw a bold line, the white glue is ideal for people who want to create a dramatic appearance.
---
4. Eylure 18 Hour False Latex Free Lash Glue – Clear
One of the most notable aspects of the Eylure 18 Hour False Latex Free Lash Glue is its latex-free formula. Common allergen latex can irritate certain people or trigger allergic responses. Eylure has made this adhesive appropriate for a larger variety of users, including those who are allergic to latex, by removing latex from its formulation.
This eyelash glue is perfect for wearing all day or all night because of its remarkable 18-hour hold. Whether you're going to a formal event, heading to the office, or just want to add a little glitz to your regular outfit, this adhesive makes sure your fake eyelashes remain there and don't fall out of place all the time.
This eyelash glue's transparent composition guarantees that it dries clean and leaves no clumps or residue visible. Because of this, it may be used with a range of lash styles, from dramatic, thick lashes to subtle enhancements to natural-looking lashes that make a powerful statement.
Applying the right quantity of adhesive is simple with the help of the precision applicator that comes with the glue. Because of its small brush, the applicator makes the application less messy and enables exact control.
---
5. KISS Falscara Bond and Seal Glue 32g
The inclusion of both bond and seal glues in a single product is a standout feature of KISS Falscara Bond and Seal Glue 32g. The bond glue is used to adhere the false lashes to the natural lashes, while the seal glue helps to secure and protect the lashes, providing a long-lasting hold. This dual-action formula ensures that the lashes stay in place, even in challenging conditions.
The bond glue in this product offers a strong and secure adhesion, ensuring that the false lashes do not detach or lift throughout the day. This feature is particularly crucial for those who desire lashes that can withstand various activities and environments.
While the bond glue ensures a stronghold, the seal glue is designed to make the removal process gentle and safe for the natural lashes. This minimizes the risk of damage and promotes lash health.
Conclusion
Eyelash glue is a crucial ingredient in the cosmetics and beauty industry that is sometimes overlooked but is crucial to creating stunning, attention-grabbing appearances. The necessity of eyelash glue cannot be emphasized, regardless of one's preference for the hypoallergenic properties of latex-free alternatives or the strength of latex-based alternatives. LOOKFANTASTIC brings the best eyelash glue that is a key player in boosting confidence and enhancing aesthetics for individuals seeking to elevate their lash game. For more information about duo adhesive eyelash glue visit the official website of Hermagic.
FAQ