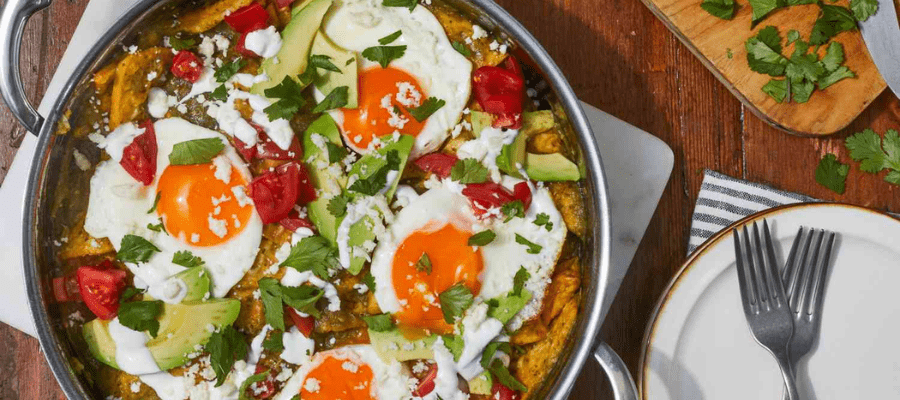 Egg recipes are a versatile and beloved part of culinary traditions around the world. From scrambled eggs to omelettes, there are so many egg recipes that you can have as breakfast. So, whether you are a novice or an expert in cooking, egg recipes are clearly the easiest to make and taste much more delicious. And, with Gousto's ingredient meal boxes, you get fresh ingredients and vegetables to make the cooking process even quicker. Let's explore the wonderful world of egg recipes and the delicious possibilities they offer for every meal.
Health Benefits of Including Eggs in Your Everyday Diet
1. High-Quality Protein
Eggs are a great source of protein, so eating eggs every day can help build muscle strength and keep your overall body functioning well.
2. Nutrient-Rich
Eggs contain various vitamins and minerals that keep the overall health of your body intact, keeping you fit.
3. Eye Health
Eggs contain lutein and zeaxanthin, antioxidants that help protect the eyes from age-related macular degeneration and cataracts.
4. Weight Management
Protein in eggs can aid in weight loss and help you feel fuller for longer, reducing overall calorie intake.
5. Heart Health
Contrary to previous concerns, moderate egg consumption may not significantly impact heart health and might even raise good HDL cholesterol levels.
6. Brain Function
Choline in eggs supports brain development and cognitive function, especially during pregnancy and early childhood.
7. Amino Acids
Eggs also offer several essential amino acids that are very good for your body's functions and provide enough protein to keep you going all day long.
8. Antioxidants
Eggs contain various antioxidants that fight oxidative stress in your body and keep the risk of chronic diseases at a minimum.
---
Global Variations of Egg Recipes
Spanish Tortilla

: A thick omelette with potatoes and onions, a Spanish classic.

French Quiche

: A savoury tart filled with eggs, cream, and various ingredients like cheese, vegetables, or meat.

Indian Masala Omelette

: Eggs seasoned with spices, herbs, and often, chopped vegetables.

Chinese Tea Eggs

: Hard-boiled eggs cracked and steeped in a flavorful tea-based marinade.

Italian Frittata

: An open-faced omelette, often featuring ingredients like cheese, herbs, and vegetables.

Mexican Huevos Rancheros

: Fried eggs served on tortillas with tomato-chilli sauce.

Middle Eastern Shakshuka

: Poached eggs in a spicy tomato and pepper sauce.
---
Best Egg Recipes for a Weekend Brunch
1. Dukkah-Rolled Middle Eastern Eggs
Discover the delight of Dukkah-Rolled Middle Eastern Eggs, where eggs are skillfully prepared to achieve a harmonious balance between soft and hard-boiled, offering a sturdy outer layer and a lusciously tender core. These eggs are elegantly coated in a hazelnut "dukkah," a traditional Egyptian spice blend composed of toasted nuts and fragrant spices, creating a flavorful Middle Eastern dish to enjoy in just 35 minutes.
---
2. Veggie Caesar Salad
If you are looking for egg recipes that involve tons of healthy vegetables, then a delicious Veggie Caesar Salad is the right answer. In just 30 minutes, you get to devour the flavours of this French salad which is a perfect breakfast meal. And, you can add as many vegetables to the salad as you like in this easy-to-make recipe. So, order the egg meal box from Gousto to your cart and have it at it.
---
3. Jewelled Bulgar with Feta and Sumac Fried Egg
Create a Middle Eastern culinary masterpiece with Jewelled Bulgur, a vibrant dish featuring cranberry and bulgur pilaf enriched with courgette, pepper, aromatic ras el hanout, and fresh herbs. Crowned with a sumac-fried egg, garnished with crumbled feta, crunchy pistachios, and a burst of sumac, this flavour-packed delight is ready in just 30 minutes.
---
4. Honey Roast Ham, Egg, Chips & Mustard Mayo
Experience the pure comfort of a beloved pub classic with the Honey Roast Ham, Egg, Chips & Mustard Mayo. This dish combines sweet and savoury roast ham with perfectly crispy chunky chips, a gooey egg, and creamy mustard mayo. It's served alongside a side salad featuring the trendy baby kale, making it a delightful gluten and dairy-free option suitable for coeliacs. In just 40 minutes, you can enjoy the heartwarming taste of British tradition.
---
5. Keralan Coconut Egg Curry
Savour the delectable Keralan Coconut Egg Curry, where perfectly set hard-boiled eggs are embraced by the rich flavours of caramelised onions and sweet potato, all within a creamy coconut curry sauce. Accompanied by buttered sultana rice and adorned with fresh coriander and nigella seeds, this Indian-inspired dish is the epitome of wholesome and comforting comfort food, prepared in just 30 minutes.
---
Why Pick Gousto for Egg Mealboxes?
Choosing Gousto for your Egg Meal Boxes ensures a hassle-free cooking experience. Gousto delivers fresh, high-quality ingredients directly to your doorstep, along with easy-to-follow recipes, allowing you to create delicious egg-based dishes with minimal effort. 
With a wide variety of recipes to choose from, Gousto makes experimenting with eggs in your cooking a delightful adventure. Plus, their commitment to sustainability and reducing food waste aligns with responsible and eco-conscious dining choices. Enjoy the simplicity and culinary creativity that Gousto brings to your kitchen with their Egg Meal Boxes.
Conclusion
In conclusion, egg recipes offer endless culinary possibilities, from comforting classics to global delights. Ordering egg meal boxes from Gousto elevates your cooking experience with convenience and sustainability. With fresh ingredients and creative recipes, Gousto makes exploring the world of eggs in your kitchen an enjoyable and responsible endeavour. For more information, visit Hermagic.
FAQs