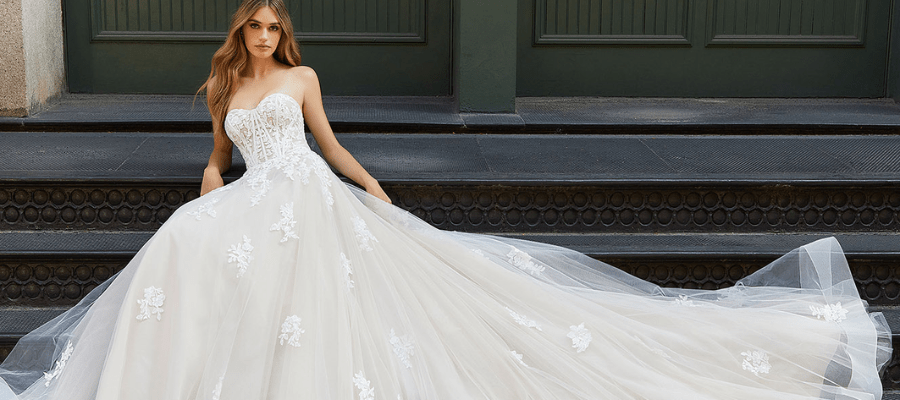 The acquisition of an ideal wedding gown has significant importance for numerous brides, as it forms an integral component of their envisioned wedding day fantasy. The corset wedding dress is a perennially enduring style that has withstood the test of time, persevering through numerous shifts in the realm of bridal design. The corset wedding dress is the epitome of classic beauty because it combines cutting-edge design with vintage flair.
Design Elements of the Corset Wedding Dress
Corset wedding dresses typically share several key design elements:
Bodice Structure: 
The defining feature of the corset wedding dress is the bodice, which is often constructed with boning, panels, and laces to create a cinched waist and support the bust. The corset's boning helps maintain an upright posture, creating a striking silhouette.
Lace-Up Closure: 
A corset dress is typically laced up at the back, often in a crisscross pattern, allowing for customization in fit and comfort. The lacing adds a touch of romance and elegance to the gown.
Full or A-line Skirt: 
The flowing skirts that cascade from the fitted waist are a common element of corset wedding gowns. This particular form offers a high level of comfort and unrestricted movement, rendering it an excellent choice for women who desire to engage in extensive dancing throughout the evening. Additionally, it complements the bodice effectively.
Materials: 
The construction of corset wedding gowns encompasses a diverse selection of materials, encompassing both contemporary choices such as tulle and chiffon, as well as traditional options like satin and lace. The choice of fabric can significantly impact the overall aesthetic and visual appeal of the dress.
---
Best Women's Corset Wedding Dress from Etsy:
1. Puff sleeves Corset dress
Corset wedding dresses with puff sleeves have found a dedicated following in contemporary bridal fashion. Brides are drawn to these gowns for their ability to blend tradition with modern trends. They provide a unique and memorable look that is both timeless and of the moment.
Celebrities like Princess Beatrice, who wore a vintage Norman Hartnell gown with puff sleeves to her wedding, have helped catapult this trend into the mainstream. Additionally, fashion designers have embraced the combination, creating stunning collections that cater to a range of preferences.
---
2. Minimalist Satin Corset Wedding Bridal Dress
The minimalist satin corset wedding bridal dress embodies timeless elegance. The smooth, lustrous sheen of satin fabric adds a touch of sophistication, making it perfect for any style of wedding, from a classic church ceremony to a modern beach celebration. 
Its minimalist design is a canvas for personalization, allowing brides to accessorize and style the dress in countless ways. Whether paired with a delicate lace veil, statement jewellery, or a beautiful bouquet, the minimalist satin corset wedding dress can be tailored to suit the bride's unique vision.
This added comfort is especially appreciated when brides must navigate a long wedding day that includes dancing, standing, and posing for photographs. The corset dress allows them to enjoy their special day without the discomfort that can be associated with less supportive gown designs.
Read more: 5 T-Shirt Bras That Are So Comfortable You'll Forget You're Wearing Them
---
3. Overbust Corset Floral Beige
One of the most attractive features of the Overbust Corset Floral Beige is its ability to sculpt and accentuate the bride's silhouette. Corsets, historically known for their waist-cinching capabilities, are designed to give brides that coveted hourglass figure. This design enhances the waist, creating a curvaceous and shapely form that adds to the overall appeal of the bride. The overbust style, which supports and lifts the bust, also complements the upper body, creating a balanced and proportionate look.
While the Overbust Corset Floral Beige offers a visually stunning and glamorous appearance, it also prioritizes comfort. The carefully selected materials and skilled craftsmanship ensure that the bride can move and breathe freely on her wedding day. This balance between glamour and comfort is essential, as brides often spend long hours in their wedding attire, making it crucial to feel at ease while looking exquisite.
---
4. Beautiful Long Sleeve Modern Cathedral Fluffy Satin Wedding Dress
Beautiful Long Sleeve Modern Cathedral Fluffy Satin Wedding Dress is a true testament to the enduring appeal of the corset wedding dress. 
The dress features a tight corset bodice that enhances the wearer's appearance, complemented by long sleeves, a cathedral train, and a voluminous satin skirt, evoking a sense of modernity and romance. 
This dress is ideal for anyone seeking to evoke a regal ambience as they proceed down the aisle. The concept encapsulates the principles of femininity and elegance that are sought by every bride on her wedding day.
For generations, brides have turned to the corset for their special day. Its ongoing popularity can be traced to the classic and exquisite look it gives the bride. The corset is a form-fitting bodice that ties in the back and may be adjusted to the wearer's desired level of tightness. 
---
5. Boho Wedding Gown With Bow Ties
At the heart of the Boho Wedding Gown with Bow Ties is the timeless corset bodice. However, this version often includes modern modifications such as a sweetheart neckline, illusion lace, or off-the-shoulder design. These alterations add a contemporary touch to the classic corset, ensuring that the bride feels both traditional and trendy on her special day.
To infuse bohemian charm, the gown features ethereal and flowy skirts that exude a sense of effortlessness. 
The defining feature of this gown is the incorporation of bow ties. These are often used as decorative accents on the dress, placed strategically on the bodice or skirt. They can be made from matching or contrasting fabrics and are designed to complement the overall boho style. Bow ties on the gown evoke a sense of playfulness and informality, making it perfect for outdoor or rustic-themed weddings.
Also read: Versatility Of Nude Tops: A Fashion Revolution Worth Exploring
---
Conclusion
The timeless appeal of bridal fashion is demonstrated by the corset wedding dress. The reason for its widespread recognition can be attributed to its extensive usage by several brides throughout the years, owing to its timeless design and sustained appeal. Despite the dynamic nature of weddings, a constant aspect that remains unchanged is the significance attributed to the bride and groom's desire to exude beauty, confidence, and individuality on their momentous occasion. The corset wedding dress helps brides achieve just that, making it a cherished symbol of love, tradition, and timeless elegance. For more information visit the official website of Hermagic.
FAQs