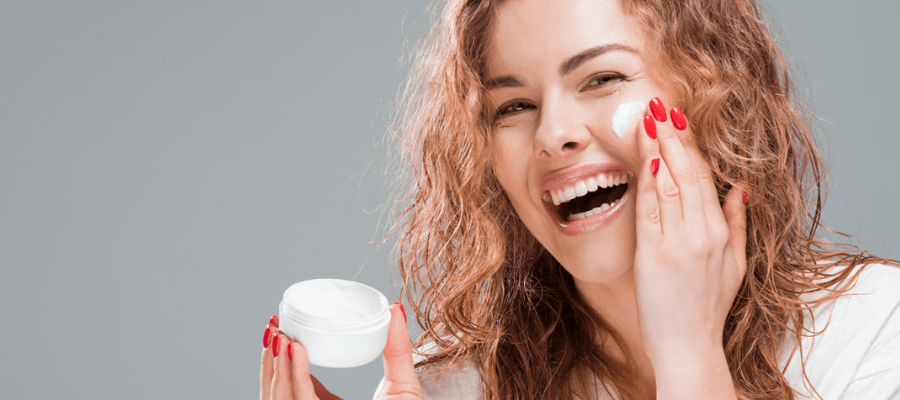 Collagen creams are becoming more and more popular in the skincare industry because they can help with visible signs of aging and revitalize the skin. Collagen is an important protein that gives the skin structure and elasticity, making the skin more firm and flexible. This protein is added to these creams. They function by replenishing and stimulating collagen production, effectively reducing the presence of fine lines and wrinkles. When searching for the best collagen cream, Holland & Barrett offers a diverse collection of collagen creams to cater to various skin types and preferences. When you're looking to address specific skin concerns or simply wish to maintain a healthy, radiant complexion, there is surely an option that suits your needs.
Top Collagen Creams to Reduce Fine Lines and Wrinkles
1. Q+A Collagen Face Cream – 50g
Q+A Collagen Face Cream is a luxurious 50g anti-aging cream that boasts an array of skin-nourishing qualities. Enriched with vegetable collagen derived from seaweed, it is specifically designed to combat fine lines and infuse mature skin with the care it deserves. This collagen cream helps plump the skin, promoting a more youthful appearance. Moreover, it goes the extra mile with the inclusion of shea butter for deep nourishment, ensuring a soft and supple complexion. Additionally, Q+A's formula is free from perfume, silicone, and mineral oil, making it a suitable choice for those with sensitive skin. To safeguard against redness and environmental stressors, magnesium PCA provides an extra layer of protection, ensuring your skin remains radiant and resilient.
---
2. VitaSkin Vitamin C Collagen Boosting Night Cream – 60ml
VitaSkin Vitamin C Collagen Boosting Night Cream, a 60ml moisturizing wonder, is your go-to collagen-strengthening night companion enriched with the power of vitamin C. This collagen cream effectively targets and reduces fine lines while providing your skin with a protective shield against external aggressors, including pollution and UV radiation. Vitamin C is essential for collagen synthesis and for bolstering the skin's defenses against damage. This results in skin that is more resilient and looks younger. Use this 99% natural, vegan-only formula every night to achieve a smoother, more radiant complexion that can be used every day. It is enhanced with omega-rich oils such as kiwi seed oil, sea buckthorn oil, and sweet orange oil.
Read more: The Best Eye Creams For Every Age And Skin Type
---
3. Jacob Hooy Super Collagen Day Cream – 50ml
Jacob Hooy Super Collagen Day Cream in a convenient 50ml package, an essential addition to your daily skincare routine. A harmonious blend of collagen and hyaluronic acid, this enriching day cream preserves the luxurious softness and elasticity of your skin. Its formidable anti-aging formula serves as a protective barrier, effectively countering the manifestations of skin aging. Collagen, renowned for its capacity to maintain skin suppleness and youthfulness, stands as a pivotal component in this cream, while hyaluronic acid further amplifies the skin's resilience. This collagen cream's balanced fusion of hydrating components ensures that your skin remains rejuvenated, well-moisturized, and glowing, making it an excellent choice for individuals seeking to preserve a firm and youthful complexion.
---
4. Jacob Hooy Eye Cream Super Collagen – 30ml
Jacob Hooy's Super Collagen Eye Cream, available in a 30ml container, is a specialized and luxurious formula crafted to care for the delicate skin around your eyes. This collagen cream provides targeted nourishment to the thin and sensitive eye area, working diligently to keep it soft and diminish the visible signs of aging. With an abundance of collagen, this eye cream not only bestows a velvety-smooth feel to the skin but also sustains its suppleness, effectively diminishing the visibility of fine lines and wrinkles. Whether you aim to proactively combat premature aging or rejuvenate the delicate skin surrounding your eyes, this creamy and hydrating remedy from Jacob Hooy is an ideal enhancement to your daily skincare regimen.
---
5. Jacob Hooy Super Collagen Night Cream – 50ml
This cream combines the benefits of collagen and hyaluronic acid to effectively replenish and protect your skin during your sleep. Jacob Hooy Super Collagen Night Cream, thoughtfully presented in a 50ml container, offers a rejuvenating night-time indulgence for all skin types, including sensitive skin. Collagen, renowned for its ability to maintain skin suppleness and elasticity, takes center stage in this formula, aiding in the prevention of premature aging. Simultaneously, the inclusion of hyaluronic acid supports and enhances skin elasticity. As you rest, your skin is pampered and shielded against the signs of aging, ensuring you wake up with a refreshed and radiant complexion. This collagen cream is the perfect choice to incorporate into your evening skincare routine for lasting hydration and youthful skin. 
Also read: 5 Best Eye Creams For Wrinkles By HSN
---
Benefits of using Collagen Cream
a) Gives Skin Elasticity: Collagen cream helps in the rejuvenation and augmentation of skin elasticity, leading to a more taut and youthful visage. This heightened elasticity promotes a healthier and more robust skin texture, rendering it an attractive option for individuals looking to preserve or reclaim a youthful appearance.
---
b) Helps in Getting Rid of Wrinkles: Collagen creams have the potential to be successful in reducing the visibility of fine lines and wrinkles, thus improving skin texture and fostering a more refined complexion. Their ability to address these signs of aging contributes to a more youthful and revitalized skin appearance.
---
c) Hydrates and Moisturizes the Skin: The moisturizing attributes of collagen cream offer notable benefits, especially for those with dry or dehydrated skin, as they aid in restoring and sealing in moisture, resulting in a supple and luminous skin complexion.
---
b) Promotes Skin Health: Collagen creams do more than just encourage skin health; they also contribute to its overall vitality, which could result in a more lively and youthful look. By maintaining skin health, these creams can enhance the complexion's natural radiance, contributing to a fresher and revitalized look.
Know more about: Explore The Best Tinted Cream By Sephora
---
Conclusion
Collagen cream has gained popularity as a widely recognized and efficacious asset in the quest for youthful and radiant skin. Its capacity to enhance skin elasticity, alleviate the manifestations of aging, and deliver crucial moisture has established it as a valuable component in numerous skincare regimens. Whether your goal is to reduce fine lines or to sustain the overall health of your skin, these creams present a promising solution. Holland & Barrett, with their extensive selection of high-quality skincare products, is your destination for finding the perfect collagen cream to help you achieve a radiant and youthful complexion. For more information, visit HerMagic. 
FAQs