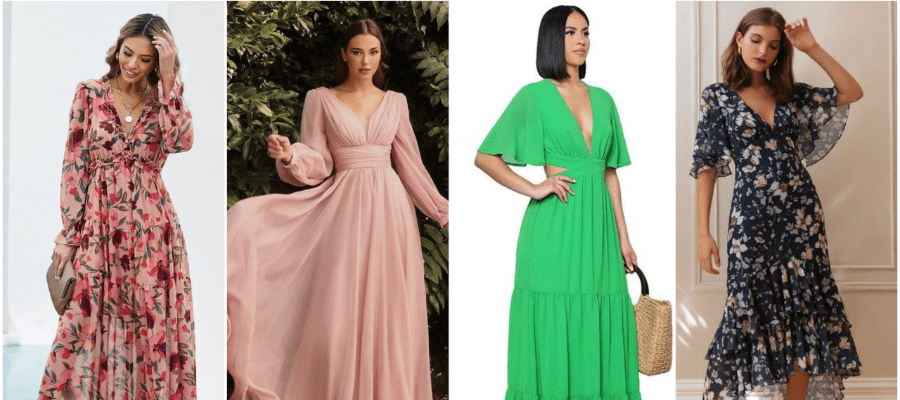 Chiffon dresses epitomize elegance and grace, offering a timeless and ethereal appeal that captures the essence of femininity. Made from a thin and airy material called chiffon, these dresses have a light feel and a slight see-through quality that brings a classy touch to any wardrobe. Whether for a special occasion, a romantic evening, or a casual daytime affair, chiffon dresses effortlessly blend comfort with style, making them a staple in every fashion-conscious woman's closet. Elevate your fashion game with chiffon dresses from PrettyLittleThing, where sophistication and style converge for a truly captivating and memorable ensemble.
Trending Chiffon Dresses for Various Occasions
1. Lilac Chiffon Pleat Cup Detail Frill Bodycon Dress
The allure of the Lilac Chiffon Pleat Cup Detail Frill Bodycon Dress, is a beckoning choice for your upcoming plans. This dress, adorned in a delightful lilac chiffon fabric, boasts pleated cups and a frill-tiered skirt design, adding an extra touch of charm to your look. Ideal for special occasions or casual brunch outings with your dolls, the versatility of this bodycon dress is undeniable. Simply complete the ensemble with strappy heels and golden accessories for a flawless finish, showcasing the timeless appeal of chiffon dresses in a perfect blend of elegance and comfort.
---
2. Black Sheer Chiffon Rose Detail Flare Sleeve Bodycon Dress
The Black Sheer Chiffon Rose Detail Flare Sleeve Bodycon Dress is a sizzling choice that exudes pure heat. Crafted from a sultry black sheer chiffon fabric, this dress showcases intricate rose detailing, is complemented by statement flare sleeves and has a figure-flattering fit that will leave a lasting impression. The sheer elegance of chiffon dresses is perfectly embodied in this ensemble. Elevate the glam factor by pairing it with clear high heels and gilded accessories for a look that's irresistibly chic. With its captivating design and versatile appeal, this dress effortlessly combines sophistication and boldness, making it a standout piece in the realm of chiffon fashion.
---
3. Plus Chocolate Croc Print Chiffon Maxi Dress
This chiffon maxi dress adorned in a rich chocolate hue, boasts a chic croc print design and a sweeping maxi length for a truly glamorous look. The chiffon material adds an extra layer of sophistication, embodying the timeless appeal of chiffon dresses. Designed to make a statement, this ensemble radiates confidence and charm. Elevate the allure by pairing it with matching boots and a coordinating bag, creating a fashion-forward ensemble that's simply irresistible. With its flattering design and on-trend details, this plus-size maxi dress is a captivating addition to any wardrobe, offering the perfect blend of comfort and style in the world of chiffon fashion.
---
4. Stone Printed Chiffon Cut Out Shift Dress
Infuse your weekend wardrobe with glamorous vibes in the Stone Printed Chiffon Cut Out Shift Dress. Featuring a sophisticated stone print on chiffon material, this dress stands out with alluring cut-out details and a chic square neckline, highlighting the classic charm of chiffon dresses. Irresistably stylish, this shift dress is a showstopper for any weekend plans, promising to capture all the stares. Elevate the dreamy finish by pairing it with clear heels, gold accessories, and a clutch bag, creating a look that effortlessly combines sophistication and trendiness. With its captivating design, this dress adds a touch of allure to your ensemble, making it a must-have for those who appreciate the timeless elegance of chiffon.
---
5. Black Chiffon Asymmetric Strap Draped Midi Dress
Crafted in a timeless black chiffon material, this dress captivates with an alluring asymmetric strap and gracefully draped detailing, embodying the classic allure of chiffon dresses. The midi length adds a touch of modern elegance, making it a versatile choice for various occasions. Elevate your style by combining this dress with adorned heels and a stylish grab bag, crafting a fashion-forward ensemble that effortlessly merges comfort with trendiness. With its flawless design and meticulous attention to detail, this dress is an essential choice for those in search of a sophisticated and modern interpretation of the timeless allure of chiffon.
---
Styling Tips for Chiffon Dresses:
a) Right layering: Experiment with the addition of a stylish belt or a lightweight cardigan, strategically incorporating these elements to not only define your silhouette but also to preserve the delicate charm inherent in chiffon dresses, creating a balanced and effortlessly chic ensemble.
b) Opt for bold accessories: Make a striking statement with the addition of chunky bracelets or captivating statement earrings, infusing your outfit with a sense of individuality and personality while elevating the overall aesthetic to new heights.
c) Choose the right undergarments: Select seamless or nude-coloured undergarments to maintain the sheer and refined quality of chiffon dresses, ensuring a polished appearance.
d) Experiment with footwear: From strappy sandals to ankle boots, experiment with different footwear options to complement the occasion, adding a personalized touch to your chiffon dress ensemble.
---
 Conclusion:
In the realm of chiffon dresses, where elegance meets comfort, PrettyLittleThing (PLT) stands out as the ultimate destination for shopping. Whether your quest is for a stylish cocktail dress or an enchanting gown for a formal affair, PrettyLittleThing presents a varied selection of chiffon dresses tailored to suit every taste and occasion. With a carefully curated collection that encapsulates both the latest trends and timeless styles, PrettyLittleThing guarantees that every woman can discover the ideal piece to elevate her wardrobe. For more information, visit Hermagic. 
FAQs