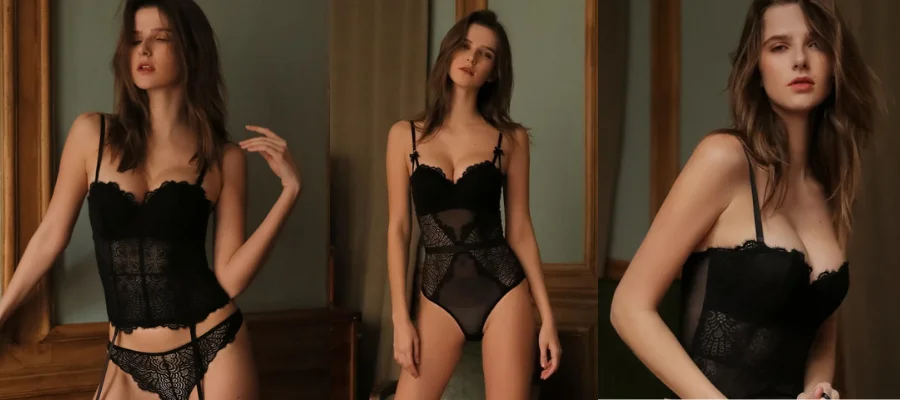 A body corset can be used as a top to make trendy and attractive outfits, and people frequently match them with various bottoms for a fashionable look. They can give one's style a distinctive edge and are made to be worn openly. People who wish to stand out and experiment with their clothing are increasingly choosing body corsets. 
A body corset's purpose is to smooth and define the silhouette by supporting, shaping, and contouring the torso, waist, and occasionally the hips. Additionally, it can provide light back support and waist cinching, which both enhance posture. If you're interested in body corsets, Hunkemoller is a great option to shop due to its expertise in designing and creating comfortable yet stylish undergarments. Their body corset line probably has a range of designs, fabrics, and degrees of support to suit all tastes and body types. 
Are Body Corsets in Style in 2023? 
Corset bodysuits are still trendy in 2023. You may find the best body corsets by Hunkemoller here: 
1. Bodysuit Roxy – Black
The Bodysuit Roxy is a beautiful body corset with a modern and seductive style. It has a bottom with snaps for ease, and its straps may be adjusted for a unique fit. It has a preformed shape and long sleeves for a flattering fit. The audacious design adds a hint of sexiness by making the buttocks entirely visible. The corset is attractive and useful for a variety of events because it has a rear closure for simple donning and donning off.
---
2. Bodysuit Jody – Blue
The captivating Bodysuit Jody is a body corset that deftly combines fashionable components with a spice of appeal. It has attractive spaghetti straps that can be adjusted to elegantly frame the shoulders, and its V-neckline adds a touch of class. The semi-transparent nature of the fabric lends a sense of mystery, resulting in a stylish and alluring appearance. This bodysuit embraces daring aesthetics and makes a strong and unforgettable fashion statement by allowing the buttocks to be seen.
---
3. Bustier Sofia – Purple
The gorgeous body corset known as the Bustier Sofia features dexterous stitching that enhances its attractiveness. Its underwired cups are designed to provide a snug fit that emphasizes the body's natural curves. The fabric's semi-transparency adds a hint of mystique, resulting in a seductive fusion of elegance and sensuality. This body corset exhibits a harmonic mix of workmanship and sensuality with its exquisite embellishments and well-built construction.
---
4. Body Josefina – Blue
The Body Josefina is a seductive body corset that expertly combines allure with environmentally friendly design. Its semitransparent fabric emits an allure and has adjustable straps. The mesh details also offer some grace, enhancing it visually. Notably, this body corset is made of 100% recycled lace, and all of its textile parts are 30–100% recycled, making it a perfect option for both fashionistas and those who care about the environment.
---
5. Bustier Cesca – White
A fascinating body corset called the Bustier Cesca seamlessly combines sensuality and structural support. The subtle all-over pleats add to the captivating charm of the semitransparent fabric. Support rods in the front, sides, and back are included to guarantee a distinct shape and contour. This corset has underwires in the cups, which makes it very easy to wear. This body corset is a remarkable option for individuals looking for an alluring yet well-supported look because it seamlessly combines elegance, comfort, and striking aesthetics.
---
Everything You Need To Know About Corsets:
Why are corsets coming back into fashion?
Corsets have a special attraction that resonates with people who value conventional fashion trends because they arouse nostalgia and a resurgence of vintage designs. Corsets have experienced an alluring makeover in the world of contemporary fashion, combining new components that give them extraordinary versatility, making them perfect for both informal and formal ensembles. 
Furthermore, the way that corsets are viewed has changed over time, with the fashion industry now emphasizing them as empowering clothing items that can boost confidence. The industry's greater emphasis on accepting various body forms is credited with this transition, which has led to a reinterpretation of corsets as symbols of empowerment and self-assurance.
---
Difference between a bra and a corset:
Bras and corsets have separate but related responsibilities for enhancing and supporting the feminine body. Corsets are recognized for their ability to define the waistline and improve the overall silhouette while also contouring the body. These clothes frequently reach downward to cover the waist and, sometimes, the hips as well, giving the desired hourglass appearance. Contrarily, bras are primarily made to support the breasts, bringing stability and comfort to the entire bust region.
Additionally, there are noticeable structural differences between bras and corsets. Boning for support and lacing for adjustability are often features of corsets, allowing for individualized shaping and fit. Contrarily, bras rely on bands, cups, and straps as their core elements to provide optimal breast support without significantly affecting the overall shape of the body. While bras are mostly used as necessary daily wear, providing regular support for women in their daily activities, corsets can serve as both fashion statements and shaping undergarments.
---
How is a corset supposed to fit?
Several crucial factors come into play when evaluating a corset's comfort. A well-fitting corset should, first and foremost, give a snug embrace around the waist and torso, balancing support while avoiding unnecessary constraints. This closeness ought to promote security and freedom of movement. Along with a good fit, the technique of lacing is crucial for maintaining a sense of comfort and support by balancing compression and support.
The corset's capacity to prevent pinching or discomfort is equally important. Corset edges should fit comfortably on the body and not irritate the skin. To accomplish this, much consideration must be given to design, ensuring that the corset not only improves the wearer's silhouette but also offers a comfortable experience. Additionally, while corsets are renowned for their ability to shape, they should allow for easy breathing. A well-made corset should put the wearer's comfort at the forefront, allowing them to carry themselves with assurance while taking advantage of the corset's figure-enhancing effects.
---
Are waist trainers or corsets safe?
Waist trainers, also known as corsets, are designed for temporary waist size reduction, and serve their purpose during exercise but are not recommended for prolonged daily use. On the other hand, traditional corsets can be safe when worn with caution and moderation. Yet, wearing them extensively or attempting significant waist reduction may lead to discomfort, constraint, and potential health risks. 
Conclusion
Body corsets, whether worn as a basic piece of clothing or to make a trendy impression, skillfully blend attractiveness and practicality in today's fashion world. Hunkemoller's body corset collection reimagines the concept of shaping undergarments through a seamless mix of modern aesthetics and comfort. A comfortable fit is guaranteed by the brand's commitment to using high-quality materials, and features like adjustable straps, closures, and contemporary textiles increase the wearer's convenience and versatility. Due to their distinctive designs and meticulous attention to detail, Hunkemoller's body corsets appeal to anyone looking for a fashionable and supportive option to enhance their natural silhouette. To learn more about body corsets, visit Hermagic. 
FAQs