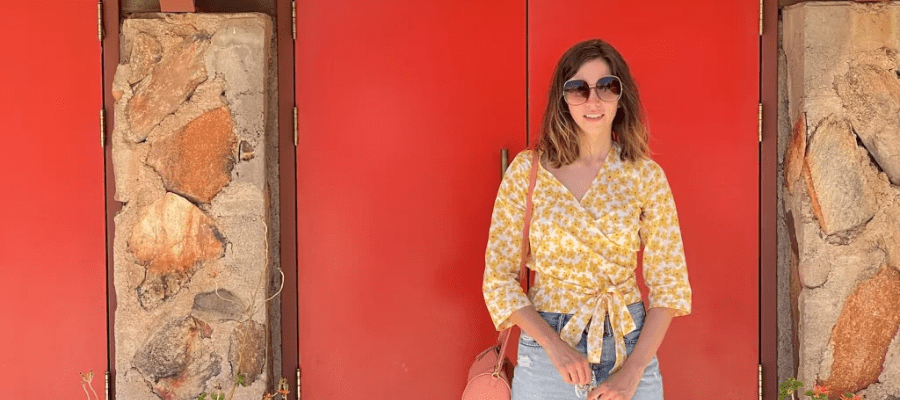 The style that every woman will cherish forever is none other than wrap tops! They are timeless fashion choices. The good thing about having them in your closet is that they are pairable to dress up on different occasions and seasons. You cannot regret having them in your collection. What makes them your best choice is that a wrap top can be styled in multiple ways.  
If you have decided to add a new change this season or you want to add more collections of wrap tops, then PrettyLittleThing brings some new collections. These collections of best wrap tops are simply game-changing. From a wide variety of collections to timeless fashion looks, they are the best trendy clothes for girls and women. They sure look endearing. Surprise people around with a versatile look. 
Here are some top options that will prepare you for an iconic look. 
Trendy and best wrap tops for a seamless look 
1. Black cotton buckle wrap longline top 
Indeed buckle up your style with the Black cotton buckle wrap longline top! Trendy and iconic for every woman who loves to flaunt beauty in style. Check out the buckle wrap design which adds a touch of edge to your outfit. Whether you are pairing up with denim jeans cargo pants or mini skirts, this is a master garment for you. 
The wrap top is effortless to style, easy to put on, and comfortable to wear for hours. If you have a girls' night out on the weekend, pair the top with your favorite pants and add accessories to finish the complete iconic look.  
---
2. Taupe two tone knit one shoulder wrap top 
This is one of the versatile wrap tops. The two-tone knit one-shoulder is not only a unique design but the style is timeless. The overall look can be appealing. For those who are looking for a unique addition to your wardrobe collection, this one-shoulder wrap top is what you need. 
Try pairing this wrap top in different seasons. For winter layering the top with a long coat or leather jacket with leather pants will do the magic. For summer you don't need an extra covering if you want to show off on a girls' night out.
---
3. Petrol blue stretch woven wrap over corset top
If you are someone who likes to dress up sexy then this is a fantastic choice for you. You cannot help but look great in every way. The blue featuring stretch woven material with wrap over design will not only enhance your cleavage but your overall look too. For the best look in the crowd, pair the wrap top with matching bottoms, a mini bag, high heels, and silver earrings. 
Worry less about what occasion will fit the top best. If you having a lunch date or a dinner date coming up, give it a try with this top. It will shower you with compliments. 
---
4. Burnt orange satin tie wrap crop top 
The Burnt orange satin tie wrap crop top is one of the classic wrap tops. You cannot miss out on this one for sure. The top is made from a durable material. Extremely comfortable and the tie wrap design makes all the difference. If you want to justify the overall design then think about pairing the top with a matching mini skirt! Add strappy heels to this long sleeve wrap top to complete the final touch. 
The best thing about this classic design wrap top is that you can style it on multiple occasions. All you need is the right moment and the right place to show off your beauty.
---
Things to look out for while purchasing wrap tops
Material: If you are someone who pays a lot of attention to the material then you should look out for the right material. The best wrap tops come in different material selections. The good material also ensures the wrap top lasts longer and preserves the fading of color. 

Occasions: Since there are different styles of best wrap tops, some styles are specific and compatible with dressing up on a particular occasion. Unless you are looking for a style that goes well on any given occasion. 

Color: There are times that color can say a lot about the look of the entire outfit. Certain colors can also accentuate your skin tone. Consider what color suits you best. Thankfully wrap tops come in a wide variety of color selections as well. 
---
How to style up with the wrap tops
Bottom wear: With any type of wrap top you can always give it a nice shot with baggy jeans, skinny jeans, leather pants, and mini skirts. These bottoms can be paired up differently according to the occasion you are attending. 

Accessories: You don't want to look dry and bland. Try to complete your final look by adding accessories such as necklaces, handbags, and hats (for summer days). But try to avoid overdoing it with makeup or accessories. 

Layering: Since you can always style the wrap top in a different season, give it a nice shot in winter by layering a wrap top with blazers, shackets, or leather jackets. If you are styling up for a dinner date, the long coat or black leather jacket will give that magical look. 

Footwear: Truthfully you don't want to look bland by adding the wrong pair of shoes. Depending on the occasion and the type of wrap top try pairing with strappy heels or flat heels. Avoid styling with sneakers or casual shoes.
---
Conclusion 
Nevertheless, individuals can always do a new look that makes them look comfortable. There are more varieties of best wrap tops collections on PrettyLittleThing. This season, PrettyLittleThing is bringing new seasonal discounts. If you are looking for a budget-friendly shopping experience you have come to the right place. For more information on best wrap tops for women, visit Hermagic. 
FAQ's