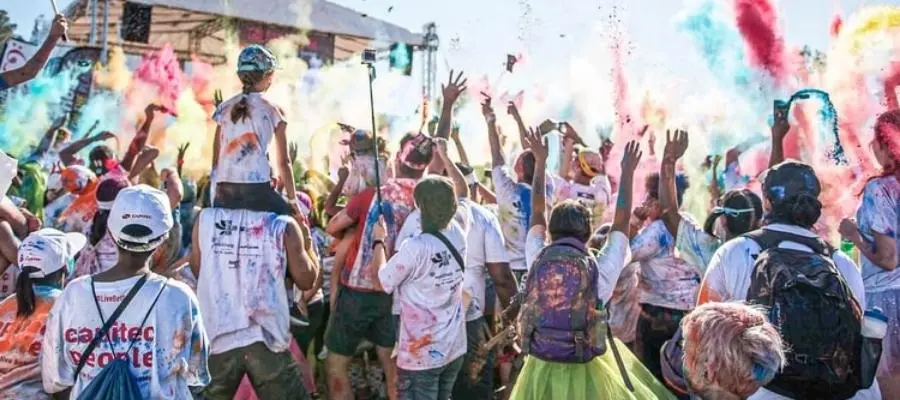 Multiple festivals can enhance your whole trip experience. Especially the European festivals you can witness on your next European trip. During any year's season, you can discover these festivals even in the smallest towns of Europe. Exploring these festivals is on the bucket list of a lot of people. You can explore these European festivals on your next European trip, from France to Spain and Sweden to Greece. Moreover, you can book your Flights and hotels for Europe from the official Skyscanner website.
List of the 8 Best European Festivals
There are multiple European festivals that you can explore during your next trip to Europe. We at Hermagic have curated a list of the best European festivals. The list of the best European festivals is as follows:
1. Lavender Mob, France
The event begins with a firework show above the river and continues for four days with parades, marching bands, floats decorated in lavender flowers, and a nightly ball in the spa town's central plaza. Hundreds of vendors daily offer lavender and lavender (its more attractive hybrid form). Digne's lavender festival procession has been going on since World War II. The lavender fair, which takes place at the end of August after the harvest, is even older. Members of the Commanderie de la Lavande, clad in purple robes and felt caps, proclaim the harvest complete, start a fire beneath a massive copper still in the town center, and celebrate with lavender liqueur and biscuits.
---
Also Read: Best Places To Visit In Seville Before Your Next Trip
---
2. Water Jousting, France
People have celebrated Sète's patron saint in riotous style since 1666. The town, dubbed the Venice of Languedoc, has water-jousting competitions on its canals throughout the summer, but the city comes alive during its August celebration. The lancers strive to knock each other into the water. At the same time, they are standing on a platform on the stern of a boat driven by rowers. All of this action makes it one of the most attractive European festivals. Street parades, pop-up bars, and concerts are among the festival's more than 70 activities.
---
3. Flamenco Fair, Spain
The feast of Saint Matthew celebrated across Spain, is the summer's final grand fiesta. Villamartin provides the traditional Andalucian combination of a cattle fair during the day (held here since the 16th century), dancing, drinking, and a fair at night. Aside from shopping for cows, there will be classic horse and carriage contests, equestrian exhibitions, and spirited flamenco performances. After 11 p.m., the town's population of 12,000-odd people parades to the Recinto Ferial, where they eat, drink, sing, and dance in the roadside tents that line the route and enjoy garish carnival pleasures. It is a total sensory overload: wonderful, strange, and what passes for usual in these parts.
---
4. Noble Grapes, Italy
It is the most enjoyable portion of Saint Helena's 10-day festival, which has been going on since at least 1787. On the third Saturday of September, winemaking families from around the province dress in period attire to celebrate the grape harvest. Carts decorated with grapes, vines, palm fronds, bells, ribbon, and tinsel are tied and pulled by horses, donkeys, or oxen on a two-hour trip through the town, which is now a suburb of Sardinia's capital. More people carry tools of their craft, baskets of grapes, and platters of sweets, all while listening to folk music played on guitars, accordions, and pipes. On one cart, there was even a live grape-treading demonstration. You can only surpass the embroidered, multi-layered robes of the women by the ornamentation on the patient four-legged creatures.
---
5. Donkey Business, Portugal
This event goes through the Portuguese communities in the Miranda do Douro municipality, located in the northeastern highlands near the Spanish border. The event honors the peculiarities of a region separated by its untamed nature, including its unique donkey breed and the roaming minstrel tradition. Gaita-de-fole, or bagpipes, players used to travel by donkey to deliver music and amusement to isolated settlements. Every year, a herd of 20 shaggy-haired donkeys parades between two villages, which makes it one of the most fun European festivals. Every night there are concerts and feasts on local smoked meats and Douro red wine, but traditional music, dancing, and painting seminars happen on Saturday afternoons.
---
Also Read: 7 Best Airbnbs In Iceland
---
6. Mad for Folk, Italy
Valfino al Canto, now in its 23rd year, honors folk music from around Italy. You can discover bands, buskers, and dance troupes playing everything from a Puglian pizzica to a Neapolitan on Arista's unspoiled medieval hilltop town. This festival is anything from nostalgic since traditional music is still an essential aspect of rural Italian life, with many generations of families congregating in the hamlet over three days to share and learn the popular song. Expect a laid-back vibe, excellent locally grown fare, barrels of wine, and plenty of accordion and violin.
---
7. Flower Power, Portugal
Pereiro, a little hill town 200 kilometers north of Lisbon, has its narrow streets garlanded with paper flowers once a year. It is a traditional Portuguese summer Festa in which the entire community honors its patron saint with homecomings, eating, and dancing. Pereiro is also known as the "capital of flower-decked streets." Still, it's also a great site to witness the centuries-old ritual of Nossa Senhora da Saude (Our Lady of Good Health) carrying on a float through lanes sprinkled with rosemary. Revelers begin the weekend by dancing late into the night to Simba music, popular songs with obscene lyrics. People have a beer, bananas, or prego (steak sandwiches)until morning.
---
8. Fighting Ships, Greece
In 1821, feisty Spetses was the first Greek island to revolt against Ottoman authority. Laskarina Bouboulina, Greece's only female admiral, spent her riches assembling a fleet of vessels to combat the Turks. The island gathers at the port during the second weekend of September to re-enact an epic 1822 naval battle. Candle-lit fishing boats move out to sea around a model Turkish ship alight while a torrent of pyrotechnics and dramatic music almost drowns out the shrieking crowd.
---
Conclusion
These are the best European festivals you can explore on your next Europe trip. Moreover, you can head to the official Hermagic website to check out the biggest festivals in Europe or even the biggest music festivals in Europe.
FAQ's
Image source